When a patient has cancer, physicians and patients confront a chain of pressing questions: What type of cancer is it? What stage is it? How should it be treated? Has the cancer spread? How will it progress?
New technologies—thanks to the recent development of molecular methods for clinical diagnostics—offer an unparalleled opportunity to forever change the way cancer is diagnosed and treated, and are ushering in a new era of clinical diagnostics.
Before the development of molecular diagnostics, cancer was identified by classifying cells according to their appearance under a microscope. By contrast, molecular diagnostics categorize cancer using mass spectrometry and gene expression technology. Gene chips and microarrays enable clinicians to examine hundreds of thousands of gene expression patterns at the same time to locate irregular gene and protein activity patterns. Also called "molecular signatures," these patterns are improving the clinician's ability to identify cancer, and thus develop an appropriate and effective treatment plan. According to the National Cancer Institute, soon all cancers may be diagnosed this way.
Pathwork Diagnostics Inc, Sunnyvale, Calif—a molecular diagnostics company that develops high-value microarrays to advance cancer care—offers the first FDA-cleared gene expression test to aid in diagnosing the origin of uncertain tumors: the Pathwork Tissue of Origin Test.
The American Cancer Society estimates that the approximately 200,000 new cancer patients diagnosed every year in the United States may have a tumor for which the site of origin is unknown. These hard-to-identify tumors are time-consuming, expensive, and may prevent definitive treatment, according to Pathwork's chief medical officer, David Henner, MD, PhD.
"The Pathwork Tissue of Origin Test helps in getting an accurate diagnosis of where the primary site of the tumor is," Henner says. "Determining the original site tells the physician what type of cancer the patient has and thus enables more effective treatment. Pathwork's test helps the physician get to the bottom of the diagnosis and pick the optimal therapy."
Existing diagnostic techniques for such cases, such as imaging and immunohistochemistry, are subjective and time-consuming, Henner explains, and often do not produce a reliable diagnosis.
The targeted therapies allowed by an accurate identification of the primary tumor can be effective even with metastatic tumors and are generally tumor-specific, such as using Herceptim for breast cancer. Targeting therapy to specific tumor types allows patients to avoid the toxicity of broader and, in some cases, useless chemotherapy.
The test is currently available through Pathwork Diagnostics Laboratory, and an FDA-cleared kit version of the test is expected to be available in 2009 to clinical labs, Henner says. The test measures the expression pattern, comprising more than 1,500 genes, in the unidentified tumor and compares it to expression patterns of a panel of 15 known tumor types, representing 60 morphologies overall. It then provides a report with an objective, probability-based score for each potential tumor type.
The test, performed on frozen tissue biopsy specimens, uses a proprietary Pathchip microarray and runs on the Affymetrix GeneChip System. Test processing includes RNA extraction, amplification, hybridization, and scanning. The test results are provided to both the oncologist and the pathologist. A version of the test for formalin-fixed, paraffin-embedded tumor specimens and needle biopsy specimens, including core and fine needle aspiration, will also be available through Pathwork Diagnostic Laboratory.
Supported by extensive analytical and clinical validation data, the test demonstrated 89% positive agreement with available diagnoses and 99% negative agreement in the FDA in vitro diagnostic clinical validation study. The study consisted of 545 metastatic, poorly differentiated, and undifferentiated tumors that had been identified as one of the 15 tumor types on the panel. Additionally, the test demonstrated an average 94% overall concordance across four laboratories in a cross-laboratory comparison study of 60 metastatic, poorly differentiated, and undifferentiated tissue specimens.1
Analysis of Molecular Targets
Caris Diagnostics, Irving, Tex, a provider of diagnostic, translational, and pharmaceutical services, launched its Target GI to physicians nationwide in August. The product provides information on the expression of key molecular targets present in colon cancer, giving clinicians the most up-to-date information to aid in their diagnosis and management of the disease.
"The concept of individual biomarker testing for oncology with personalized therapies had captured the imagination and excitement of the medical community and patients alike," says its chief medical officer, Richard Lash, MD.
"Caris is dedicated to the advancement of personalized medicine, particularly through the use of new molecular techniques," he adds.
According to Lash, two major hurdles to the adoption of Target GI were the limited number of validated markers for any given chemotherapeutic agent and any given cancer type, and the challenge for clinicians to be confident that the data are sufficient to support the use of a particular marker in their practice.
Target GI employs different molecular technologies, such as polymerase chain reaction (PCR), fluorescence in situ hybridization (FISH), immunohistochemistry, and gene sequencing, to identify biomarkers that have been deemed relevant in clinical studies on colon cancer. These biomarkers include the proto-oncogene of the Kirsten murine sarcoma virus (KRAS) by mutational analysis and thymidylate syntase (TS) and topoisomerase 1 (TOPO1) by immunohistochemical analysis.
"What is unique is the process by which biomarkers are included or excluded from the panel," Lash says. "Each undergoes a rigorous review of the scientific literature and is graded by a team of scientists and oncologists based upon the level of evidence supporting its use. Target GI testing becomes an extremely valuable tool to help busy oncologists keep current with various treatment options, as well as to evaluate the validity of different biomarkers."
The test is performed once the diagnosis of colon cancer has been established, using either biopsy tissue or a sampling of the tumor removed at surgery, and takes about a week to be returned to the physicians. Currently, Caris receives, processes, and interprets about 18% of all outpatient gastrointestinal biopsies in the United States, which averages out to more than 10,000 biopsies per week.
"This test is an example of how science can be used to prevent patients from receiving expensive and potentially harmful medications when they are unlikely to work, as well as to identify those drugs that are most likely to be of benefit," Lash says.
Pathwork Tissue of Origin Test Reports provide objective probability-based scores for tumor types.
First Molecular Test for Colon Cancer Staging
In September, DiagnoCure Oncology Laboratories, a subsidiary of DiagnoCure Inc, West Chester, Pa, introduced the Previstage GCC (guanylyl cyclase C) Colorectal Cancer Staging Test, the first GCC-based molecular test for the management of colon cancer.
"This test helps the physician better determine the staging of colorectal cancer and thus provide better specialized treatment," says Tim Holzer, PhD, its vice president of R&D and production. "Stages III and IV should be treated differently than earlier stages, so it is crucial to diagnose the correct staging. It overcomes problems with sampling errors and marker specificity."
Current standard of care requires that the pathologist examine a thin slice of tissue from the lymph nodes removed during surgery to see if the cancer has spread—a process that has serious limitations. Studies have shown that with this manual detection at least one cancer cell must be present in every 200 normal cells to detect any spread. With this method, approximately 25% to 30% of patients thought to have stage I or stage II cancer, which is confined to the colon, return with recurrent disease.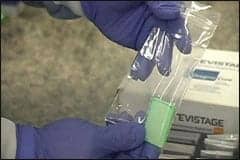 Previstage GCC (guanylyl cyclase C) Colorectal Cancer Staging Test.
The technology in Previstage GCC offers a much more sensitive method of detecting occult metastases—as few as one cancer cell among up to 10 million normal cells. In the 3-to-4-day test, minute quantities of GCC messenger RNA are amplified to magnify the presence of cancer cells. Using ultrasensitive quantitative RT-PCR, the assay analyzes the patient's lymph nodes to identify levels of GCC consistent with that found in lymph nodes with metastases from stage III patients. This minimizes the sampling error inherent in traditional examination of lymph nodes. In addition, with the new molecular assay, a larger portion of the lymph node can be examined than with traditional sectioning.
"Early treatment may reduce the possibility of recurrence and the associated mortality rate," Holzer says.
Patient-Friendly Screening Tools
Quidel Corp, San Diego, offers a cost-effective colorectal cancer screening—the QuickVue iFOB (immunochemical fecal occult blood) test, a fecal immunochemical test. According to the 2003 Cancer Journal for Clinicians, less than 40% of all people who should have been screened for colorectal cancer have been screened. Patients cite discomfort and embarrassment, lack of communication with health care providers, and inconvenience as reasons they fail to get tested, according to the American Cancer Society. Guaiac-based fecal occult blood tests are also limited by low sensitivity, specificity, and positive predictive value. The newer immunochemical-based tests, such as Quidel's, are designed to improve accuracy and patient compliance.
QuickVue offers a more patient-friendly test that is easier to complete since it requires only one stool and, because it is specific to human hemoglobin, does not require a strict diet. Additionally, immunochemical FOB tests are more analytically sensitive than traditional guaiac-based methods.
The stool blood kit detects hidden blood in the stool in 5 to 10 minutes at a hospital or a physician's office. If results are positive for hidden blood, a colonoscopy may be required. In addition to the clinical benefits, there is a reimbursement of $22.22 versus $4.54 for guaiac testing.
The CellSearch CTC Test from Veridex LLC, Huntingdon Valley, Pa, a Johnson & Johnson company, is a powerful new tool that can help physicians predict disease progression and survival in patients with breast, prostate, or colorectal cancers, says Robert McCormack, PhD, vice president of scientific and medical affairs at Veridex. Unlike traditional diagnostic tests, which focus on the changes in a tumor's size, CellSearch measures tumor cells.
The simple blood test , which can be taken right in a physician's office, clinic, or hospital, captures, identifies, and counts the circulating tumor cells (CTCs) in a tube of blood. Five or more CTCs in a blood sample indicate that the disease is progressing, while fewer than five indicate that the disease is not. In cases where the test indicates the presence of five or more CTCs, the physician may use this and other factors to determine if a change in the patient's care is needed.
"This is different from any other test out there," McCormack says. "It predicts overall survival (OS) and progression-free survival (PFS), and is the only diagnostic test cleared by the FDA for three cancers. It is convenient, accurate, and flexible."

To stay current on rapidly evolving oncology diagnostics, bookmark our website.
More than 4 years of clinical studies have proven that CTCs are a strong, independent predictor of both PFS and OS, and have also shown that the test provides information about a patient's prognosis that is similar to imaging—only sooner. And, McCormack adds, it can be performed not only earlier than traditional imaging, but also at any time during the course of treatment, which can help physicians make decisions about patient care earlier and as needed.
The CTC kit includes ready-to-use ferrofluid-based capture reagent and immunofluorescent reagents for 16 complete tests, a preloaded reagent tray for loading, an embedded data button in reagent holder to assist in kit lot tracking and reagent use monitoring, and specially designed cartridges for optimal CTC isolation and analysis. It is designed for use with the CellTracks AutoPrep System and the CellTracks Analyzer II.
---
Shannon Rose is a freelance health and medical writer based in Temecula, Calif.
Reference
Dumur CI, Lyons-Weiler M, Sciulli C, et al. Interlaboratory performance of a microarray-based gene expression test to determine tissue of origin in poorly differentiated and undifferentiated cancers. J Mol Diagn. 2008;10(1):67-77.