With more than 80 known autoimmune diseases and the number rising steadily, such illnesses constitute an inconspicuous but dangerous pathology. Inconspicuous because no single disease affects, at the most, more than 1% of the overall population, but dangerous because of the broad array of serious ailments, from rheumatoid arthritis and lupus of the systemic variety, to the tissue-specific myasthenia gravis and Graves and Hashimoto diseases of the thyroid. Research and development in this area is intense, with diagnostic companies competing to reach the apex of automation in order to improve workflow efficiency, decrease technician time, improve turnaround time for test results, and eliminate errors from specimen and reagent handling. The ultimate objective, of course, is better patient care through earlier and more precise diagnosis.
Following is a look at some of the companies involved in bringing the latest autoimmune assay technology to market.
DiaSorin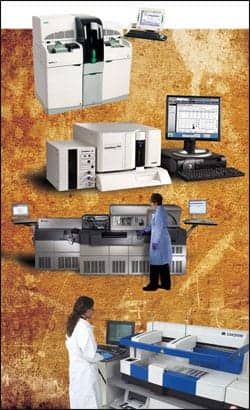 (from top to bottom) BioPlex2200, Luminex 200, Beckman Coulter DxC 600, and DiaSorin Liaison
DiaSorin, Stillwater, Minn, is one of the companies ushering in the automated age in immunoassays. Introduced in 1997 with a US release slated for 2009, DiaSorin's LIAISON technology, currently available worldwide and slated for a future US release, is a one-step sandwich chemiluminescence immunoassay (CLIA) that has a number of advantages over the older IFA and ELISA testing formats.
For one, the subjectivity and possibility of error that goes along with a technician reading a slide in the immunofluorescent antibody (IFA) method is eliminated. With the new LIAISON system the instrument determines the result automatically.
Although the more modern (compared to IFA) ELISA micro titer plate system does process samples automatically, it takes 4 hours to produce a result, whereas time to first results with the LIAISON instrument is just 38 minutes. And after first results the throughput is a rapid 180 tests per hour. Also, according to Dawn Franzmeier, autoimmune testing product manager at DiaSorin, "With ELISA testing the reagents required to perform the test are not all fully ready-to-use, and some prep time is required, as the vials have to be put into a rack and then put on the instrument. With the LIAISON, reagents come in a ready-to-use and load reagent integral."
The LIAISON can handle up to 144 samples on board and up to 15 assays on board in a refrigerated area, with continuous reloading of bar-coded samples and reagents. As Julie Kordosky, marketing manager, explains, the system is the first fully automated immunoassay platform that is designed to handle "niche," or esoteric, special assays, such as Epstein-Barr, lyme disease, 25 Hydroxy Vitamin D, syphilis screening, and other future assays.
LIAISON also features a continuous reagent inventory, a wide measuring range, and a stored master curve. With full automation bringing significant reduction in technician time and subjectivity, DiaSorin is looking forward to rapid infiltration of LIAISON in the domestic market.
Immco Diagnostics, Buffalo, NY, is another developer of diagnostic kits for autoimmune diseases. While utilizing the popular testing standards IFA and ELISA, Immco says it strives to create innovative and first-of-its-kind immunoassays.
Vijay Kumar, PhD, president and CEO, is currently engaged in developing two new autoimmune disease assays. A proposal will be presented at the AACC 2008 for one assay dealing with autoimmune gastritis and gastric cancer, which will consist of six different tests and the use of an algorithm to help in identifying the disease setting.
"H-pylori," Kumar says, "is an infection found in many parts of the world. It can cause atrophic gastritis (loss of cell density in the stomach), which, if left untreated, can lead to autoimmune gastritis as well as pernicious anemia, and eventually to gastric cancer. So there is a need for suitable biomarkers to help with early diagnosis of gastric cancer."
In this regard the six assay kits in development at Immco are h-pylori antibody, pepsinogen I, pepsinogen II, gastrin 7, intrinsic factor antibodies, and antibodies to proton pump. These biomarker tests are validated to complement one another so as to form a diagnostic panel. "These tests," Kumar says, "will help to identify atrophic gastritis and gastric cancer in an early stage."
The second proposal, also to be presented in 2008, is for folate receptor autoantibodies in pregnancy, and its influence on fetal outcome. In this case the autoimmune responses in the mother may not constitute a disease per se, but the fetal outcome could be problematic, including children born with neural tube defects (NTD).
NTD is one of the most common congenital abnormalities in the United States, affecting approximately 4,000 births annually, causing serious disabilities and infant mortalities. It has been shown that 75% of women with a history of NTD pregnancies have folate receptor autoantibodies. These autoantibodies block folate binding to folate receptors and block uptake of folate by cells. Aided by early detection, about 70% of NTD cases could be prevented by consumption of adequate folate before and during pregnancy.
Luminex
The people at Luminex, Austin, Tex, are excited about their xMAP multiplexing technology that tests for a wide range of applications throughout the diagnostics industries, including autoimmune testing. xMAP allows rapid and precise multiplexing of up to 100 unique assays within a single sample.
The Luminex 200™ system is a flexible analyzer based on the principles of flow cytometry. Inside the analyzer are microsphere sets—liquid phase suspension bead arrays—that are coupled with detection molecules; in the case of autoimmune testing, these detection molecules can be either autoimmune antigens or immunoglobulins that recognize autoimmune-specific immunoglobulins. A second microsphere set serves as an internal control.
There are 100 distinct types of beads available. Each type has a unique identity. Because each microsphere represents an individual test, the system can test for up to 100 different molecules simultaneously in each well of a 96-well plate. Inside the Luminex 200, fluidics cause the microspheres to line up single file as they pass by two lasers—a red laser to determine the identity of that microsphere (and therefore which assay is being carried on that particle), and a green laser to measure the assay result on the microsphere's surface. A fluorescent "reporter" molecule, phycoerythrin (PE), is activated by the green laser, and this activation is recorded by the system as the presence of the analyte being assayed. The multianalyte profiling enables greater specificity with fewer indeterminate results. Results are obtained in about 2.5 hours—considerably faster than the throughput of either ELISA or IFA.
Luminex sells xMAP solutions through Inverness Medical Professional Diagnostics, a value-added partner and key provider of autoimmune solutions on the Luminex xMAP technology platform. "The most common test that rheumatologists will order is the ANA (antinuclear antigen) test system," says Jennifer Solimani, Inverness product manager. "They're looking for specific antibodies such as SSA and SSB, which are associated with Sjogren's disease, and double-stranded DNA, which is associated with systemic lupus."
Solimani adds, "We can talk for hours about all the different varieties, but there are 10 most common antigens associated with the majority of disease states—we put those antigens into the test, coating them on the beads."
The autoantibodies attack the antigens. "For instance," says David E Smith, PhD, scientific awareness manager for Luminex, "in a disease such as myasthenia gravis, which is an autoimmune disease, autoantibodies attack a specific type of neurotransmitter receptor. In this case, the neurotransmitter and its receptors control muscles, and the autoantibody attack on the receptors causes muscle weakness. That receptor is the antigen."

Want to read more? Search for the topics in this story in our free online archives.
Inverness has marketed its xMAP-based products under the name AtheNA for 5 years, and has seen an appreciable rise in market share in the last 2 to 3 years because of the acceptance of the xMAP technology. "Early on it was a lot more about education of the marketplace as to what multiplexing and the xMAP technology was," Solimani says, "but now it has gained acceptance, and there are over 4500 Luminex systems in place worldwide."
Inverness also has another xMAP-based instrument in the works, an automated immunoassay multiplexing system (AIMS). Like other companies in this arena, Inverness is looking to fully automate the immunoassay process, "from samples all the way up to the reading and reporting of results," according to Solimani. AIMS is currently being evaluated at a couple of domestic sites where it's in the final stages of Beta testing. A launch is expected in the near future, according to Tedd Mishkin, VP of marketing for Inverness, adding that the company expects to benefit "from some of the larger accounts that need fully automated, walkaway solutions."
Bio-Rad
Yet another company treading the path to full automation is Bio-Rad Laboratories, Hercules, Calif, where Bruno Larida, business unit marketing manager, reports that 5% or more of the worldwide population is affected by an autoimmune disease. And yet, with more than 80 autoimmune diseases identified, no single disease affects more than 1% of that population, which means there is a tremendous need to create assays to diagnose the broad range of illnesses in the autoimmune category.
"The ability to detect specific antibodies is important in diagnosing autoimmune conditions, and can be valuable in predicting disease prior to the onset of clinical symptoms," Larida says. "The availability of new therapies for the treatment of autoimmune disease means there is great benefit to early and accurate diagnosis."
Bio-Rad has worked in the traditional IFA and more automated ELISA modes, and is now developing multiplex assay kits to operate on their fully automated BioPlex 2200 system, which the company calls "the first and only fully automated, random access, multiplex testing platform." Larida believes the BioPlex 2200 will eventually replace ELISA, but he also believes that IFA, despite its technician-heavy presence, "still has a bright future because of how it helps in the discovery of new and rare antibodies, which makes it complementary to the BioPlex 2200."
Bio-Rad currently has an FDA-cleared multiplex panel for ANA screening, which includes individual autoantibody assays for 11 analytes. The BioPlex ANA Screen also comes with the only algorithm-based software feature that can correlate patient antibody profiles with a database of 1,200 disease-associated samples and provide labs with the ability to report out possible autoimmune associations.
A key feature of the BioPlex 2200 is the proprietary magnetic bead chemistry employed with all assays. The magnetic beads allow for multiple, automated wash steps, which is a novel feature in this type of multiplex testing. Larida explains, "When you want to measure binding to low levels of antigen, it's important to thoroughly wash your solid phase. By using magnetic beads we get more specific, more sensitive, and more reproducible results because of the two-step washing process incorporated into all BioPlex assays."
BioPlex 2200 has been on the market since early 2006, with its first placement in Stockton, Calif, at Health and Clinical Laboratory. Bio-Rad recently announced that Quest Diagnostics would implement the system and the ANA Screen product throughout its network of labs.
Beckman Coulter
At Beckman Coulter, an automated assay for ANA is currently in development. The AccessR ANA Screen is projected to be available in 2008. This assay is a paramagnetic particle, chemiluminescent immunoassay for the qualitative detection of antinuclear antibodies using the Access Immunoassay Systems. The results of this assay can be useful in the diagnosis of autoimmune diseases such as systemic lupus erythematosus, Sjogren's syndrome, mixed connective tissue disease, and scleroderma.
Currently, testing is routinely performed by either IFA or EIA, which are time-consuming with more than seven manual steps of pipetting, incubations, and washing. The new Access analyzers automates these steps and eliminates batching, allowing the lab technician to have a reportable result in less than an hour. As Susan Retka, product manager, Immunodiagnostics, says, "When run on Beckman Coulter's Access Immunoassay analyzers, the Access ANA Screen will produce results in up to half the time of a manual assay, without the need to batch samples." The ANA screen is, according to Retka, "in the final phases of development and will be out next year."
Laboratories are also looking to consolidate tests on integrated systems. In addition to being available on the Access line of immunoassay systems, the ANA Screen will be available on the Beckman Coulter integrated UniCelR Systems. The UniCelR system features closed-tube sampling and closed-tube aliquotting.
Alan Ruskin is staff writer for CLP.