COLA, a leading laboratory accreditor, marked the reopening of its renovated headquarters in Columbia, Md, with a ribbon-cutting ceremony on Friday, February 7.
The ceremony included COLA CEO Douglas Beigel, members of the organization's board of directors, Howard County officials and local community partners, as well as some 60 invited guests, including employees and their families.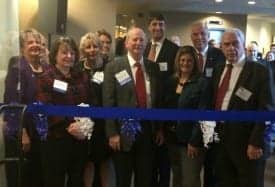 Dignitaries attending the reopening of COLA's renovated headquarters (photo, left to right) COLA directors Lezlee Koch, MT; Susan Bailey, MD; Donna Sweet, MD; Karla Murphy, MD; and Richard Wherry, MD (Chair); Maryland State Delegate Guy Guzzone; Howard County Councilwoman Jennifer Terrasa; COLA CEO Douglas Beigel; and Maryland Senator James Robey.
The organization's updated facility features expanded training facilities, modular conference and meeting rooms, and other technology enhancements. To lower operating costs—and in anticipation of more employees working virtually in the future—the accreditor also reduced its footprint from 12,000 to 9,000 square feet. The reopening caps a virtual workplace experience in which COLA's entire headquarters staff worked remotely during the three-month office renovation. Employees are being given the option to continue working virtually on an ongoing basis.
"COLA's customer satisfaction levels remained very high during our virtual working experience, and as a result, we expect that working remotely will become a permanent part of our identity," said Beigel. "This new staffing approach, along with our streamlined new space, will enhance efficiencies and enable COLA to channel more resources into activities that support our clients."
COLA accredits almost 8,000 medical laboratories and provides clinical laboratories with a program of education, consultation, and accreditation. The organization is an independent, nonprofit accreditor whose education program and standards enable clinical laboratories and staff to meet requirements of the US Clinical Laboratory Improvement Amendments and other regulations.
COLA recently observed its 25th anniversary, and has been headquartered at the Columbia location for 20 years. Its wholly owned education subsidiary, COLA Resources Inc (CRI), is located in a nearby suite within the same facility.
For more information visit COLA.