MyCeliaclD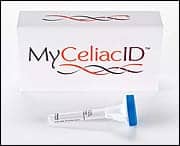 /td>
First saliva-based test for Celiac disease
Prometheus Laboratories, San Diego, recently launched its new MyCeliacID™, the first do-it-yourself saliva-based genetic test dedicated to celiac disease. The test identifies distinct genetic sequences associated with celiac disease, and provides individuals with their risk of developing the disease relative to the general population. It tests for both the alpha and beta subunits of HLA-DQ2 and HLA-DQ8—genes associated with the disease. A positive result indicates that the individual has one or more genes that predispose to celiac disease.
Prometheus Laboratories
(800) 266-2222
www.prometheuslabs.com
---
FASTSURE TB DNA Rapid Test
Detection within 2 hours
MP Biomedicals LLC, Santa Ana, Calif, launches its new handheld FASTSURE® TB DNA rapid test. The rapid, cross-contamination-proof nucleic acid detection kit is intended for the qualitative detection of Mycobacterium tuberculosis (TB) DNA in human samples, and as a clinical diagnostic tool for TB infection. The kit performs sample preparation, nucleic acid isothermal amplification, hybridization, and detection within 2 hours, using a patented cross-contamination-proof device.
MP Biomedicals LLC
(800) 854-0530
www.mpbio.com
---
Sorvall Legend X1 and Sorvall ST 16
General-purpose centrifuges
Thermo Fisher Scientific Inc, Milford, Mass, introduces the Thermo Scientific Sorvall 1-Liter general-purpose centrifuge series with a maximum capacity of 4 by 400 mL. Both the Sorvall® ST 16 centrifuges for routine preparation and the Sorvall Legend® X1 centrifuge series for high sample processing incorporate a range of new technologies. The tool-free Auto-Lock® III rotor system enables 3-second rotor installation and removal for quick switch between applications and easy chamber access for cleaning convenience. The centrifuges feature high-speed Fiberlite rotors, a compact design, and multilingual user interfaces.
Thermo Fisher Scientific
(800) 556-7575
www.thermo.com
---
SeroSpin-SO Serology Centrifuge
Can be used for serological applications
The SeroSpin®-SO centrifuge package from Helmer, Noblesville, Ind, can be used for serological applications. It includes a 12-place swing-out rotor that allows the user to drop in and remove multiple tubes at once. It also can be used for cross matching and blood typing. The SeroSpin accommodates 10/12 x 75-mm tubes. Run time is programmable in seconds and minutes, RPM and RCF are adjustable in increments of 10, and ramp-up/ramp-down time is adjustable in levels 1 to 9. The centrifuge includes a brushless drive motor with a stainless steel chamber and metal housing, as well as rotor recognition and speed control. Safety features include lid lock and hold, emergency lid release, motor overheat protection, and imbalance detection.
Helmer
(800) 743-5637
www.helmerinc.com