According to the Encyclopaedia Britannica, a serological test is any of several laboratory procedures carried out on a sample of blood serum, the clear liquid that separates from the blood when it is allowed to clot. The purpose of such a test is to detect serum antibodies or antibody-like substances that appear specifically in association with certain diseases.
Typically, these antibodies are formed in response to an infection (against a given microorganism), against other foreign proteins (in response, for example, to a mismatched blood transfusion), or to one's own proteins (in instances of autoimmune disease).
Such tests may be performed for diagnostic purposes when an infection is suspected, in rheumatic illnesses, and in many other situations, such as checking an individual's blood type.
Several companies were consulted for this article, which focuses on product features, methodologies used, size of samples, time frames, and key issues in serology testing.
BIO-RAD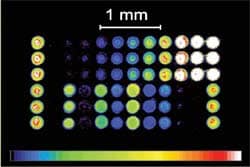 Based on modern biochip technology, ImmunoCAP ISAC is a miniaturized immunoassay platform where allergen components are immobilized in a microarray.
Bio-Rad Laboratories Inc, Hercules, Calif, manufactures independent, third-party quality control materials to test the precision of serology assays on a routine basis, says Joshua X. Pulido, MLS (ASCP)CM, product manager for infectious disease controls, Clinical Diagnostics Group – Quality Systems Division. "In addition, we offer a complete quality control solution for today's laboratory, including peer group evaluation of products through our Unity Interlaboratory program," he says. "We have sister divisions that manufacture serology assays as well."
Pulido says that currently, serology tests are performed by several methods depending on the size and design of the laboratory. The testing can range from manual testing using methods of latex agglutination to EIA/ELISA methods that can be performed manually, or on an automated system to several traditional serology tests now being integrated on large immunochemistry platforms to multiplexing.
The size of the sample varies depending on the assay and testing method, Pulido says. "As technology has evolved, the amount of sample required has decreased," he says. "With multiplexing as one of the newer technologies, multiple tests can now be performed on a tiny amount of sample."
The time is also dependent on the assay and methodology used, Pulido notes. Some assays require multiple washing steps (either manual or automated) as well as incubation steps, and the assay could take 3 to 5 hours to complete, he says. On the newer technologies on the immunochemistry analyzers and multiplexing instruments (such as the Bio-Rad BioPlex 2200), the assays are usually completed within an hour with the automation taking care of all necessary steps.
IMMUNODIAGNOSTICS BUSINESS OF THERMO FISHER SCIENTIFIC
Henry Homburger, MD, FCAP, laboratory director, Phadia Immunology Reference Laboratory®, Portage, Mich, says there are two products the ImmunoDiagnostics business of Thermo Fisher Scientific (formerly Phadia) is focusing on.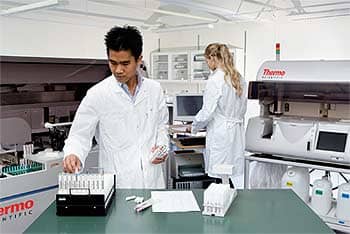 The uKnow Peanut Test is part of the ImmunoCAP family of products. As such, it is processed on the Phadia Laboratory Systems platforms, which are fully automated.
The uKnow® Peanut ImmunoCAP® Molecular Allergy Test includes the first and only FDA-cleared allergen component tests for peanut. The uKnow Peanut Panel employs molecular allergy technology, which identifies IgE sensitization to the specific proteins contained in an allergen source, to provide a new level of clarity in peanut allergy testing. The uKnow Peanut Panel is not a single test, but rather a panel of ImmunoCAP® Allergen Component tests carefully selected to evaluate peanut IgE sensitization patterns at the molecular level. The test pinpoints IgE sensitization to specific allergen components in addition to the whole allergen extract and quantifies IgE antibodies to primary, species-specific allergen components and cross-reactive proteins. This novel technology has been widely available in Europe, and is now offered in the United States through the Phadia Immunology Reference Laboratory (PiRL). By providing a molecular level of detail, uKnow Peanut enables physicians to:
Differentiate between symptoms caused by primary, species-specific peanut allergen components and symptoms caused by cross-reactive components;
Assess the patient's level of clinical risk for a systemic allergic reaction;
Facilitate relevant dietary modification to prevent unnecessary dietary restrictions; and
Determine which patients may require confirmatory oral challenge testing, and reassure patients when risk for allergic symptoms is low, or when they will most likely experience only mild or localized reactions (eg, oral allergy syndrome).
ImmunoCAP® ISAC (Immuno Solid-phase Allergen Chip) is a highly advanced tool for revealing a patient's IgE antibody profile or phenotype. Based on modern biochip technology, ImmunoCAP ISAC is a miniaturized immunoassay platform where allergen components are immobilized in a microarray. This advanced technology enables simultaneous measurement of IgE antibodies to a fixed panel of 112 components from 51 allergen sources in a single step. This technology has been widely available in Europe, and is now offered in the United States through PiRL. ImmunoCAP ISAC offers:
Measurement of specific IgE to allergen components from 51 different allergen sources;
Semiquantitative results for 112 IgE antibodies; and
Component-resolved diagnostics using purified natural or recombinant allergen components coupled with interpretative comments appropriate for the results obtained.
Homburger says that what makes Thermo Fisher Scientific allergy testing products unique is the vast experience the company has worldwide in developing not only the methods, but the knowledge about what comprises the allergens themselves and what components are present in different foods and pollens that make them allergenic.
"Over the years, the ImmunoDiagnostics business of Thermo Fisher Scientific has optimized the detection and quantitative measurement of IgE antibodies," he says. "We have developed a stable platform and made it scalable, so that small and large labs can run the same tests and get the same results. At Thermo Fisher Scientific, we also have the ability to produce those products consistently from batch to batch and then marry that to a high degree of standardized analytical performance in the lab."
The uKnow Peanut panel test is part of the ImmunoCAP family of products, Homburger says, and as such, it is processed on the Phadia Laboratory Systems platforms, which are fully automated. With ImmunoCAP ISAC, purified allergen components are immobilized on the biochip. In a two-step assay, antibodies from the patient serum bind to the immobilized allergen components. After a short washing step, allergen-bound antibodies are detected by a fluorescence-labeled antibody. Test results are measured with a biochip scanner and evaluated using proprietary software. ImmunoCAP ISAC is a semiquantitative test, and results are reported in ISAC Standardized Units (ISU).
Both tests require only a single blood draw. ImmunoCAP ISAC requires a small blood sample, about 25 microliters for the entire microarray. The uKnow Peanut panel test requires about 300 microliters of serum. For both tests, lab analytic time is less than 4 hours. Turnaround time will vary depending upon how long it takes to get the sample to the lab. Generally speaking, turnaround time is about 1 to 3 days.
BD DIAGNOSTICS
Oscar Cateriano, senior product manager, BD Diagnostics, Franklin Lakes, NJ, points to the BD VeritorTM System for Rapid Detection of Flu A+B. "The BD Veritor System is the first rapid influenza test system that incorporates a digital readout and objective results to receive CLIA waiver. This rapid flu immunoassay reports performance measured against polymerase chain reaction (PCR) results, the highest-sensitivity standard currently available. This newly designed system incorporates BD's Advanced Nano Detection Particle and Adaptive Read Technology," he says.
Cateriano notes that with this unique combination of technologies in a CLIA-waived flu assay, the BD Veritor System offers users: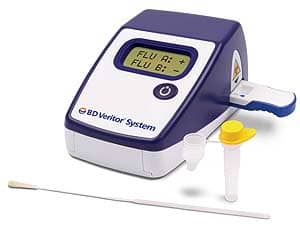 The BD Veritor System, a rapid influenza test system, reports performance measured against polymerase chain reaction (PCR) results, the highest-sensitivity standard currently available.
Proven performance versus PCR;
A convenient workflow;
Few, easy steps requiring very little sample preparation;
No sample incubation required prior to running the test.
He adds that this newly designed system incorporates BD's Advanced Nano Detection Particle and Adaptive Read Technology. It does use automation, as there is a digital readout of test results.
The product is 510(k)-cleared and CLIA-waived for nasal and nasopharygeal swab samples freshly collected. It takes a 10-minute period for the test to run and 10 seconds of instrument read for final results, Cateriano says.
WHAT ARE THE KEY ISSUES IN SEROLOGY TESTING TODAY?
"It's a lack of performance and subjective interpretation of test results," according to Cateriano.
Homburger says that as it relates to allergy, it's to develop a more complete database of information that relates test results for component allergen testing to diagnosis and to the clinical status of the patient and the outcomes of particular therapies.
"Right now, what we know about allergy testing comes primarily from results for whole allergens, such as the entire peanut, milk, or egg," he says. "As we move forward with utilizing component testing, we're breaking those results down into certain components of foods that are associated with different degrees of clinical reactivity. As a result of the deeper level of data provided by component testing, we're beginning to redo studies that have been done over many years with whole allergens.
"What we're finding is that by using components we can better identify those individuals who are at risk of having an allergic reaction," Homburger says. "With the use of components, we have a greater degree of certainty in making predictive decisions. We're deriving the information that relates the numerical result to the predictive value or the likelihood of a particular clinical meaning. We're building up that database of information that will ultimately prove to be extremely useful for clinicians, but it's still relatively early, so we're not quite there yet."
"One of the key issues today in serology is, 'What is the gold standard of testing?' " Pulido says. "There are currently so many different methods out on the market to measure the same assay, so what is now the standard? There are several professional and medical societies that all have different ideas on what should be the gold standard of each assay. Within the laboratory medicine field, there is now a worldwide task force of experts that are trying to harmonize testing and bring each assay in sync. And the opinions vary depending on the assay."
HOW CAN SEROLOGY TESTING OVERALL BE IMPROVED?
Pulido says that serology testing can be improved through the development and adaptation of better assays. "As technology evolves, the world of lab medicine needs to evolve as well," he says. "There are many newer assays that are developed that are more efficient and more reliable than some of the outdated testing methods still being performed.
"However, due to the current state of the economy, the worldwide laboratory community is slow to adapt the new technology," Pulido adds. "Also, without standardization of the methods available on the market, results are not necessarily commutable from one method to another."
Thermo Fisher's Homburger says the single biggest improvement that can be made in serology testing, whether it's in the allergy field or autoimmune field, is to achieve a higher degree of intermethod standardization.
"The number one question clinicians and laboratory professionals face is, 'How do the results of method A compare with method B?' " he says. "For example, there are three FDA-cleared quantitative methods for in vitro allergy testing, and they each express results in kilounits per liter. Theoretically, they should be completely interchangeable as they are all quantitative. That's not yet the case with tests performed by these methods.
"They do give different results for many allergens, and clinicians must use care in interpreting the results," Homburger adds. "A result with one method is likely to be similar to another method, but interpretive cutoffs used to make decisions with one method cannot be generalized. This is particularly important in the evaluation of food allergy in which cutoffs defined for the ImmunoCAP method are widely used to make clinical decisions about possible food challenge testing. These cutoffs were derived from empirical clinical studies that are method-specific."
BD Diagnostics' Cateriano suggests, "Introduce new products that improve performance and provide objective results."
---
Gary Tufel is a contributing writer for CLP. For more information, contact Editor Judy O'Rourke at .