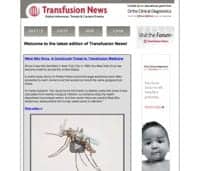 Since it was first identified in New York City in 1999, the West Nile Virus has become endemic across the United States, causing an estimated 780,000 illnesses, more than 16,000 documented neuroinvasive cases, and more than 1,500 deaths, according to Transfusion News.
A recent study led by Robert Haley, MD, professor of Internal Medicine and director, Division of Epidemiology in the Internal Medicine Department, UT Southwestern Medical Center, Dallas, found that large epidemics were often preceded by warm winters and that epidemics revisit the same geographical areas.
Haley says the study found that there is a statistic called the vector index, which can predict West Nile epidemics before the human cases draw attention.
"We started seeing positive blood donors just at the same time the vector index started jumping up," Haley told the news site. "Suggesting timely reporting from regional blood banks might also be a very useful alert for early warning of epidemics."
Since 2003, the US blood supply has been routinely screened for West Nile virus, so transfusion-associated infections are rare.
Click here to view a video and for more information.
[Source: Transfusion News]