Tampa General Hospital Improves Overall Lab Efficiency With New Fully Automated Molecular Technology
By Raymond Widen, PhD
| | |
| --- | --- |
| | Raymond Widen, PhD, is the scientific director for Esoteric Testing/R&D at Tampa General Hospital, Tampa, Fla. |
Tampa General Hospital (TGH), Tampa, Fla, is a private 1,018-bed, not-for-profit hospital and one of the most comprehensive medical facilities in Florida. It is a Level 1 trauma center and the fourth busiest organ transplant center in the United States. It is also the primary teaching affiliate of the USF Health Morsani College of Medicine, Tampa, Fla.
As a part of ongoing efforts to improve overall laboratory efficiency, TGH evaluated the use of a new, open molecular diagnostic testing system that automates and standardizes sample lysis, nucleic acid extraction, real-time PCR setup, amplification, and detection of microbial pathogens on a single benchtop platform. Known as the BD MAX™ System, from BD, Franklin Lakes, NJ, the new diagnostic test platform helps labs increase efficiencies and capabilities in molecular lab testing.
Because TGH supports one of the busiest transplant centers in the United States, the lab is under a great deal of pressure to offer assays for agents that infect immunosuppressed patients, and many of these assays are not commercially available. An important advantage of the system is that it is a sample in/answer out platform that allows clinical labs to run in vitro diagnostic (IVD) tests (FDA-cleared or CE-marked), as well as their own lab-developed tests (LDTs) on a single instrument. TGH initially evaluated the system in mid 2011, and has since assessed the positive impact on workflow efficiency, costs, and development of LDTs using a much simpler process with fewer nonvalue-added steps.
Addressing the Need for Increasing Test Volumes
In 2007, TGH switched from BD GeneOhm's MRSA assay to an alternate method for detection of methicillin-resistant Staphylococcus aureus (MRSA). When the novel swine H1N1 influenza virus hit in 2009, TGH only had three PCR instruments to run all influenza tests, as well as overflow MRSA tests and other additional assays. When rapid antigen tests for the H1N1 influenza virus proved unreliable, TGH had to respond to the sharp demand for PCR testing for influenza, and staff increases were not an option. During this period, TGH performed three influenza PCR runs per day, far beyond its expectations for influenza testing. As the volume of influenza testing grew, workflow on the instruments could not keep up with demand. To meet the demand, TGH began looking for alternate solutions for MRSA testing.
A key factor in this decision was the fact that TGH lab technologists had become accustomed to a certain level of automation. Given the lab's volume of 10,000 to 11,000-plus molecular tests per month, which included many new tests the lab implemented between 2009 and 2011, any new systems adopted could not require a great deal of hands-on time. With higher levels of automation, the lab was able to meet increased volume without significant changes to total FTEs.
Some factors that affected this decision were external. In the prior 2 years, Florida implemented more than 20% in Medicaid cuts, which had a significant negative impact on revenue at TGH, the region's primary safety net hospital. Within this reality, TGH had to bring as much testing as possible in-house and find more cost-effective ways to perform its existing test volume while accommodating the needs of its clinical staff and particular patient populations (eg, organ transplant and cystic fibrosis patients).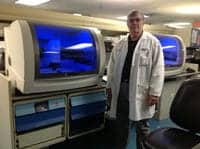 The BD Max system has allowed TGH to increase the menu and efficiency of its molecular testing to better meet the demands of its clinicians and patients.

Moving Higher-Volume Assays Onto a Single System
TGH was originally interested in the BD MAX System because of the availability of a BD MAX GBS assay for Group B Streptococci (GBS), the forthcoming assay for direct detection of MRSA, which was FDA-cleared in July 2012, as well as the potential to run LDTs on the same platform. The potential to move higher-volume assays onto a single, standardized, automated sample in/answer out system while maximizing staff time and cost, eventually convinced TGH to bring the MAX system in for evaluation of the GBS and MRSA assays.
The MAX GBS assay provides automated lysis, extraction, and subsequent PCR analysis for detection of GBS performed on overnight enriched Lim broth cultures. An evaluation of clinical samples tested with the BD MAX GBS assay and an alternate method after 18 to 24 hours of incubation in Lim broth revealed excellent overall agreement between both assays. A critical factor in assessing the impact on lab operations was the fact that the BD assay workflow involved seven steps from sample to result, including being linked to the laboratory information system (LIS).
To assess the performance of the BD MAX MRSA assay, paired nares swabs were tested, one swab with an alternate MRSA test (standard of care) and the second swab with the BD assay, and there was a 94.7% correlation between both molecular tests.
Based on these results, the team concluded that the BD MAX MRSA and GBS assay performed very well and offer potentially significant advantages in terms of lab operational efficiency. TGH adopted both MAX assays as the tests of record.
Overview of System's Features
For IVD, TGH concluded that the two molecular methods are comparable in terms of ease of use and quality of results. TGH made the decision to move to the BD MAX based on several key findings:
The instrument accommodates varying workloads and gives labs the ability to perform testing around the clock, processing from one to 24 samples per run, and up to 96 samples per 8-hour shift. TGH found, through its evaluation, that the system can potentially increase lab efficiency and sample capacity by up to 150%. The automated sample in/answer out system offers up to 6 hours of walkaway time for three full runs per shift.
After moving high-volume tests including MRSA and GBS to this instrument, TGH expects to save more than $300,000 during the first year through a combined savings of reagent, instrument maintenance, and service costs.
The instrument offers the lab the ability to develop and run LDTs in a shorter time, using a standardized workflow and development process with a lower cost than current protocols and workflows that require separate instruments for nucleic acid extraction and PCR. TGH currently performs more than 35 LDTs and research protocols that require nucleic acid extraction on one platform, manual preparation of PCR reagents, and the PCR amplification process on a separate instrument. By combining extraction and amplification processes, the system provides an alternative workflow that is standardized, more automated, and requires far less technologist time than current protocols. This offers TGH the potential to significantly more-efficiently process its LDT workload, offer tests more frequently, and have the capability of more quickly responding to needs related to emerging pathogens.
Standardization of both IVD and LDT testing on a single, automated system reduces the number of instruments required. This in turn simplifies overall workflow, enables greater cross-training of staff, and significantly reduces service requirements and costs. The flexibility to mix different assays for different specimen types in one run and interleave runs, allows for efficient processing of varying workloads.
"With the BD MAX, we put 24 samples on at a time," says Vicki Healer, team leader, esoteric testing, at TGH's laboratory. "We can prepare samples as they come in, five to 10 at a time, and samples with swabs in them can sit for up to 6 hours. We prepare the next run of 24 right next to the instrument. Then, we can walk away for about 2 hours, a huge window of time that the technologist can use to work an entirely different bench. With the BD MAX, it's easier to work other, more highly complex duties into a technologist's responsibilities as well, so it truly offers a more efficient use of our lab staff."
An important goal at TGH was to seek any opportunity to consolidate instruments and free up bench space. As a result, the BD MAX system combining both IVD and LDT testing on one benchtop system presented important space-savings opportunities. With the compact size of the BD MAX and limited floor space in the lab, TGH was able to retire three other PCR instruments. As additional LDTs are developed, it will be possible to retire other real-time PCR platforms.
Assessing the Outcome
Since switching to this instrument, TGH has been able to realize improved assay introduction speed, moving from validation to implementation of BD MAX MRSA and GBS within just a couple of months. This effort required close cooperation between TGH staff, BD MAX support, and Sunquest for a successful complete system validation and LIS interfacing. Interfacing the instrument to the LIS not only saves time but also reduces the potential for human error in entering results.
TGH is the first lab in the United States to implement the BD MAX interface to an LIS. By reading lab-generated bar codes on sample input tubes, similar to those used in the chemistry and hematology labs, the system creates a worklist and generates positive tracking of samples through results without any interaction from the technologist. Results do not have to be handled manually, just reviewed and sent, resulting in substantial time savings while also reducing the risk of coding or recording errors.
As previously noted, TGH has taken a range of steps to address revenue reductions associated with Medicaid cuts, including internal cost-cutting measures and efforts to improve efficiencies using Lean and Six Sigma tools. In many areas, the hospital is evaluating new technology that can improve utility and efficiency. Within this environment, the results thus far from the switch to the system have contributed to the system's financial stability. Through smart decisions and transitions, the TGH lab has "leaned out" approximately $1 million of inefficiencies from its operational budget through automation efforts in multiple areas. For example, automation in the clinical chemistry section with a track system has allowed for significant increases in test volume with the same number of FTEs.
In October 2012, TGH acquired a second BD MAX to handle its volume of current MRSA and GBS testing, to provide backup for the primary system and to accommodate anticipated LDT testing in the near future. As the TGH lab becomes more automated, the expectation is to be able to process more tests with the same amount of staff.
TGH is planning on expanding its test menu on the BD MAX and is currently validating LDTs for the following targets:
• vanA
• Cystic fibrosis (CF) pathogen panel:
Burkholderia cepacia, Achromobacter xylosoxidans, Pseudomonas aeruginosa, and Stenotrophomonas maltophila
• Mycobacterium avium complex, Mycobacterium abscessus, S. aureus, and the mecA gene
• Trichomonas
• Enterovirus/parechovirus
• BK/JC viruses
The ability to perform sample in/answer out assays on the BD MAX makes this platform desirable for LDTs.
In a world of shrinking budgets and increasing demand at many high-volume labs, advances in technology can be game-changers. Lab technicians need flexible, efficient, and cost-effective systems to optimize a wide range of tests and volumes.
This system, with walkaway automation and standardized workflow coupled with multiple menu-expansion options, allows TGH to increase both the menu and efficiency of its molecular testing to better meet the demands of their clinicians and patients in a cost-effective manner.
For more information, contact Editor Judy O'Rourke, [email protected]