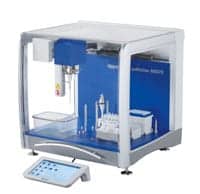 Two new additions to the range of automated pipetting? systems from Eppendorf, Hauppauge, NY, are tailored for PCR setup and nucleic acid ?purification.
The epMotion M5073 fully automates the process of DNA purification, providing reproducibility with high yield and purity.
Elution volumes as low as 25 µL for high concentrations can be used.
Eppendorf's MagSep reagent kits are specifically designed for use with the epMotion M5073.
Per run, one to 24 samples can be extracted for nucleic acid from a variety of sources, such as blood, tissue, cells, bacteria, or viruses.
The epMotion P5073 helps streamline and automate the whole PCR setup workflow in 96- or 384-well formats.
Four different, step-by-step guided PCR assistants are available to facilitate working with normalization, dilution, setup reactions, and composing mastermixes.
Both the epMotion P5073 and epMotion M5073 have six SBS positions and are installed with a large color touchscreen.
[Source: Eppendorf]