VITROS Anti-HIV 1+2 Assay
For the detection of HIV antibodies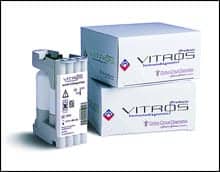 Ortho-Clinical Diagnostics, Raritan, NJ, offers the new VITROS® Anti-HIV 1+2 assay, a new diagnostic assay for the detection of antibodies to HIV types 1 and/or 2 (anti-HIV-1 and anti-HIV-2). It can be run in a fully automated, random-access format on the VITROS ECi/ECiQ Immunodiagnostic System, with results available in less than 50 minutes. It has received FDA approval and is available to labs in the United States, Puerto Rico, and the US territories. Two multicenter research teams supported in part by the National Institute on Drug Abuse, National Institutes of Health, have independently determined through the development of computer models that routine screening for HIV in health care settings is as cost effective as screening for other conditions such as breast cancer and high blood pressure, and can provide important health and survival benefits. The assay has been co-developed with Chiron, a business of Novartis Vaccines and Diagnostics Inc.
Ortho-Clinical Diagnostics
(800) 828-6316
www.orthoclinical.com
---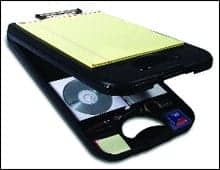 Antimicrobial Portable Desktops and Clipboards
Reduce bacteria and fungi
Saunders, Readfield, Me, is offering several products made from recycled aluminum with antimicrobial additive that reduce the formation of bacteria and fungi on the products. They are suitable for use in medical, health, pharmaceutical, food service, and other microbe-prone environments. The antimicrobial properties will remain throughout the life of the product despite repeated washing. The agent potentially extends the useful product life as it resists deterioration resulting from fungi, mold, and mildew. Redi-Rite, the principal product in the storage clipboard line of portable desktops, features the antimicrobial product protection in the opaque finish. Features including a 1.5-inch-capacity storage compartment and a high-capacity clip with a built-in license/card holder make this product useful for people who are multitasking in the field. The black DeskMate II, made from durable polypropylene, features a large storage compartment that keeps materials organized and a low-profile clip with rubber grips that holds paper securely on the front. The company has introduced Sanitized® antimicrobial product protection to the recycled plastic clipboards made in the United States, which support EPA standards.
Saunders
(800) 341-4674
www.saunders-usa.com
---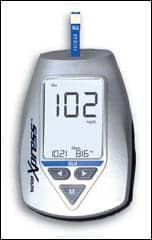 StatStrip Xpress
Hospital blood glucose meter
The new, low-cost StatStrip™ Xpress hospital blood glucose meter from Nova Biomedical, Waltham, Mass, provides the analytical performance of the company's patented Multi-Well™ test strip for testing situations where glucose meter interface capability is not needed. It provides hospitals a choice of glucose monitors with or without a connectivity solution using the same multi-well test strip. Like the StatStrip glucose hospital meter, the instrument elevates bedside glucose testing to an analytical performance that approaches the quality of central lab testing. It incorporates a new strip technology that uses four measuring wells. The multiwell system measures and corrects hematocrit interference, and interferences from acetaminophen (Tylenol), uric acid, and ascorbic acid (vitamin C). It eliminates oxygen, maltose, galactose, and xylose interferences. The unit features a 6-second analysis time, a small 1.2 microliter sample size, and operating steps that help make bedside glucose testing convenient. It requires no calibration codes, which may eliminate a potential error source, reduce the number of steps required for testing, and allow manufacturing lots to be used interchangeably.
Nova Biomedical
(800) 458-5813
www.novabiomedical.com
---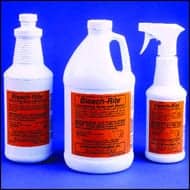 Bleach-Rite Disinfecting Spray
Kills MRSA
Bleach-Rite® Disinfecting Spray from Current Technologies, Crawfordsville, Ind, is a premixed, one-step cleaner/disinfectant that is EPA-registered as effective against vegetative cells of Clostridium difficile (C. difficile) in 30 seconds; and EPA-registered with a 30-second kill time for vancomycin-resistant Enterococcus (VRE), Streptococcus, and vegetative cells of C. difficile; and a 1-minute kill time for methicillin-resistant Staphylococcus aureus, coronavirus, HIV, hepatitis A, herpes simplex, poliovirus, rotavirus, Pseudomonas, Salmonella, and Staphylococcus. It is for use on hard, nonporous surfaces including counters, benchtops, and equipment. The product is formulated at the 0.525% (1:10) dilution of sodium hypochlorite (bleach) recommended by the NCCLS, OSHA, and CDC. The spray eliminates the daily mixing of bleach. It is available in 16-ounce and 32-ounce bottles and in 64-ounce and 128-ounce refill bottles. It has an 18-month shelf life, and the expiration date is printed on each bottle.
Current Technologies
(800) 456-4022
[email protected]
---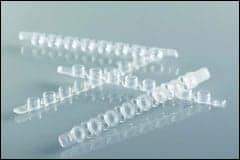 ABgene Ultra Clear Cap Strips
For fluorescent detection applications
Thermo Fisher Scientific Inc, Waltham, Mass, offers ABgene® Ultra Clear Cap Strips for QPCR and other fluorescent detection applications. The strips are molded with a specially formulated, ultraclear polypropylene that enhances fluorescent signal detection by minimizing auto-fluorescence and maximizing transmission. Each cap has a polished, flat surface, and the injection point is situated to the side, providing an unobstructed, optically clear window into the reaction tube. Manufactured in cleanroom conditions, the strips are certified free from DNase, RNase, and human genomic DNA. They are compatible with all Thermo Scientific ABgene PCR plates and tubes, and are suitable for use with a wide range of QPCR platforms. ABgene Thermo-Tube Strips (white) are included.
Thermo Fisher Scientific Inc
(800) 532-4752
www.thermo.com/abgene