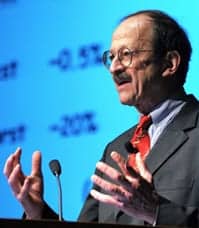 Harold Varmus, MD
AdvaMedDx, Washington, DC, and the American Association for Cancer Research (AACR), Philadelphia, will hold a joint symposium on October 29 to discuss transforming cancer care through diagnostics and personalized medicine.
Harold Varmus, MD, director of the National Cancer Institute, will discuss the state of cancer care during the morning keynote session.
Francis Collins, MD, PhD, director of the National Institutes of Health, and Margaret Hamburg, MD, commissioner of the FDA, will discuss personalized medicine during the afternoon keynote session.
Additional session topics will cover advances in genomics, detection and prognosis, patient safety and innovation, and ensuring patient access to innovative diagnostics.
The event will be held from 9 am to 4:15 pm, at the Grand Hyatt Washington, 1000 H Street, NW, Washington, DC.
For a complete agenda of the symposium, contact Danielle Blake at [email protected].
AdvaMedDx serves as an advocate for the world's leading diagnostics manufacturers.
[Source: AdvaMedDx]