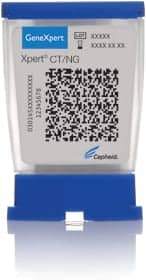 Cepheid, Sunnyvale, Calif, reports the FDA has categorized its Xpert® CT/NG test as 'Moderate Complexity' under the Clinical Laboratory Improvement Amendments (CLIA).
Xpert CT/NG is a qualitative in vitro molecular diagnostic test for the detection and differentiation of Chlamydia trachomatis (CT) and Neisseria gonorrhoeae (NG).
The test runs on Cepheid's GeneXpert® Systems. The categorization will now allow the accuracy benefits of molecular diagnostics to be realized over a broader testing universe, the company says.
"In a recent study of 23 developed countries by the Institute of Medicine and the National Research Council, the US was found to have the highest rates of sexually transmitted diseases among youths1," says John Bishop, CEO, Cepheid. "Now accessible to more than 20,000 Moderately Complex US labs and 7,000 High Complexity US labs, Xpert CT/NG becomes an important new weapon in reducing STD rates as clinicians can test, consult with, and treat their patients on a more timely basis."
Gonorrhea and chlamydia are easily treated when detected and managed quickly. Chlamydia remains the most common sexually transmitted bacterial infection in the United States. While the Centers for Disease Control and Prevention (CDC) recommends annual testing for all sexually active women aged 25 and under, their most recent nationally representative estimate among this population found that only 38% of sexually active women were tested for chlamydia during the previous year.2,3
Gonorrhea is the second most commonly reported bacterial infectious disease in the country. The CDC estimates that more than 700,000 Americans become infected with gonorrhea every year, yet fewer than half of these infections are diagnosed and reported to the CDC. Current testing protocols for N gonorrhoeae are often problematic due to cross-reactivity with other organisms, often requiring an additional confirmatory test. These delays and coordination issues can significantly hamper communication and consultation, leaving both patients and their partners uninformed and untreated.4
[Source: Cepheid]