PolyScience, Niles, Ill, offers a refrigerated open tank that delivers up to 400 watts of cooling at 20°C.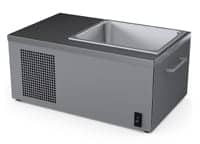 Designed to provide continuous cooling to 0°C (32°F), this 13 liter bath is ideal for applications where bath temperatures at or below ambient are required. A heated thermostat, such as the PolyScience MX Immersion Circulator, is required for temperature control.
The 13L Refrigerated Open Tank features a 0° to 150°C (32° to 302°F) working temperature, Cool Command refrigeration technology, and an insulated stainless steel reservoir with 22.9 x 29.8 x 19.7 cm (9 x 11.75 x 7.75 inches) working access.
It is available for either 120V, 60Hz or 240V, 50Hz operation.
Typical applications include blood and plasma thawing, frozen tissue thawing, frozen sample thawing, culture media warming, enzyme assays, and bacterial incubation.
[Source: PolyScience]