Metrohm ProcessLab
At-line automation analyzer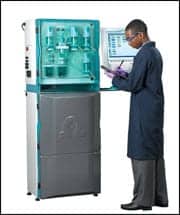 Brinkmann Instruments Inc, Westbury, NY, introduces the Metrohm® ProcessLab, a fully customized, at-line automation analyzer that uses proven hardware and software, such as microsample loops, overflow pipettes, pumps, valves, stirrers, and Dosinos®. The modular, compact design allows for installation at the process line, pilot plant, or lab. Hermetical separation of electronics helps protect the unit from dust and liquids. The industrial PC- and PLC-driven controller fosters communication in a process environment. The system carries out analyses, such as pH, acid-value, chloride, and vitamin C, without operator intervention. It can be equipped with a high-speed homogenizer for the dissolution of solids, and hot water to dissolve powders.
Brinkmann Instruments Inc
(800) 645-3050, option 2
www.brinkmann.com
---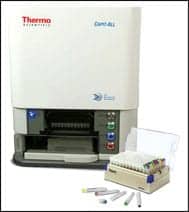 Capit-All Screw Cap Tube Capper/Decapper
For 96-format screw-cap storage tubes
Thermo Fisher Scientific Inc, Hudson, NH, introduces the new Capit-All® screw-cap tube capper/decapper, an automated system for removing and replacing 96-format screw-cap storage tubes. The compact benchtop system helps increase the throughput of screening applications and facilitates storage of samples in Thermo Scientific Matrix®, NUNC®, and other screw-cap storage tubes—while reducing the risk of repetitive strain injuries often associated with manual decapping. An antibinding feature helps prevent cross threading and maintains seal integrity with predetermined torque control. A drip tray and air-vacuum capability help prevent contamination of samples during entry and removal, and samples remain debris-free. The four-button user interface helps lab personnel at most skill levels operate the instrument. To further protect samples and assays, it is tolerant to specific decontamination regimes based on hydrogen peroxide. The unit is co-branded Thermo Scientific and The Automation Partnership, UK.
Thermo Fisher Scientific Inc
(800) 345-0206
thermo.com/matrix
---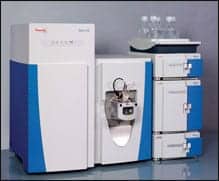 Exactive Benchtop LC-MS System
For compound screening and identification
Thermo Fisher Scientific Inc, San Jose, Calif, introduces Exactive™, a new benchtop LC-MS system for compound screening and identification applications that leverages mass-analyzer technology from the LTQ Orbitrap™ platform. The instrument is cost-effective and streamlines many technical steps that typically require specialized setup and operation. An intuitive-software interface makes the system user-friendly in expert and walk-up mode, while ensuring precise, mass identification of target compounds over a wide-concentration range. When combined with single-scan mass accuracy in positive and negative modes, the instrument facilitates common screening and high-throughput applications.
Thermo Fisher Scientific Inc
(800) 532-4752
www.thermofisher.com
---

Matrix Hybrid 8- and 12-Channel Pipettes
Ergonomic solution
Thermo Fisher Scientific Inc, Hudson, NH, introduces the new Matrix Hybrid multichannel pipette, which combines the lightweight feel and control of a manual pipette with the automatic-volume adjustment of an electronic pipette for faster pipetting. Ergonomically designed for one-hand pipetting, the instrument helps eliminate strenuous micrometer-knob twisting with incremental scrolling, six programmable QUIK-sets, and a voice-recognition system. The 8- and 12-channel pipettes support volume ranges of 0.5 µl to 12.5 µl, 2 µl to 30 µl, and 20 µl to 300 µl. The smooth, light-plunger operation helps reduce strain on the wrist and thumb, and Matrix ClipTips boost the ergonomics by minimizing tip-application and ejection forces, decreasing the risk of repetitive strain injury. The design helps ensure that the tips securely lock onto pipettes with minimal application and ejection force, helping to eliminate problems associated with loose, leaking, or uneven tips. Precise control of the pipetting actuation is maintained through manual-plunger control, allowing operations to be carried out with one hand. The option of simple one- or two-point calibration can be performed in-lab, fostering better precision and accuracy over the range of the pipette. The product is available in eight and 12 channels.
Thermo Fisher Scientific Inc
(800) 345-0206
thermo.com/matrix
---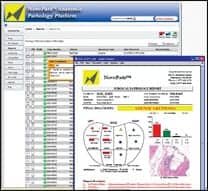 NovoPath
Software-as-a-service-solution
Novovision Inc, Princeton, NJ, introduces Hosted NovoPath™, a software-as-a-service solution for its AP-lab workflow-management, specimen-tracking, and reporting platform. It helps eliminate a site's capital expenditures for IT hardware and support by deploying and maintaining software on a central Novovision server with user access over the Internet. No special on-site hardware or software is needed, and the system performs on users' high-speed Internet connections. It can be customized to meet a lab's needs and is automatically upgraded and maintained by the company's IT workforce. All information processing and data storage is handled by remote NovoPath hardware, configured for business continuity and disaster protection. NovoPath offers a range of physician-communications options, including direct interface with an electronic medical record (EMR) system for digital communication of test orders and results. The product is offered for an all-inclusive monthly fee.
Novovision Inc
(732) 329-3209
www.novovision.com