Direct Benchtop Tube Printer
Eliminates hand labeling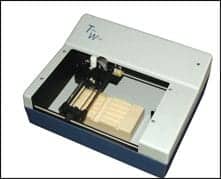 The TubeWriter from California Advanced Labeling Inc, Fremont, Calif, is a direct printer for lab media, such as microcentrifuge tubes, cryogenic vials, cluster tubes, plates, slides, and glass vials. Printing can be done on the tops or sides of media. Up to 50 samples can be printed simultaneously within 3 minutes. Information is entered in an Excel spreadsheet on a PC or Mac and printed with the same waterproof and alcohol-resistant ink used in labs. Because no adhesive labels are used, tubes may be placed in liquid nitrogen, -80ºC freezers, boiling water, and microcentrifuges, without the printing coming off. The company introduces consumable, preloaded racks and a high-throughput model with 15 times greater capacity.
California Advanced Labeling Inc
(650) 906-5600
www.tubewriter.com
---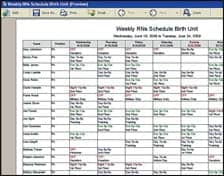 Visual Staff Scheduler Pro
Employee-scheduling software
Atlas Business Solutions Inc, Fargo, ND, offers Visual Staff Scheduler® Pro, employee-scheduling software that helps users produce schedules and display staffing levels to eliminate error-prone calculations and ensure all shifts remain properly covered. Schedules can be printed, sent via e-mail, or posted online to keep staff updated. Users can automatically copy schedule patterns and rotations to trim time spent creating reoccurring schedules. The software tracks staff skills, credentials, and training to find immediately qualified personnel for open shifts, and provides access to all past scheduling data to help forecast staffing needs.
Atlas Business Solutions Inc
(800) 874-8801
www.abs-usa.com
---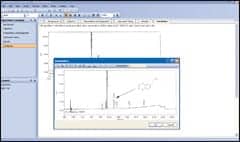 Symyx Notebook
Electronic lab notebook
Symyx Technologies Inc, Santa Clara, Calif, offers Symyx Notebook, a new, enterprise electronic laboratory notebook (ELN) that is configurable to meet the needs of biologists and analytical chemists out of the box. It helps simplify lab operations and lower costs by enabling R&D organizations to replace multiple discipline-specific ELNs with a single, multidiscipline application that is deployable enterprise-wide. Built on an enterprise-scale informatics platform, it consolidates experimental data from multiple domain areas into fully versioned, shareable, and searchable documents controlled by customizable document workflows with secure document versioning, electronic signatures, and audit trails. Features include the full software developer kit that permits rapid creation of custom functionality and extensions, including incorporation of third-party software; searching and browsing enabled via full-text searching of data-entry forms, experiments, embedded files, and annotations; Boolean searching of data-entry forms quickly narrow result sets; improved consistency and streamlined editing of experiments; ability to drag-and-drop files and annotate experimental data and images; single application to deploy and maintain minimizes IT setup while facilitating systems management and integration; new functionality and third-party add-ins automatically downloaded from the server when needed; Citrix® compatibility, facilitating remote access and enabling operation with Microsoft® Windows®, Mac OS®, and Linux® operating systems. The product uses the company's Vault document management platform, which supports document browsing and searching; 21CFR11-compliant electronic signatures and audit trails; enterprise-level security; and configurable, flexible document workflows with secure versioning for single- and multisite deployments.
Symyx Technologies Inc
(408) 764-2000
www.symyx.com
---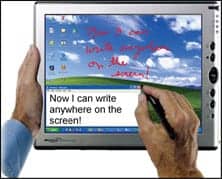 ritePen 3.0
Handwriting-recognition software
The ritePen® 3.0 handwriting-recognition and intelligent desktop navigation software offered by Ritescript®, Sunnyvale, Calif, a division of Evernote® Corp, and ESO Solutions Inc is integrated with ESO's ESO Pro™ ePCR Suite to provide seamless text input and workflow control in a mobile environment. The software is the newest version of the handwriting-recognition and intelligent desktop navigation application, and features handwritten shortcuts for common tasks such as accessing a favorite Web site, signing a document, or launching an application; building and editing of a custom dictionary by typing, pasting, or importing words from another document; and a range of customization capabilities. It lets users transparently write anywhere on the screen or other writing surface in smooth digital ink. The handwriting is instantly converted into text and placed into target text-aware applications. The ePCR suite is an intuitive, NEMSIS Gold application that helps emergency medical responders capture necessary patient data during emergency visits via pen-based notebook computers. The application includes a quality-management module, ad hoc reporting functionality, interface capabilities, validation, and tracking tools.
Ritescript
(408) 746-9900, ext 11
www.ritescript.com
---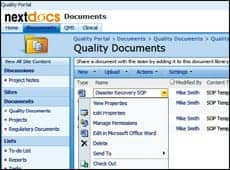 NextDocs Document and Compliance Suite
Plug-and-play solution for data management
Thermo Fisher Scientific Inc, Philadelphia, introduces the NextDocs document and compliance suite, which offers an intuitive plug-and-play solution for managing data that addresses the growing need for a user-friendly, Web-based solution to help organizations comply with FDA 21 CFR Part 11, GMP, GLP, GCP, and other regulations and industry standards. Built on the Microsoft Office® SharePoint 2007 platform, the product delivers content-management tools for regulatory compliance. The product suite is used in regulated and unregulated environments to provide a content-management and collaboration system for managing information such as documents, records (such as training records), SOP's (standard operating procedures), and activities. It helps track, approve, and manage data in a secure and centralized repository. The products need no desktop installation. A key component is that it is fully Web-based, with user interfaces that can be securely accessed from any location and seamlessly integrated with Microsoft Office and other desktop applications.
Thermo Fisher Scientific Inc
(866) 463-6522
www.thermo.com/informatics