DS2 ELISA Processing System
Computer-controlled microplate processing system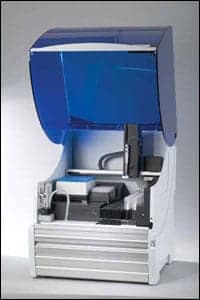 Inverness Medical, Princeton, NJ, a member of the Inverness Medical Innovations group, offers the DS2™ ELISA processing system manufactured by Dynex Technologies. The computer-controlled microplate processing system fully automates the sample-distribution, reagent-addition, incubation, washing, and detection steps of microplate ELISA assays. Designed with full walkaway capability, the system processes two 96-well microplates and up to 12 different assays simultaneously, and features user-friendly control systems, chain of custody, and instrument diagnostics. It is useful for most ELISA applications, from clinical diagnostics such as autoimmune and infectious disease, to food safety and drugs-of-abuse testing. Combined with the company's ELISA product line and the ability to automate enteric assays and front-end dilute Inverness AtheNA assays, the system provides an open, fully automated solution.
Inverness Medical
(609) 627-8081
www.invernessmedicalpd.com
---
QIAxcel
Nucleic acid separation system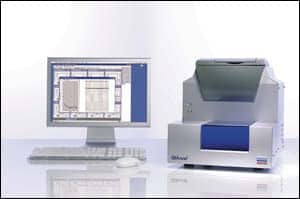 Qiagen, Valencia, Calif, introduces QIAxcel, an automated system for nucleic acid separation that is designed to take the place of traditional slab-gel analysis. It uses ready-to-go gel cartridges that allow samples to be prepared with minimal hands-on interaction, reducing manual handling errors and avoiding exposure to toxic reagents. The system analyzes up to 96 samples per run; and 12 protocols can be performed in 5 minutes. It is characterized by detecting concentrations of nucleic acids as small as 0.1 ng/ìL. Preprogrammed protocols, in combination with corresponding gel cartridges, allow separation and analysis of nucleic acids, such as singleplex or multiplex PCR fragments, DNA digested with restriction endonucleases, synthesized oligonucleotides, total RNA, and complementary RNA. The detection sensitivity of system's analyzer facilitates reproducible results, even with low nucleic acid concentrations. With its resolution as low as 3 to 5 bp, the new instrument delivers greater accuracy than slab-gel analysis. The dimensions are 36.2 cm x 38.1 cm x 55.9 cm/23 kg. The instrument is intended to be used only in combination with QIAxcel kits for applications described in the respective handbooks; the kits are intended for research only and are not for use in diagnostic procedures.
Qiagen
(800) 426-8157
www1.qiagen.com
---
Metrohm ProcessLab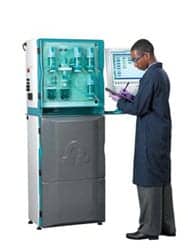 At-line automation analyzer
Brinkmann Instruments Inc, Westbury, NY, introduces the Metrohm® ProcessLab, a fully customized, at-line automation analyzer that uses proven hardware and software, such as microsample loops, overflow pipettes, pumps, valves, stirrers, and Dosinos®. The modular, compact design allows for installation at the process line, pilot plant, or lab. Hermetical separation of electronics helps protect the unit from dust and liquids. The industrial PC- and PLC-driven controller fosters communication in a process environment. The system carries out analyses, such as pH, acid-value, chloride, and vitamin C, without operator intervention. It can be equipped with a high-speed homogenizer for the dissolution of solids, and hot water to dissolve powders.
Brinkmann Instruments Inc
(800) 645-3050, option 2
www.brinkmann.com
---
Ergopet Pipettors
Versatile and adjustable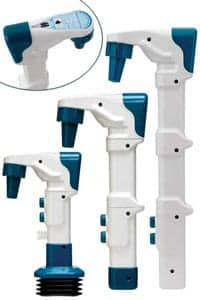 The design of the new Ergopet® Pipettors from Bel-Art Products Inc, Pequannock, NJ, provide adjustments for comfort and minimal arm strain and fatigue when working inside a hood or on the bench. Models are available in a range of sizes and allow users of varying body heights to lower their hand position and rest their elbows on the bench. The swiveling head of the equipment can be positioned straight ahead, in line with the hand, or rotated up to 90° left or right, permitting an unobstructed view of the meniscus and graduations and minimizing wrist strain. A soft silicone chuck accepts glass or plastic pipettes and rotates to change the pipette angle from vertical to 15° outward. The hydrophobic filter within the chuck protects the pipettor from inadvertent backflow and can be replaced without tools. They are available in four different powered models and 14 sizes to meet the needs of most lab settings. The portable battery-powered pipettor runs on two rechargeable 1.2V AA NiMH batteries that can be recharged approximately 500 times with the supplied wall charger. The battery-powered pipettor provides freedom of mobility and the convenience of individual push buttons to help control aspirating and dispensing and dispensing speeds from slow (gravity) to fast (powered). The Memory pipettor aspirates and dispenses a precise amount of liquid repeatedly in the memory mode without using the graduations of the pipette. The air-powered Pipettor uses a 120V AC air pump (included) to provide continuous operation without the need for battery charging. Individual push buttons easily control aspirating and dispensing from slow to fast. The Bellows pipettor operates silently without batteries, cords, or tubing, and provides suction for more than 100 mL of volume.
Bel-Art Products Inc
(800)-4BELART
www.belart.com
---
Capit-All Screw Cap Tube Capper/Decapper
For 96-format screw-cap storage tubes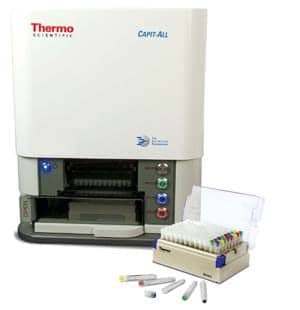 Thermo Fisher Scientific Inc, Waltham, Mass, introduces the new Capit-All® screw-cap tube capper/decapper, an automated system for removing and replacing 96-format screw-cap storage tubes. The compact benchtop system helps increase the throughput of screening applications and facilitates storage of samples in Thermo Scientific Matrix®, NUNC®, and other screw-cap storage tubes, while reducing the risk of repetitive strain injuries often associated with manual decapping. An antibinding feature helps prevent cross threading and maintains seal integrity with predetermined torque control. A drip tray and airvacuum capability help prevent contamination of samples during entry and removal, and samples remain debris-free. The four-button user interface helps lab personnel at most skill levels operate the instrument. To further protect samples and assays, it is tolerant to specific decontamination regimes based on hydrogen peroxide. The unit is co-branded Thermo Scientific and The Automation Partnership, UK.
Thermo Fisher Scientific Inc
(800) 345-0206
www.thermo.com/matrix