Introduction
Whether you're a student looking to position yourself for a career in the healthcare field or a healthcare professional seeking to expand your opportunities, the search for the ideal master's degree program can often come down to a Master of Healthcare Administration (MHA) vs. a Master of Business Administration (MBA).
Both options open up a world of possibilities and represent a time-tested way to increase both your career profile and your earning potential. Here are some things to consider when weighing the benefits of an MHA vs. an MBA.
MHA vs. MBA
Overview
For those interested in the healthcare field, an MHA might initially seem like the obvious choice — until you consider that many schools offer an MBA with a specialization, or concentration, in a range of specific fields, including healthcare administration.
Both degrees represent an excellent way to:
Develop executive-level business acumen
Learn how key business principles apply to the healthcare landscape
Position yourself for leadership roles and six-figure salaries
The MBA is a generalist degree that prepares students with more comprehensive knowledge about business processes and best practices than is possible in an MHA program. Therefore, it is widely considered to be the case that graduating with an MBA makes it easier to transition into a broader range of industries.
Earning an MBA with a concentration in healthcare administration might be ideal for students who envision pursuing a career in healthcare but who also want to broaden their skill set to include additional general management capabilities.
The MHA is a more specialized master's degree option that is focused on the specific needs, opportunities and challenges unique to the healthcare industry. Students earning an MHA receive training in essential business fundamentals necessary to be effective administrators or executives in the healthcare field. But, unlike in an MBA program, all of the program materials and activities — examples, case studies, projects, presentations, exams, instructional materials — will be healthcare specific.
This leads many people who are exploring the MHA vs. MBA question to conclude:
If you are definitely on a healthcare track, the MHA may make the most sense.
If you are not certain and want to keep your options open for high-level administration positions in other fields, the MBA is probably the way to go.
However, there are many additional factors to consider, including curriculum, career options, salary outlook, on-campus vs. online programs and more.
MHA vs. MBA
Typical Curriculum
The curriculum will vary depending on what colleges and universities you are considering, but generally speaking:
The MBA (with a healthcare concentration or specialization) will likely give you a broader understanding of overall business administration, with a strong foundation in healthcare-specific knowledge.
The MHA is designed to provide a more thorough and comprehensive understanding of healthcare administration, with less focus devoted to certain aspects of business that are typically not applicable to health executive roles.
For example, the University of Cincinnati Online offers both a Master of Health Administration degree and a Master of Business Administration degree that offers the option of concentrating your studies in one of several health-related disciplines, including healthcare administration.
MHA graduates are well positioned to tackle the ever-evolving challenges within the healthcare sector. While an MBA can offer students a wide breadth of business education, an MHA degree provides job-seekers with knowledge specific to the role of leading healthcare organizations forward — from healthcare policy and procedures, to talent management and profitability. The MHA is specifically designed for students seeking top-level management positions within healthcare organizations.
MBA graduates are well positioned for career opportunities in multiple fields, thanks both to the comprehensive business training they receive, as well as the ability to specialize — not just in healthcare administration, but also in taxation, investment management, marketing and more. The MBA path is also considered to be extremely helpful for entrepreneurs looking to gain the business acumen needed to start their own business. MBA graduates with healthcare concentrations often find that the generalist degree rounds out their existing skill set to manage functions that are increasingly being sent to department heads, marketing for example.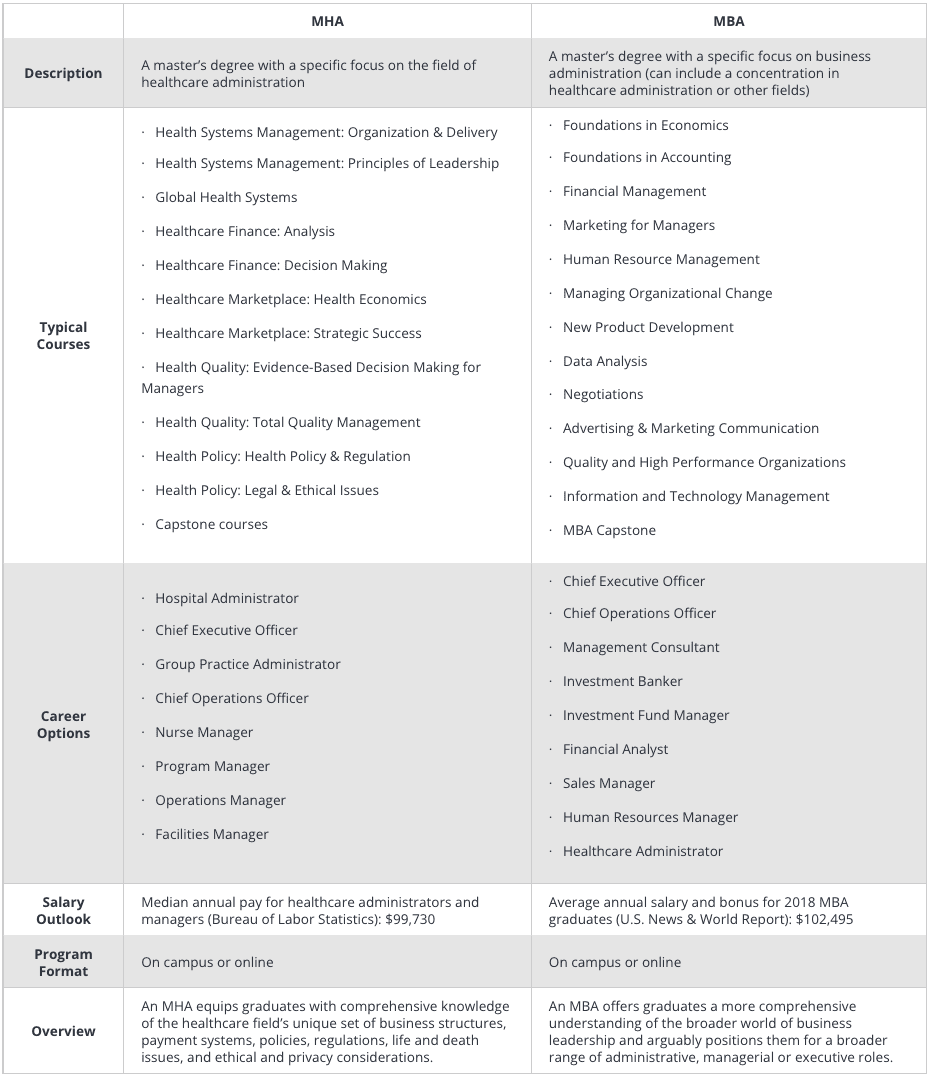 MHA vs. MBA
Salary Outlook
The salary outlook is very bright for MBA and MHA degree holders alike. The MBA is a proven pathway to a six-figure salary potential, with many business executives earning far more. But top healthcare executives are also extraordinarily well compensated. Top healthcare executives can earn millions annually; for example, R. Milton Johnson, chairman and CEO of HCA Holdings, earned a reported
$17.3 million in total compensation
in 2017. Of course, top business executives also rank in the upper echelon when it comes to compensation with
CEO pay at S&P 500 companies averaging $14.5 million
in 2018. The U.S. Bureau of Labor Statistics lists the median pay for healthcare administrators and managers at
$99,730 per year
, meaning that the lowest 10% earned less than $58,680 and the highest 10% earned more than $182,600, with job projected growth of 18% between now and 2028. The New York Times reported the following
average salaries for healthcare executives
:
Insurance CEO – $584,000
Hospital CEO – $386,000
Hospital administrator – $237,000
According to a review conducted by U.S. News & World Report,
2018 MBA graduates earned an average salary and bonus of $102,495
. The same survey showed the following average MBA salaries by industry:
Consulting $130,656
Financial services $118,585
Technology $116,526
Healthcare $102,362
Retail $94,934
Manufacturing $92,125
Energy $85,685
Media/Entertainment $83,846
MHA vs. MBA
Key Factors to Consider
Many career websites suggest that the MHA vs. MBA choice boils down to whether or not you are definitely planning for a career in healthcare; and if so, the MHA is the way to go because healthcare administration differs significantly from other fields, with its own unique set of business structures, payment systems, policies, regulations, life and death issues, and ethical and privacy considerations. An MBA is the better choice, it is often advised, for those who wish to gain a broader understanding of general business practices rather than those that are specific to healthcare. However, the MHA also gives graduates a solid grounding in many business essentials as well, and therefore is also considered a degree that transfers well to leadership in other fields. One key differentiator may be in the arena of marketing. Most traditional MBA courses devote considerable attention to marketing principles and best practices; however, many MHA programs do not include thorough marketing training in their coursework. The ultimate decision comes down to your own interests and career goals. If you are fascinated with the inner workings of hospitals and health systems or the field of healthcare in general, the MHA course of study will more closely align with that interest. However, the in-depth understanding of the world of business provided by an MBA program could position you for future leadership or entrepreneurship in a range of scenarios.
MHA vs. MBA:
What to Look for in a Great Program
No matter which degree you decide is right for you, you may want to look for several important characteristics when choosing the ideal college or university to earn your master's degree:
A world-class school with a strong academic reputation
A top-notch faculty with deep experience in the field
An institution with strong academic and career support
A school that offers MBA students the option to specialize in healthcare administration
The University of Cincinnati enjoys both a proud history (it opened its doors in 1819) and a cutting-edge reputation as one of the nation's best (
U.S. News & World Report
ranks it among the top online graduate degree programs). It also offers both of the degrees discussed here Additionally, both degrees are offered 100% online and are structured to provide maximum scheduling flexibility, essential for busy working professionals who need to balance career and family responsibilities while working to earn a graduate degree. If you'd like to learn more about the University of Cincinnati's online master's degree programs,
contact them online
 to start a conversation.
Become a Transformative Leader In Healthcare
The Master of Health Administration degree from the University of Cincinnati Online features interdisciplinary coursework provided by both the College of Allied Health Sciences and the Carl H. Lindner College of Business. The online MHA curriculum consists of 40 semester credits, including two introduction courses, nine core courses and a two-part capstone course. Students take courses part-time, between six and nine credit hours per semester

Medqor is committed to protecting and respecting your privacy. We may contact you about our products and services or share information with sponsorship partners, as well as other content that may be of interest to you. By submitting your information, you consent to us contacting you for this purpose in accordance with our privacy policy.
For further information, please check out our privacy policy here