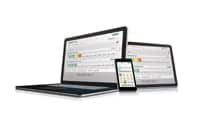 Bio-Rad Laboratories Inc, Hercules, Calif, introduces its EQAS® Mobile (External Quality Assurance Service), which offers clinical laboratories the ability to use an iPhone® or Android™ smartphone to configure and submit their proficiency testing results to Bio?Rad's QCNet™ online portal.
This online portal to QC information provides labs with an easy and rapid way to access their quality control data and other QC-related information.
The EQAS Mobile platform targets mobile-only Internet users (MOIU) and features simple navigation to guide smartphone users to a page of interest with minimal data plan utilization.
"EQAS Mobile offers clinical laboratories a fast and easy solution for submitting results to Bio-Rad," says Nico Vandepoele, product manager. "In addition, it integrates with our EQAS Online solution, providing the same features and functionality including easy navigation; color coding of submitted, late, or missing results; and e-mail notifications when results are due and reports are available."
The EQAS program is fully accredited to ISO/IEC 17043:2010 and offers several comprehensive programs that include clinical chemistry for both serum and urine, therapeutic drug monitoring, immunoassay, serum proteins, hemoglobin, tumor markers, hematology, blood gas, coagulation, cardiac markers, ethanol/ammonia, and lipids.
[Source: Bio-Rad Laboratories]