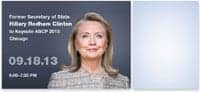 Hillary Rodham Clinton, former Secretary of State and former United States Senator from New York will be the keynote speaker at the American Society for Clinical Pathology (ASCP) 2013 Annual Meeting to be held in September.
Her presentation will be delivered on September 18, from 6 pm to 7:30 pm
Secretary Clinton served as the 67th Secretary of State of the United States from January 21, 2009 until February 1, 2013.
Her "smart power" approach to foreign policy repositioned American diplomacy and development for the 21st century. Secretary Clinton played a central role in restoring America's standing in the world, reasserting the United States as a Pacific power, imposing crippling sanctions on Iran and North Korea, responding to the Arab Awakening, and negotiating a ceasefire in the Middle East, ASCP notes.
Earlier as First Lady and US Senator from New York, she traveled to more than 80 countries as a champion of human rights, democracy, and opportunities for women and girls. Secretary Clinton also worked to provide health care to millions of children, create jobs and opportunity, and support first responders who risked their lives at Ground Zero. In her historic campaign for President, Secretary Clinton won 18 million votes.
"Former Secretary of State Clinton's keynote presentation will set the stage for a global scientific conference," says Joel Shilling, MD, FASCP, ASCP president.
Registration for the ASCP 2013 Annual Meeting, which runs from September 18 to 21, in Chicago is now open. Click here to register.
[Source: ASCP]