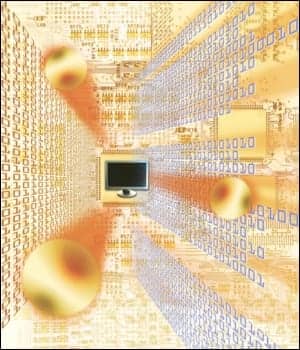 What are the most significant trends in the laboratory information system (LIS) industry and the primary challenges facing it? And how are those challenges being met?
According to Curt Johnson, vice president of sales and marketing for Orchard Software, Carmel, Ind, the biggest issue facing the LIS industry is the Health Information Technology for Economic and Clinical Health (HITECH) Act, part of the government's stimulus package—the American Recovery and Reinvestment Act (ARRA) of 2009—in which $20 billion was set aside to stimulate the adoption of electronic medical record (EMR) technologies by physicians and hospitals. The law sets standards for the implementation of these technologies that, if not met, disqualify physicians and hospitals from receiving the program's incentive funds.
HITECH's goal is EMR adoption and the interoperability of health information. For physicians and hospitals, not doing so means ineligibility for these funds, which are due to be distributed beginning in 2011, Johnson says.
"Hospital labs have to focus on inpatient work but also have to be able to provide lab information to outside clients' EMRs so they can qualify under the program too. This is a challenge for some, but it's a tremendous opportunity for others," Johnson says.
The change is significant for clinical labs, but they have been automating for years. It's newer and thus a bigger challenge for anatomical pathology labs, which are not nearly so automated. "They may need to change workflows so pathology is part of the bigger electronic health picture," Johnson says. This can be such a big change for these labs because they are very batch processed and use manual reporting procedures to a far greater extent than automated ones. Now, they may need to adopt an automated flow of information that's integrated into other systems, Johnson says. And independent reference labs will need to speed up their integration efforts, he notes.
Johnson says it's unclear how much advance planning has been done for HITECH implementation, but that it was difficult to plan specifically because the program's guidelines were only released in July.
One challenge for the lab community is to find knowledgeable resources on how the HITECH Act affects its clients and the industry as a whole. Orchard has begun its own blog on the subject (www.orchardsoft.com/blog), updated its Web site to include copious HITECH information (www.orchardsoft.com/meaningfuluse.html), is conducting educational Webinars, and is speaking about it at tradeshows and other industry meetings.
Another industry trend is the growth in new molecular testing methods, Johnson says. "But the immediate focus in the lab is on integrated systems to comply with HITECH," he says.
Orchard Software products related to electronic medical records and automation include the Orchard® Harvest™ LIS, which is Windows-based and utilizes process automation; ICD-9 screening, robust instrument, billing, EMR and reference lab interfaces and rules-based technology to improve efficiency, reduce errors and increase reimbursements; Orchard® Pathology, which provides the comprehensive pathology laboratory with the benefits of electronic record-keeping, rules-based decision-making and the integration of results from all laboratory departments; and Orchard® Copia®, used by laboratories and lab networks doing outreach, linking multiple labs and enabling Web-based access and EMR integration.
Effects of the Growth in Molecular Testing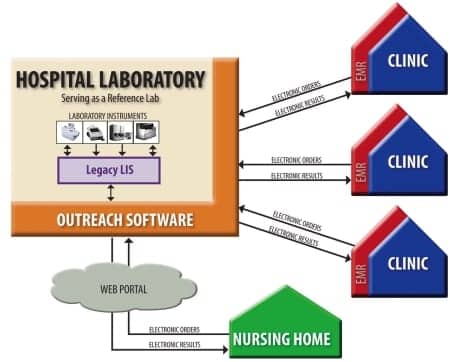 Labs need to focus on both inpatient work and being able to provide information to outside clients' EMRs.
Sandy Laughlin, product manager, Antek HealthWare, Reisterstown, Md, says that several factors have impacted the LIS industry over the past few years and will continue to do so. These factors include the increase of molecular diagnostics, the shortage of medical technologists, and the ARRA.
Molecular diagnostics continues to expand and utilize multiple, complex steps throughout the testing process, Laughlin says. "Antek has completed interfaces to several of the molecular diagnostic analyzers and will continue to work with the molecular instrumentation manufacturers to ensure that the required data is shared between the two systems. Many molecular laboratories also require the storage of images. LabDAQ is able to store images at both the patient and requisition level," she says.
Laughlin agrees that ARRA has also impacted LIS market trends. "As facilities implement EMR, they must integrate the laboratory results," she says. "Many facilities are also placing the orders in the EMR as opposed to creating a paper requisition for the laboratory. The order is electronically transferred from the EMR directly to the LIS. As more facilities implement EMRs, this will become more commonplace. Antek works with many EMR vendors to ensure that client needs are met. Many of our clients also export the testing information to the practice-management system. This ensures that all charges are captured for the laboratory testing performed."
She says the shortage of laboratory professionals continues to impact health care universally, with approximately 60% of medical decisions being based on laboratory testing. This continues to be a large concern as undertrained personnel may be conducting laboratory tests within a moderate to complex testing environment. Laboratories are expected to do more with less; this places a premium on a LIS system that is easy to use and easy to train while still providing the rich feature/functionality needed to effectively maintain and manage test volumes, Laughlin says.
"To assist our clients, many tools are implemented in LabDAQ LIS to ensure that timely reimbursements are received. Medical necessity checking, insurance routing, and billing exports are just a few examples of some of the reimbursement tools. There are also tools for result dissemination, reflex testing, billing, and more. The integrated user-defined rules within LabDAQ assist lab personnel with their daily activities and also improve the efficiency of the laboratory. With decreasing hospital reimbursements, many procedures are being performed outside of the hospital. Results must be available at the point of patient care. It is up to the laboratory to ensure that the results are sent and received where needed.
"Antek HealthWare is a sponsor of 'A Day Without the Laboratory,' a joint venture between ASCP and ASCLS to demonstrate the importance of the laboratory's contribution to health care, to hospital administrators, the patient, and physicians," Laughlin says.
Continued Movement Toward Automation
The current LIS industry trend is end-to-end automation of the laboratory. That's according to Jim O'Neill, vice president, sales and marketing, Computer Service and Support Inc, Linwood, NJ.
O'Neill says the four primary areas of laboratory IT are: LIS, Billing and electronic claims, Secure Web-based reporting and ordering, and EMR and EHR Interfaces.
Today's laboratory must have all of the above functionality to effectively and efficiently service its clients, he says. "Many LIS vendors have not enhanced their solutions to provide billing or a cost-effective EMR and outreach solution. The cost of integrating multiple vendors can be time-consuming, costly, and cause client service issues dealing with multiple vendors," he says.
Many traditional multivendor solutions will require the laboratory staff to maintain duplicate databases (such as physician, test/procedure, etc), O'Neill says, and a comprehensive end-to-end solution provided by one vendor will require less database administration.
Today's laboratory has streamlined its laboratory and reporting functions and is looking for additional solutions for other areas of the business, O'Neill says. Client services, billing, and outreach have become a focus that most laboratories are looking to further streamline. Integration between LIS and billing will require fewer FTEs in the billing and accounts receivable departments. Sending Medicare electronically along with all other carriers is typically a requirement in today's laboratory IT solution, O'Neill says.
EMR/EHR interfaces will be a required, not optional, feature in the future, he says. Orders from an EMR must flow seamlessly through the LIS and be sent back to the EMR system. The cost of a uni- or bidirectional interface must be cost-effective and installed in weeks rather than months. "The days of the 10 to 20K interface are over. Laboratory owners and management are looking for LIS vendors that can provide volume pricing for EMR projects," O'Neill says.
The LIS of the future must be able to support an unlimited number of EMR interfaces along with portal access to the clients, O'Neill says.
Middleware Fills the Gaps
Lenny Johnson, product manager Americas, Technidata America Medical Software, Tucson, Ariz, notes that while some laboratories find the time, funding, and resources to replace entire LIS systems, many are electing to use middleware solutions to enhance legacy systems.
"Certainly this is not a new trend, but quite often existing LIS systems lack comprehensive, user-friendly, and intuitive microbiology modules. In recent years, we have identified that the number of laboratories adding middleware within the microbiology department has been steadily on the rise. By integrating modern LIS-independent microbiology modules, laboratories are able to reap the benefits of the latest features found in today's microbiology systems while keeping their legacy LIS intact," he says.
Labs need a microbiology system that guides technologists through the entire identification, susceptibility, and results reporting process, and the specific workflow steps will depend upon the culture type, specimen type, collection type, and other factors, he says. There is a need for intuitive systems that require minimal training time and allow for the building of standard operating procedures for each specific culture procedure, Johnson says. When technologists have questions about the workup, ideally a system that offers a quick access to the specific SOP documentation works best, he adds.

To monitor developments in the LIS space, bookmark our website.
Johnson says that while auto-verification in the core lab is a mature topic, it is somewhat of a new concept in the microbiology department. Most microbiology laboratories have not had the ability or the time to implement auto-verification into their systems, yet many would like to focus their review on those organisms with atypical sensitivity patterns and let the more common organisms with classic susceptibility patterns get reported out automatically without the need for technologist review, he notes.
"The ability to electronically report specific organisms and/or susceptibility patterns to state and federal agencies is a requirement that many labs look for in a system, and the automation of this step is ideal. Automating the alert of nursing, physician, and epidemiology staff when concerned organisms are identified is also a feature many labs desire. Often, the alert is a simple phone call, but many labs are asking for e-mails or text messages as well," Johnson says.
"Systems like our TD-Synergy Microbiology Module make it possible to integrate into any organization's legacy LIS, providing a comprehensive, modern, and user-intuitive system which allows the microbiology lab to build their SOPs into their systematic workflow, making the solution more intuitive and easy to use," he says. ¦
---
Gary Tufel is a contributing writer for CLP.
Recommended Reading
Clinical labs make money by using revenue cycle management. www.darkdaily.com/clinical-labs-make-money-by-using-revenue-cycle-management-1023. Accessed July 23, 2010.
ICD-9-CM to ICD-10-CM: Implementation issues and challenges. library.ahima.org/xpedio/groups/public/documents/ahima/bok3_005426.hcsp?dDocName=bok3_005426#notes. Accessed July 23, 2010.
Payors adopt McKesson's automated InterQual Molecular Dx System to avoid inaccurate coverage decisions. www.mckesson.com/static_files/McKesson.com/MHS/Documents/GenomeWeb_11-18-09_MDx.pdf. Accessed July 23, 2010.