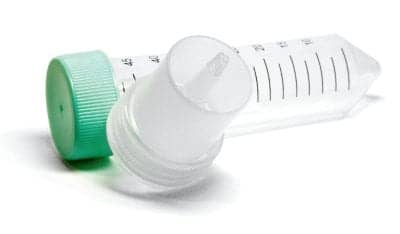 Alpha Tec's Para-Pro fc50, a parasite concentrator with a patented conical filter, increases parasite recovery over conventional flat filters, according to the company.
Akey role player in the clinical lab, plastics and consumables are becoming more efficient and user-friendly. What follows is a roundup of various offerings.
ALPHA-TEC SYSTEMS
Alpha-Tec Systems, Vancouver, Wash, zeroes in on providing accuracy and fast turnaround time. Its most widely used product is the NAC-PAC™ EA3, which contains all of the specimen-preparation reagents needed to properly digest, buffer, and resuspend a patient sample for lab analysis of the presence of Mycobacterium spp. "The reagents found in NAC-PAC EA3 improve the efficiency of AFB diagnostics and reduce the occurrence of contaminated and reprocessed samples by controlling pH throughout the specimen-preparation process—with an integrated pH indicator to ensure a neutral patient sample is prepared," says Chris Williams, director of Analytics, Informatics, and Innovation at Alpha-Tec.
Sensitivity, specificity, and rapid turnaround time are even more critical when the pathogen is dangerous. Some technological advances have proven too complex and cost-prohibitive for many labs to adopt. "NAC-PAC EA3 has made updates, which keeps cost and complexity low," Williams says. A comparative study has shown this specimen-preparation reagent system allowed for detection of positive samples that may not previously have been identified. "Our EA3 system has been shown to reduce cross-contamination and improve sensitivity and specificity of downstream diagnostic instruments," he says. The reagents are packaged in high-density polypropylene (HDPP) bottles and caps, and are quality controlled to reduce contaminates.
The company identified key issues with conventional parasite filtration systems in the world market and, in response, developed the Para-Pro™ fc50, a closed parasite concentration filter. "[Its] patented design includes a filtration space of three times the existing products in the market," Williams says. "This increased area allows for faster, more effective filtration and improved recovery of parasites." It is designed to connect directly with parasitology transport vials to allow for filtration without spillage or odor.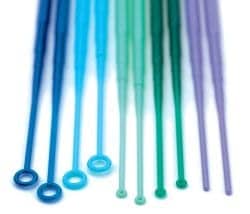 Copan Diagnostics offers two different lines of 1-ìL and 10-ìL loops made of either soft, flexible plastic or hard, rigid plastic.
Other plastics-based products from Alpha-Tec include centrifuge tubes and the Clean Vial, a standard 30-mL polypropylene specimen-collection vial with a spork device on the inside of the cap. It is used to collect a portion of the fecal specimen for transportation without fixatives or preservatives, and it is compatible with most downstream protocols, including the company's Para-Pro fc50.
Alpha-Tec's products are compatible with most diagnostic automation equipment. Contamination issues have been addressed by using virgin, high-density polypropylene that has been gamma irradiated in about 95% of the plastics used.
LEICA MICROSYSTEMS
The Consumables Business within the Biosystems Division of Leica Microsystems brings histopathology laboratories high-quality products and a broad comprehensive product range, says John Kody, general manager, Core Histology Consumables, Leica Biosystems, Buffalo Grove, Ill. "The broad range is focused on improving diagnostic confidence and workflow efficiencies, offering the ideal product for each histology step and high-productivity workflow solutions for the entire lab," he says. "From patient to pathologist, our complete histology solutions feature innovative Leica Surgipath® consumables, automation, and Novocastra™ reagents."
Surgipath tissue and biopsy cassettes are suitable for holding and identifying tissue samples in processing, embedding, sectioning, and archiving procedures. They are molded from a high-density acetal polymer that is totally resistant to the chemical action of histological solvents. These cassettes are designed to keep specimens completely safe during processing. The writing surface accepts markings easily, permitting sample identification throughout all histology procedures and long afterward when archived. "The Surgipath IP ActivFlo™ cassettes are one of the most efficient and thorough tissue and biopsy processing cassettes in the market," says Christina Wilson, global product manager for cassettes, Leica Biosystems. "The patented 'Fluidic Flow' pore design allows for maximum reagent exchange, minimizing the incidence of under-processed tissue."
Surgipath cassettes have been validated for use with the Leica IP Cassette printer. The validation ensures proper functioning of the consumable with the instrument. Leica Microsystems, confirms that the consumable works well with the instrument and will not cause adverse wear and tear on the instrument or it's components, and meets all performance specifications. It is imperative that all cassettes remain closed during processing to protect specimen identification.
COPAN DIAGNOSTICS INC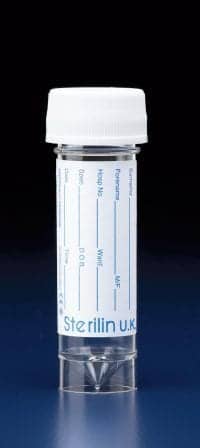 Thermo Fisher Scientific offers the new Sterilin 30-mL Universal container, with ergonomic design enhancements.
Copan Diagnostics Inc, Murietta, Calif, offers an innovation in plastic disposable inoculation loops with two different lines of 1-µL and 10-µL loops made of either soft, flexible plastic or hard, rigid plastic. Loops are used in clinical microbiology labs in large numbers and for many tasks. Laboratorians often have strong preferences of which loop for which process, as no single loop can be efficient or well-suited for every application.
Traditionally, loops were either rigid or flexible. Copan developed new technology, making its molds and injection equipment capable of handling different plastic raw material mixtures and enabling the manufacture of rigid or flexible plastic loops from the same mold, says Gabriela Powers, the company's global marketing manager. "This means that laboratories can source both rigid and flexible-style loops from the same manufacturer," she says.
Earlier on, loops were calibrated with metal calibration gauges, and the volume of liquid delivered was determined by the internal diameter of the loop and the depth, or thickness, of the walls. "This method was originally designed for checking reuseable platinum and nickel-chrome (nichrome) wire loops," says Norman Sharples, executive vice president, Copan. "Wire loops can remain in use for very long periods of time in a lab and easily become damaged or distorted. Repeated heating and cooling to sterilize between use can cause further distortion of the loop. These factors eventually lead to alterations in the internal diameter and the volume of liquid delivered."
The Evans blue dye method differs in that it certifies accuracy of the volume of liquid by measuring volumetrically the actual quantity of liquid that is collected and delivered by a loop. "The dye method is not concerned with the dimensions of the loop, only the volume delivered," according to Copan's Certificate of Calibration. "A calibration curve is created by making various dilutions of Evans Blue Dye and measuring the absorbance in a spectrophotometer. Loopfuls of dye are then transferred into a specified volume of water, and the absorbance is measured. From the calibration curve, the technologist can determine the actual volume of dye that was transferred in a single loopful."
Copan's ability to supply two different types of loops can bring standardization, and result in cost savings for many labs. Plastic disposable loops are now the top choice of many labs, and the American Society for Microbiology recommends the Evans blue dye method as the method of calibration best suited for plastic loops.
Quantities of 25 loops with the new hexagon loop barrel handle, which improves grip, are packaged in a plastic bag with a ziplock closure with a tamper-evident, tear-away seal.
THERMO FISHER SCIENTIFIC
Thermo Fisher Scientific, Middletown, Va, introduces the Sterilin 30-mL Universal container. A standard Universal has a one-and-a-half-turn cap, which can present technicians with a significant amount of work, especially if they handle up to 300 samples a day This product has a much-improved, quarter-turn cap, which for many is a welcome improvement.
"We position ourselves as taking everyday consumables and making them better through our knowledge of laboratory workflows and needs," says Alison Smith, marketing director, Sterilin Products, Thermo Fisher Scientific. "We've also addressed things like the shape of the grooves on the outside of the cap. If you're handling 200 to 300 a day, your fingers can get sore if those aren't molded with rounded curves in them."
Other subtle changes include rounding the top of the container, so technicians using a forceps do not catch their fingers on a sharp edge on the container's top. The cap prevents leakage during transport. Also, the injection point has been moved. On many similar products, the injection point is on the bottom of the container, so any gate pip can make the product unstable on the bench. Changing how plastic is injected into the molds provides a built-in quality feature.
The Universal is tested through vacuum systems, and tested to ensure it can withstand the rigors of transport and lab testing. A batch code, which is unique, adds to product traceability in the lab.
Automation has necessitated some of the changes. Urine analysis is now becoming automated in labs worldwide. The Sterilin Primary Urine Tube is designed to fit into the racking systems of automated urine analysis. A flat-based collection cup is available to facilitate patients filling the tubes. The range of primary collection tubes are 95kPA-compliant to ensure leak-free performance and suitability for transport. They are available either empty or dosed with a boric acid preservative, which helps maintain the bacterial content of the sample if it is unlikely to be processed within 2 hours.
"The use of this tube will also remove the necessity of decanting samples into tubes in the laboratory prior to use in the analyzer—both saving time and reducing potential errors," Smith says. "It comes down to how easy is it for everybody to get the sample into the tube, making sure that when the cap is put on it seals properly, that the sample is preserved on its way to the laboratory, and that it's easy for the laboratory to handle."
Another driver in the plastics/consumables market is the deficit in many labs' health care budgets. The company is enhancing existing products at no extra cost, and strives to anticipate unmet needs. One such need is intersects with hospitals that are contracting out services. Thermo Fisher Scientific has introduced Sterilin Indicator Autoclave Bags, for disposal of biohazardous waste, which makes it easy for contracted waste-disposal services to identify an autoclaved bag verses an unautoclaved bag. "Now the waste-disposal person will know, the same as a microbiologist, that the bag is safe for disposal," Smith says.
---
JL Silverman is a contributing writer for CLP.