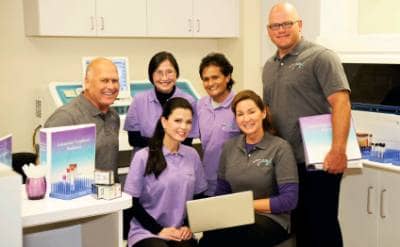 Rochelle P. Stewart, MBA, CLS, MLS(ASCP)CM, QLC(ASCP), CLC/MT(AMT) (bottom row, at right), and members of the Southern California team.
RPL Laboratory Solutions® Inc (RPL), Riverside, Calif, is a laboratory consulting firm with more than 25 years of experience helping clients throughout the nation navigate complex state and federal regulatory and accreditation requirements for waived and nonwaived lab testing.
RPL's extensive and diverse client base ranges from single-practice physician office laboratories to full-service reference laboratories.
Whether the governing body is state, federal, Commission on Office Laboratory Accreditation, Joint Commission on Accreditation of Health Care Organizations, or College of American Pathologists, RPL will design, implement, and manage comprehensive compliance programs customized to the client's specific needs, freeing them to concentrate on growing a successful business. To accomplish this, RPL works with clients to understand how they want to do business, and then formulates a plan, executes it, and provides a working laboratory management program that can grow with them as their lab expands to ensure future success.
A visit to RPL's Web site (www.rplLaboratorySolutions.com) illustrates the company's ability to provide a one-stop shop for all lab regulatory, compliance, and operation needs. RPL's staff is comprised of licensed professionals with more than 100 years of collective experience who are dedicated to working with clients and assisting them with all facets of operations and management. Staff members are available on-site or by remote access to simplify the regulation and accreditation process. RPL's staff understands that sharing information is the key to fostering an environment of trust in RPL's expertise. The company has retained clients for decades using this unique and collaborative approach.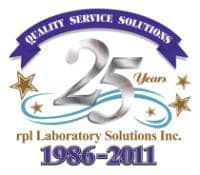 RPL's products and services have been validated continuously by regulatory agencies since 1986. Whether a new or established lab, by following RPL's program, clients have unanimously achieved successful inspection outcomes.
Rochelle P. Stewart, MBA, CLS, MLS(ASCP)CM, QLC(ASCP), CLC/MT(AMT), is the founder, president, and CEO of RPL. Ms Stewart's extraordinary passion for and commitment to her work has led to a vast breadth and depth of experience and knowledge of the industry. Her areas of expertise include laboratory medicine, practice management, and safety. She served as an Expert Clinical Laboratory Improvement Amendments (CLIA) Surveyor for the Centers for Medicare & Medicaid Services (CMS); an American Medical Technologist (AMT) committee member for the Laboratory Consultant Certification Program; and an AMT committee member for the Certified Office Laboratory Technician's Education, Qualifications, and Standards Committee.
EVOLUTION OF RPL
Ms Stewart started her consulting work after she was sought out by vendors and manufacturers who recognized the high-quality standards she maintained in her labs. CLIA '88 was emerging and impacting their client physicians. She was able to apply her expertise and provide solutions for these troubled labs.
During her tenure as an expert CLIA surveyor for CMS, Ms Stewart found clinicians had an immense need for customized design, implementation, and management of comprehensive compliance programs. "Every time I walked into a doctor's office as a surveyor, I was impressed that the doctors wanted to do their best, but they had difficulty translating the Federal Register into practical application," Ms Stewart says. "Failure to meet the regulations wasn't intentional. What placed them in a difficult situation was that they didn't know what they didn't know."
After completing her surveyor position, Ms Stewart knew she wanted to provide doctors with the tools necessary to meet requirements and maintain compliance successfully. Ms Stewart established her business to focus 100% of her time on helping clinical labs across the country. Her ability to earn her clients' loyalty is remarkable and will no doubt guarantee RPL's success for decades to come.
RPL shines in the "post trauma" of the accreditation survey; the company is able to provide a plan that responds to deficiencies, and develops and applies remedial measures. RPL is also widely known for working with start-up labs. The company provides a complete management program, staff training, and assists with the initial inspection and continuation of ongoing maintenance to ensure a high level of quality.
FUTURE OF THE INDUSTRY: Discussion with Rochelle Stewart
Ms Stewart is very passionate about having laboratory testing under the control of the ordering health care provider. "Lab is integral to the scope of care clinicians provide their patients," she says. "In-house diagnostics provide quick answers for patients regarding diagnosis, treatment, and health maintenance decisions. Providing these services should not be an intimidating process. We can make this aspect of medical care stress-free and beneficial."
Ms Stewart has seen an increase in doctors offering on-site testing and believes this trend will continue in the future.
Remote consulting is an example of how RPL is evolving to meet client needs relative to cost efficiencies and time management. RPL's Web site will soon offer products that can be accessed for download or direct order. Ms Stewart is very excited about providing this new level of service for RPL clients.
An impending challenge for 2012 will be working through the proposed Accountable Care Organizations. This is an interesting concept with challenging financial issues to solve. Not one to shy away from a challenge, Ms Stewart looks forward to working with her current and new clients to create solutions that help them succeed in this new environment.
"There are several components required to build or maintain a lab: staff, analytical equipment, laboratory information system/electronic medical records, and supplies," Ms Stewart says. "We provide the thread to knit these items together, not only with the implementation of our programs and services but also with the knowledge and expertise of how to create a cohesive flow. I have found that when RPL is involved working in partnership with the various manufacturers and distributors, success is achieved."
---
Sarah Michaud is a contributing writer for CLP.