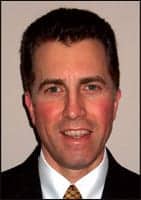 Eric Crugnale
Sunrise Medical Laboratories, Hauppauge, NY, operates a full-service clinical and anatomical pathology lab serving the diverse needs of the metropolitan New York area and neighboring communities. Since its founding in 1972 and split from a veterinary subsidiary in 1993, the lab's growth has mushroomed. Sunrise was acquired by Sonic Healthcare, Australia, in 2007 and now anchors the hub of Sonic's Northeast division for the US market.
The midsized lab performs between 6,500 and 7,000 requisitions per day, 6 days per week, which amounts to some 1.6 million to 2 million requisitions per year.
Eric Crugnale, the lab's chief information officer (CIO) since 1999, arrived in 1994 as the first IT employee. "It was a great experience to get in on the ground floor and be able to build it up to what it is today," he says.
The overseer did not always wear a white coat. He was an electronic engineering major at Stony Brook University as an undergrad, and earned his MBA at New York University. He concentrated on programming and R&D. "When the defense industry scaled back, I was lucky to be able to jump into IT, and even more lucky to jump into health care, which is a stable industry," Crugnale says. His background in business and management comes in handy when he dons the decision-maker's cap—and must help determine which systems to deploy.
The lab relies upon Atlas LabWorks from Atlas Medical Software, Calabasas, Calif, for its physician order entry and remote reporting. More than 60% of lab orders are received electronically through the system—and upward of 700 physicians are connected to it. Since New York State does not allow labs to provide in-office phlebotomy, this represents sizeable direct order entry by physician office staff.
Internally, the lab uses the Commercial Lab System from Sunquest Information Systems, Tucson, Ariz, to manage all aspects of clinical workflow, from order receipt through test processing, reporting, and for customer service. Lab requisitions are processed through Sunquest through electronic receipt of Atlas orders, or through direct entry for handwritten requisitions.
Crugnale relies on the NovoPath system from Novovision Inc, Princeton, NJ, to manage the anatomic pathology workflow. Data flows between the systems via a series of HL7 order-and-result interfaces.
Fast Thinker
NovoPath is installed on its own Windows-based file server. After orders for anatomic pathology tests are entered in the Sunquest system, they are transmitted via HL7 to NovoPath—which takes it from there and performs all of the additional processing. Pathologists do the gross description and the microscopic description, and a transcriptionist enters the information in NovoPath. Pathologists have a camera mounted on their microscopes, and as part of the microscopic analysis, they will include at least one picture of the slide on the report. Image acquisition and storage take place within NovoPath.
After the report has been finished, a draft print is made and presented to the pathologist for sign-off. After it has been approved, the transcriptionist "signs out" the case in NovoPath and a report is generated. "We can report results from NovoPath by either printing in the lab and delivering to client, faxing, or via our Atlas System over the Internet," Crugnale says. "In addition, an HL7 interface sends the results back to our Sunquest system for inquiry and billing purposes."
Before Sunrise latched onto NovoPath, the lab used the AP Module from its Sunquest system. "It did not allow us to do the enhanced reporting—microscopic images and diagnostic maps—that NovoPath allows," Crugnale says. "The ability to generate a report that is competitive with specialty pathology labs has been the biggest benefit of using this system."
The system dovetailed with the lab's needs. "During the selection process, we felt that NovoPath had the best combination of ease of use, a very well-integrated image-acquisition system, as well as a competitive price point," Crugnale says. "In addition, they weren't so big that we would just be another customer. We liked that they were willing to make our implementation a priority."
Rise and Shine
While horror stories abound, for Sunrise the transition was pretty seamless. Mountains of advance work helped. Once the lab specified the needed report routines, built the HL7 interfaces, and performed the necessary data conversions and definitions, the staff members executed extensive system tests before going live. "We transitioned accounts into the new system over a period of several months, starting with three to four beta sites," Crugnale says. "This allowed our pathology department to adapt to the new workflows and systems more gradually, while also allowing us to provide the enhanced reporting features to our largest clients." It also minimized the impact of any potential technical issues that inevitably crop up when labs launch new systems. The enthusiasm was contagious. "Once our sales team started marketing the new system, everyone wanted it!"
Life is good, but not obstacle-free. Crugnale says the biggest challenge is keeping up with the growing demand for electronic medical record interfaces. "More and more physicians are implementing these systems, and they all would like to have lab orders and results interfaced," he says. "We also like to continually look at ways that IT can improve efficiencies and overall lab productivity."
Sunrise plans to continue to grow its market share, and IT is a key pivot point. "It has been an important part of our growth and should continue to do so," says the first man on board.
---
Judy O'Rourke is associate editor of CLP.