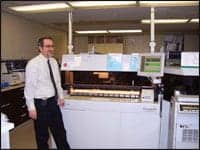 Mark Wellons, LIS coordinator for the lab at Porter Health, which performs more than 1.2 million tests annually.
Porter Health, a 200-bed facility in northwestern Indiana, has 87 FTE positions in the lab and performs more than 1.2 million tests annually. The DI system helps the lab flex its workload test mix at myriad facilities to capture productivity efficiencies—while providing the best turnaround times for urgent care. If an instrument is down, technicians pass samples to another instrument or facility pronto, and testing resumes. Simplified workflows translate to fast and flexible response times to changing conditions.
Porter has grown to 13 facilities with several draw centers and four main testing labs since 1939, when a local surgeon left a bequest to build a local hospital. Plans are afoot to replace the original campus with a new facility before 2012.
Technicians perform more than 100,000 procedures per month, and the large outpatient load surpasses tests for inpatients. The lab serves nursing homes, surgery centers, a heart clinic, and clinics spanning four counties. STAT samples and critical values are called to units, offices, or physicians as needed. Routine results are queued for distribution to printers or the automated fax server. Physicians tote wireless handhelds and rely on a Web-based physician portal. The lab manually faxes or mails reports to offices outside its system.
Mark Wellons, MT, says Data Innovations software furnishes Porter with three main advantages with several related spin-offs, such as connectivity, rules-based control consistency, and autovalidation.
"Connectivity is very important," Wellons says. "Our old system involved an expensive serial term server that required vendor support and was complicated and slow to implement. My first replacement cost $8,000 and took nearly a week to complete. The DI system allowed me to use a small device for about $500, and I could implement it myself."
Wellons puts a new one into service or replaces an old one in about 30 minutes, and makes the default settings standard so technicians can easily replace them on the fly. He trained for 2 weeks before his predecessor left— Betty Fritts had been the leading lab director for most of her 54 years at Porter—and Wellons spent the first weekend alone in an electrical closet. "At 2 am I vowed I would find a better way," he says. "This one feature improved our response time and allowed a cost savings that paid for a lot of our implementation."
Wellons wanted control to be centered in the lab without the direct and perpetual vendor oversight required by the current system. He pursued a solution for controlling the information flow from the instrumentation that allowed local control of powerful new technology that jettisoned the system from basic functionality to improved connectivity, speed, and reliability with the infrastructure needed to use cutting-edge concepts such as rules-based central control and autovalidation.
The basic implementation—which had originally been estimated at more than 2 years—was advanced to fewer than 4 months.
The instrument-managing approach had been available to large institutions only, but the lab's approach of flexible connection response management and rules-based logic control opened the door to reduced errors, improved quality control, improved connectivity, and autovalidation. Piecemeal implementation helped trim costs by about half for new instruments, and the systems will be maintained in lab instead of through costly vendor-support packages. "Because of increased connectivity, the actual cost of the project was recaptured in less than 2 years," Wellons says. "The new approach to serial term server management will allow us to replace our aging, more expensive system for far less than the main LIS vendor support required."
Wellons has been an MT since 1980 and has worked at Porter since 1987. He started as a bench tech before taking over the LIS department. "Being bivocational is a challenge I truly enjoy," he says. Making creative solutions in the demands of a busy laboratory is never boring. Every day is a new challenge." In his spare time, Wellons is pursuing a business degree to bolster his medical technology and digital background.
Following the Rules
Rules-based control lets the lab implement standards approved by the center's pathologists and ensures they are followed on all shifts at all testing facilities. The audit capability tracks information transactions from the time an order is entered until a tube is loaded on a machine. Consistency is required for all testing, and control helps guarantee it. "Some techs worried this would be very oppressive, but I think we defend our techs by filling in the holes," Wellons says. "Rules allow for a customized approach, formula applications such as GFRs, and complicated interplay of deltas, reference ranges, and special handling." Determining when sample values are an alert for one patient and not another is handled uniformly.
Department heads and the pathologist approve rules before implementing them. Each additional instrument of the same type is a clone of the first, so all the rules are the same. Wellons says rules-based quality control is among the upcoming larger projects. The DI testing environment allows him to test rules on instruments without having to waste reagents and time.
Autovalidation helps relieve the pressure of the standard workflow while boosting time spent on problem samples. Techs do not want to feel so pressed for time that safety is compromised.
"If you look across an average laboratory you will discover an amazing thing," he says. "The graying of laboratorians is pretty evident. We have fewer techs, but they have a wealth of knowledge and experience. It is hard to replace our attrition with the level of skill and experience we need. We needed to find a way to capitalize on our experienced staff by removing the dross and letting the techs handle the tests that needed their expertise." Wellons does not foresee a future when all of the techs will be replaced by automation and autovalidation—and Data Innovations' products should help lessen pressure on the lab system as health care costs rise and Baby Boomers retire. "Our lab staff has remained constant while productivity and the test count continue to rise. Our own laboratory has evolved from fears of replacing workers to demands to speed it up."
He trumpets the importance of purchasing products such as the DI system and partnering with departments to determine what is needed and feasible.
The promise of autovalidation is relieving the pressures of a changing health care environment and tapping the lab's reservoir of experience. "Growth allows us to capture the economy of scale we need to continue being competitive," Wellons says. "Autovalidation allows us to continue to increase our productivity without having to increase our staffing needs. I might ask if you would like 10% more staff, and many would laugh. If autovalidation increased your productivity by only 10%, how much would it be worth to you?" Reducing the peak-time congestion makes physicians smile and ratchets down the techs' stress levels.
The learning curve transitioning to autovalidation is not nil. While the system may be relatively simple, analyzing the lab and determining how to make the system work is complex. "There were failed tries that revolved around how to make this system behave just like our current workflow," Wellons says. "This only made more work for everyone and increased the frustration level. I had to go back to the drawing board and learn how to approach this from the tech's point of view."
Techs needed to buy in at the highest level, and they are known to be control freaks, Wellons says. The lab partnered with Data Innovations for the system testing and validation. Techs know the areas better than Wellons, and the transition triggered a number of complaints, suggestions, and finally, resolution. "Trust your techs and they will trust you," he says. "Finding unique ways to challenge the system and involve the techs in the validation were the most challenging. I think 'it works' is just not good enough, and the techs know it!" When he greatly simplified how the rules fired—such as holding all tests on an accession if any test is held for any reason—it made the system more predictable and more understandable to all of the users.
In the Beginning
Most of Porter's first approaches were one-dimensional. " 'If the number is higher than this, stop' was pretty much the level of sophistication," he says. In the coagulation instruments, simple rules such as limiting the delta of a medicated PTT to 1 hour because medication can change so quickly—while a week is great for a routine PTT if it is in a normal range—is fine. Highly proficient users programmed other systems after intensive training. "These were so complex that they seemed like the proverbial black box," he says. Testing complex rules without a quick-testing environment can be a costly waste of time. A simple GUI interface means common Windows-style tasks, such as sorting columns and STATs, can be pulled to the top of the page or patient names can be alphabetically sorted. The method fosters an intuitive grasp so those who are unfamiliar with computers and DI can be quickly trained. "They easily focus on the results and edit or comment by typing in text without a lot of complicated iterations," Wellons says.
Transitioning to the system was pretty smooth. Some groups wanted more time to get used to it, while others wondered why it took so long. "I tried to implement a time line but found the faster we moved, the easier it was for the techs to adjust," Wellons says. "The long pauses between implementation caused most of the stress, and I learned to move at the speed of differing departments rather than my own pace." Many expected the process to be more complicated. However, there are a few safety rules, and techs had to understand that ignoring them could mean trouble. "We allowed DI to be on but did not turn on the autovalidation until most were comfortable in a department," Wellons says.
Point-of-care testing is on the horizon. "These are 'nonsolicited' orders that are tested by non-lab personnel," Wellons says. Basic approaches, such as protocol and quality control, are taken for granted in the lab but are harder to establish when other users are involved. The lab uses wristband bar code scanning for identification. The meters shut down if they are quality controlled daily, and users are trained and certified on a regular basis. "While this seems like a lot of effort, our ICU's intensive insulin infusion therapy protocol saves lives," Wellons says. Bedside label printing is on his wish list. "These seem to be the next level of safety innovation," he says.
The lab seeks to grow and increase its testing base. Hospital services cannot be exported—but lab testing can. "With the graying of America and the mounting pressures of the health system, the challenge is going to be to not just keep up—but to excel," Wellons says.
---
Judy O'Rourke is associate editor of CLP.