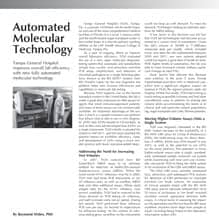 Tampa General Hospital improves overall lab efficiency with new fully automated molecular technology
       Tampa General Hospital (TGH), Tampa, Fla, is a private 1,018-bed, not-for-profit hospital and one of the most comprehensive medical facilities in Florida. It is a Level 1 trauma center and the fourth busiest organ transplant center in the United States. It is also the primary teaching affiliate of the USF Health Morsani College of Medicine, Tampa, Fla.
       As a part of ongoing efforts to improve overall laboratory efficiency, TGH evaluated the use of a new, open molecular diagnostic testing system that automates and standardizes sample lysis, nucleic acid extraction, real-time PCR setup, amplification, and detection of microbial pathogens on a single benchtop platform.
       Known as the BD MAX™ System, from BD, Franklin Lakes, NJ, the new diagnostic test platform helps labs increase efficiencies and capabilities in molecular lab testing.
       Click here to read the white paper.
The literature request number is 223582.