Pathology Information System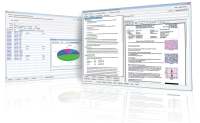 DESIGNED TO MEET THE FUTURE TRENDS IN PATHOLOGY
Orchard® Pathology v9.0 from Orchard Software Corp, Carmel, Ind, is a comprehensive pathology information system designed to meet future trends in pathology and handle the complexities of clinical, molecular, and pathology testing and reporting. Orchard Pathology is used as a stand-alone AP system or as a single system that includes clinical and molecular. The shared database provides access to the patient's entire history and enables the addition of clinical results to the cytology or pathology report. Image-management tools make it easy to link digital images, annotated diagrams, and scanned documents to case worksheets and incorporate them onto patient reports. Information on each report is stored in discrete data fields that enhance EMR integration and simplify the process to mine data for evaluations, correlation studies, quality assurance, regulatory, statistical, and many other management reports. An interactive Web-based extension provides remote access to edit, add, review, and sign out cases.
Orchard Software Corp
(800) 856-1948
www.orchardsoft.com
---
Web-Based Anatomic Pathology System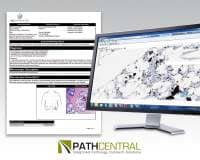 MONTHLY SUBSCRIPTION FEE TO USE THE PRODUCT ONLINE
PathCentral Inc, Irvine, Calif, offers a scalable Web-based anatomic pathology laboratory information system (APLIS) that integrates all of the critical components of a lab's day-to-day operation, including test ordering, laboratory workflow management, transcription, reporting, billing, and financial management, into a single electronic platform. This system enables labs to spend more time signing out cases and less time dealing with operational issues, which helps labs generate more revenue, incur fewer expenses, experience fewer headaches, and enjoy more profits, says the company. PathCentral notes that most community pathology practices don't have the financial resources to purchase expensive computer hardware and software normally required to improve service and grow revenue. Instead of a large capital outlay, labs pay one low monthly subscription fee to use the product online. There are no hidden costs; all service, maintenance, and software upgrades are included in the fee.
PathCentral Inc
(888) 516-4958
www.pathcentral.net
---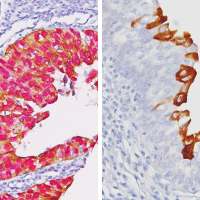 Multiplex IHC Assay
DIFFERENTIATES UROTHELIAL REACTIVE ATYPIA FROM CIS
Enhancing the Multiplex IHC product line, Biocare Medical LLC, Concord, Calif, has added the Uro-2™ to its bladder cancer diagnosis and differentiation line. Having a more accessible clinical utility, the Uro-2 (CK20 + p53) is used to differentiate urothelial reactive atypia from CIS (carcinoma in situ) in the bladder. For urothelium with cases of marked reactive atypia, CK20 and p53 staining remain identical to those seen in normal urothelium. In cases of CIS, diffuse, strong cytoplasmic reactivity for CK20 and diffuse nuclear reactivity for p53 is observed throughout the urothelium. This practical Multiplex IHC test aids the pathologist in differentiating between high- and low-grade dysplasia in bladder urothelium.
Biocare Medical LLC
(800) 799-9499
www.biocare.net
---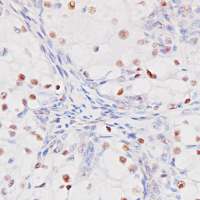 PAX8 Polyclonal
SPECIFIC EPITOPE TARGETING
Unlike existing PAX8 polyclonals, the PAX8 mouse clone [BC12] from Biocare Medical LLC, Concord, Calif, is designed for specific epitope targeting. The monoclonal PAX8 does not stain B-cells, cells of pancreatic origin, or neuroendocrine cells of the stomach or colon. Studies show that expression of the PAX8 gene is also found in 89% of analyzed tumor samples, including a high percentage of renal cell carcinomas (including clear cell, chromophobe, and papillary carcinoma) and ovarian cancers. The PAX8 monoclonal antibody can also be paired with additional antibodies to increase sensitivity or for tumor of unknown origin identification. PAX8, in combination with Renal Cell Carcinoma Marker (RCCm), stains over 90% of primary tumors and 85% of metastatic renal cell carcinomas. For identification of tumors of unknown origin, PAX8 can be used in a panel with a CD10 antibody.
Biocare Medical LLC
(800) 799-9499
www.biocare.net
---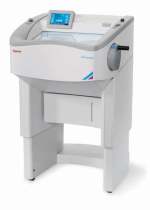 Ergonomic Cryostat
OFFERS TOUCHSCREEN AND JOYSTICK CONTROL
Thermo Scientific Anatomical Pathology, Kalamazoo, Mich, has launched the newest addition to its cryostat portfolio, the Thermo Scientific CryoStar NX70 Cryostat. The new CryoStar NX70 Cryostat addresses critical market trends such as ergonomics and user safety in two special ways. The CryoStar NX70 differentiates itself through features such as electronic height adjustment, comfortable form-fit design, and motorized sectioning. It also offers touchscreen and joystick control, which allow the user to easily control many cryostat functions. User safety is addressed on the CryoStar NX70 Cryostat with an optional cold disinfection system that allows the user to disinfect the entire cryochamber in minutes without changing the chamber temperature.
Thermo Scientific Anatomical Pathology
(800) 522-7270
www.thermoscientific.com/pathology
---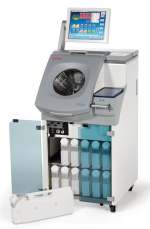 Tissue Processor
DUAL CHAMBER DESIGN
The Thermo Scientific STP 420ES Tissue Processor from Thermo Scientific Anatomical Pathology, Kalamazoo, Mich, uses a dual-chamber design, featuring rotational agitation that increases flow of traditional reagents by seven-fold to increase tissue quality and reduce processing times. The STP 420ES can process up to 420 cassettes per run; holding 360 and 60 cassettes in the first and second chambers, respectively. The second chamber allows independent processing of STAT samples, as well as special or difficult tissues, without disrupting routine workflow or requiring the use of a second instrument. When used in combination with the Thermo Scientific Fast Flex range of reagents, the new tissue processor can cost-effectively cut traditional processing times in half to only 4.4 hours for 5-mm specimens and less than 1 hour for biopsies.
Thermo Scientific Anatomical Pathology
(800) 522-7270
www.thermoscientific.com/pathology
---
Embedding Workstation
ADDRESSES TISSUE PREPARATION NEEDS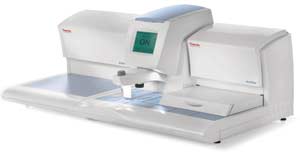 The Thermo Scientific HistoStar Embedding Workstation™ from Thermo Scientific Anatomical Pathology, Kalamazoo, Mich, addresses the tissue preparation needs of the busy histology laboratory. With brightly illuminated work surfaces, cool and contoured arm rests, and many new features, the HistoStar Embedding Workstation delivers significant improvements in ergonomics and efficiency. The device features bright illumination using LED light sources uniformly distributed throughout the workspace; cool and contoured user contact surfaces that are thermally insulated; a high-capacity paraffin tank and base mold storage area; adjustable paraffin dispensing paddle to accommodate any sample size; integrated ParaTrimmer®, a heated wax trimmer built directly into the workspace; and an intuitive touchscreen user interface to set programmable features.
Thermo Scientific Anatomical Pathology
(800) 522-7270
www.thermoscientific.com/pathology
---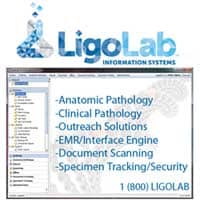 Laboratory Information System
ADDRESSES THE COMPLETE LIFE CYCLE OF LABORATORY OPERATIONS
LigoLab Information Systems Version 3.0 from LigoLab Information Systems, Los Angeles, is a comprehensive and scalable laboratory information system designed to accommodate a wide array of laboratories. LigoLab addresses the complete life cycle of laboratory operations starting from remote ordering, dynamic workflow support, to in-office result reporting. Providing a user-friendly interface, LigoLab is composed of integrated modules for outreach support, document imaging, specimen security and tracking, business support, digital pathology, integrated diagnostic reporting, anatomic and clinical pathology workflow, and billing.
LigoLab Information Systems
(800) 544-6522
www.ligolab.com
---

Medical Billing System
EVERYTHING NEEDED TO DELIVER AND COLLECT FOR SERVICES
Cortex Medical Management Systems, Seattle, provides anatomic pathology laboratories and clinical laboratories with lab management and medical billing systems. The company delivers its solution, Cortex Anatomic Pathology and Medical Billing Software RCM+, to run on servers at your location or in a SaaS model. Pathology labs that work with Cortex have everything they need to deliver and collect for their services. Cortex also offers a standalone version for small- to medium-sized physicians' offices and billing companies.
Cortex Medical Management Systems
(800) 278-4645
www.cortexmed.com
---
Advanced Reporting Module
COMBINES TEXTUAL REPORTS WITH PATHOLOGY IMAGES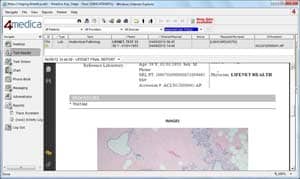 The Path4 Advance Reporting Module from 4medica, Culver City, Calif, combines textual reports with pathology images for physicians to generate more meaningful clinical details, along with additional diagnostic information, from a single-source reporting module. This advanced functionality was requested by physicians for physicians, and pathology labs also benefit from this new module to help further increase their value to existing clients and attract new affiliated members. 4medica Path4 provides one-screen pathology ordering and results with automated label generation. This enables physicians to use drag-and-drop functionality to identify biopsy locations on organ images, and the system automatically generates labels with description of the locations. The image with biopsy locations is then transferred with the requisition to the pathology lab and is available for reference by the physician with the result.
4medica
(310) 695-3300
www.4medica.com