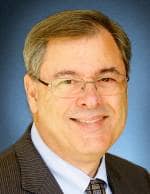 Market factors, such as cost and reimbursement constraints, staffing availability, and improved patient care, will drive health care and capital equipment decisions over the next 5 years, according to Jack Zakowski, PhD, FACB, director of scientific affairs and professional relations for Beckman Coulter Inc, Brea, Calif.
Medical manufacturers—the good ones—are driven in their development endeavors by the demands of customers, both the big desires and the small wants. Wade Reichart, marketing communications assistant with HELMER Inc, Noblesville, Ind, states a philosophy shared by many successful companies: "Customer needs and requirements drive the decision-making process in the research and development stage." However, development is also directed by current technology levels, making some objectives easier to achieve than others.
Requests for super-equipment, magic boxes, and Star Trek-like devices are sometimes masked behind suggestions for multifunctional machinery that automates processes, monitors quality, works efficiently, and doesn't cost too much. And yet, manufacturers continue to make advances in all of these areas.
With each season, improvements are made— sometimes big, sometimes small. But together they paint a picture of underlying industry trends, showing how far we have come and hinting at where we might go. CLP takes an in-depth look at the trends driving both.
LIFE CYCLE COST VERSUS CAPITAL INVESTMENT
While capital equipment can often require a daunting capital investment, more purchasing divisions are considering life cycle cost alongside the initial expense when they must make an acquisition. "It's no longer a matter of, 'What will it cost to get a project under way, a building constructed, or a renovation complete?' " says Luke Savage, sales engineer/fume hood product manager, Leadership in Energy and Environmental Design (LEED) green associate, and mechanical engineer with Labconco Corp, Kansas City, Mo. "People are willing to spend a little bit more money up front if it means their annual cost to operate is less going forward."
Savage has found the magic number for a return on investment to be about a decade. "Customers are really looking to see where the payback is. Is it within 10 years?" Savage says.

This means all expenses, including service and maintenance costs, will be scrutinized and analyzed, and a return on investment will be calculated. That return can be expected in different ways, and very often not in the form of additional revenue. But it can result in greater efficiency, better quality, higher performance, and improved cost-effectiveness. Certain offerings may also offer additional advantages in areas such as scalability, space, and safety.
"In addition, other market factors—including cost and reimbursement constraints, staffing availability, and improved patient care—will continue to drive many health care and capital equipment decisions over the next 5 years," says Jack Zakowski, PhD, FACB, director of scientific affairs and professional relations for Beckman Coulter Inc, in Brea, Calif.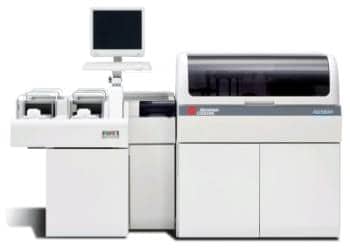 Scalability and automation are key for lab efficiency, so manufacturers incorporate these benefits into their equipment, such as Beckman Coulter has with the AU5800, shown here with one and four modules.
INTELLIGENCE MANAGEMENT—AN INTELLIGENT MOVE
Many specific laboratory demands relate to intelligence management, the level of which differs with the type and piece of equipment. At HELMER, Reichart hears requests for information that is easily accessible and provides value and convenience—which sometimes includes assistance with transferring documentation from a paper format to a digital form.
In response, HELMER's newest i.Series medical-grade refrigerators and freezers feature a new monitoring system. "The i.C3 [Monitoring System] offers constant temperature monitoring and multiple information logs that can be downloaded and saved for audits," Reichart says.
The system incorporates touch screen technology, which, Reichart notes, is another trend. "Touch screen user interfaces make use of cutting-edge technology, are user-friendly, and are easy to read," he says.
The i.C3 includes an event log with details available on all alarm events, an interactive temperature graph, and ergonomic comfort. "The features of the i.C3 reflect a need for more information on storage conditions for valuable clinical products, including blood components, pharmaceuticals, reagents, and vaccines," Reichart says. "In addition, all temperature data and information logs, including access, can be downloaded and saved for documentation purposes."
With the installation of the optional i.D Integrated Electronic Access control, an audit trail is created listing those who have accessed the unit and when they did so. "This ensures data capture and provides additional security for stored products by requiring entry of a PIN to unlock the unit," Reichart says. "Settings are also password protected."
Always Additional Automation
The more automated systems can be, the better—whether handling security and quality control or performing manual labor tasks. Automation is a major focus at Beckman Coulter. "Our direction is to offer a wide range of platform types and more automation options with more process-improvement features," Zakowski says.
Automation is also a focus at Labconco, where it's incorporated into intelligent systems, such as sash operation. An optional feature automatically opens the sash on a fume hood to the appropriate height safe for the user and closes it when the user walks away. The system also automatically adjusts associated parameters, such as air volume and face velocity, while monitoring the rest (eg, temperature, humidity, air changes, room pressure, and more).
"This promotes the use of the sash as a physical barrier," Savage says. "A reaction left unattended with an open sash is much more hazardous than when the sash is closed."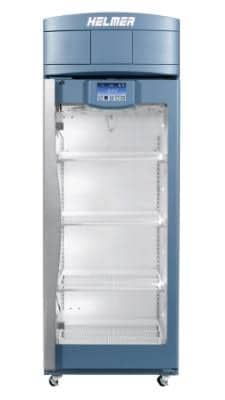 HELMER's iLR120 is a single-door i.Series® Laboratory Refrigerator that features advanced security and monitoring with the i.Center® Integrated Monitoring System.
Safety and convenience often help to drive the development of automated features and the sale of capital equipment. Even simple changes can improve the ergonomics and user connection. "No one wants to be in something uncomfortable to work in for hours at a time," says Brian Garrett, Labconco's product manager of biological safety cabinets and carbon ductless enclosures. "With biosafety cabinets, you're seeing modifications such as more streamlined construction, slanted sashes, armrests, ADA-compliant controls, a line of sight, and visual displays. Safety should never be a commodity."
ENVIRONMENT ETHICS: EASIER WITH ENERGY EFFICIENCY
While safety has always been a top concern, environmental factors are growing in importance when it comes to the purchase of capital equipment. While health care institutions do not typically have the money required to make environmentally ethical choices, when the earth-friendlier option can also help to increase safety or save money, any extra cost becomes justifiable—particularly if it contributes to the calculated return.
"Equipment may be a little more expensive up front, but you might actually see a payback in energy efficiency in a higher-engineered product," Garrett says. Labconco's automated sash, for example, is an optional feature that may cost a little extra but offers more automation, increased safety, and greater energy efficiency.
"With the prevalence of variable air volume systems in laboratories, the implementation and use of a system like our intelligence sash will reduce the consumption of temperate air, which is the bulk of the expense for operating fume hoods," Savage says. "Consequently, it will also reduce the operating costs of the hood somewhere in the vicinity of 70% to 80%," he says, noting these savings are dramatic.
"Fume hoods are typically one of the most expensive things to operate inside a laboratory and cost as much as three average American homes annually," Savage adds.
As laboratories continue to explore methods to improve efficiency, in general, they are finding many of these methods are also environmentally friendly. "A lot of the industry trends mirror the development of the LEED building rating system," Garrett says, citing recycled content in sterilizers, water filtration systems, and water reuse as common areas of consideration.
INNOVATING AND SPACE SAVING
These concerns, coupled with technological advances, may point toward a future trend in ductless ventilation systems, though, as Garrett notes, "It's not a major mover just yet. The biggest challenge is that the carbon-filtration technology is not a universal solution for every chemical." This means Labconco will have to continue its developmental efforts to produce the next "magic box."
At Thermo Fisher Scientific, Waltham, Mass, the magic has to do with size—although analyzers that are self-contained and do not require external water or drainage also offer in-demand innovation. "There has been pent-up demand for smaller benchtop analyzers to meet the needs of the small- to medium-sized labs in a variety of market environments," says John Blomquist, director of US commercial operations, Clinical Diagnostics Division, Thermo Fisher Scientific. "These new instruments need to perform and have the features and functions of the bigger instruments." Smaller systems can allow near-patient testing as well as true STAT processing, but the real value is the space that is saved. Many laboratories find that space, and staff, is at a premium, and the more both can be conserved, the better. The improvements made may be big or small, but they are always constant.
"It's an ongoing effort, so you may not see a dramatic change or major new product come out, but there are several things always happening constantly," Savage says.
That constant development will continue to be driven by customer demands, big and small, easy and difficult, with no request unreasonable, though maybe not achievable—today.
---
Renee Diiulio is a contributing writer for CLP.
PRODUCTS AND PIPELINE
As research into vitamin D uncovers more benefits associated with its use and more problems with its deficiency, the volume of testing continues to rise. With increased volume comes increased justification for bringing the test in-house. Our sources shared information on their current and pipeline products for this area of diagnostics.
Products Today
The LIAISON 25 OH Vitamin D TOTAL Assay by DiaSorin Inc, Stillwater, Minn, is a fully automated assay with a time to first result of 35 minutes and a throughput greater than 90 tests per hour. The analyzer employs flash chemiluminescence detection, and in 2011, DiaSorin will introduce the LIAISON XL, which will offer a higher-throughput solution for vitamin D and other specialty assays at 170 tests per hour. The results indicate total D2 and D3, and as an FDA-cleared test, offer lot-to-lot consistency through quality control.
Diazyme Laboratories, a division of General Atomics, Poway, Calif, received clearance earlier this year from the FDA for its 25-Hydroxy Vitamin D test. The homogenous assay measures the true total 25-hydroxy-vitamin D—the sum of both D3 and D2, offering a wide dynamic range and eliminating washing steps and error caused by "matrix effects." The test can be run manually, used on automated microtiter plate readers, or adapted to automated chemistry analyzers.
Products Tomorrow?
Abbott Diagnostics, Santa Clara, Calif, has filed a submission with the FDA to approve a fully automated vitamin D assay for use on the company's ARCHITECT system. The test, which has been approved outside of the United States, is a two-step chemiluminescent immunoassay for the detection of the 25-hydroxy-vitamin D in blood. Its intended use includes the quantitative determination of 25-hydroxy vitamin D in human serum and plasma to aid in the assessment of vitamin D sufficiency.
The Siemens Healthcare Diagnostics (Deerfield, Ill) ADVIA Centaur Vitamin D Total assay has been CE-marked for use on the ADVIA Centaur and ADVIA Centaur XP Immunoassay Systems since January 2011 and is currently under FDA review. If approved, results are available in as few as 18 minutes.