Under pressure to deliver themselves, laboratories are demanding more from their instruments and vendors are responding with faster speeds, broader menus, and easier-to-use systems.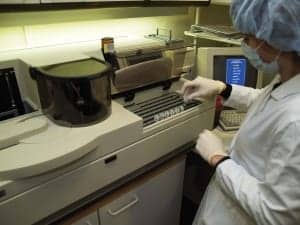 Laboratories are under a tremendous amount of pressure. Volumes are up, but the number of skilled technologists is down. Economic demands are greater, but reimbursements continue to stagnate, and even decline. Gloomier still, no reversal is anticipated in any of these trends. Rather, escalation is predicted.
Volume will continue to grow, boosted by an aging population and health reform. "As the newly insured get regular check-ups, they will need blood chemistry panels and follow-up tests for diabetes, cancer, and other conditions. More tests than ever will be ordered," says John Coulter, divisional vice president of US Commercial Operations for Abbott Diagnostics Division in Abbott Park, Ill.
Yet, laboratories often lack the resources needed to comfortably absorb this increase, primarily in the form of staff. Current technologists are retiring, while fewer are entering the field, often due to a lack of educational opportunities.
Budgets are also stretched, with increasing demands for expense justification and revenue generation. Reimbursements provide little potential relief. "Burgeoning government budget deficits and dangerous debt levels in the United States and many European countries will squeeze government health care payments in nations with socialized or national single-payor systems, as well as in the US with costs tightly controlled for Medicare and Medicaid. As a result, laboratories worldwide will face constant pressure to further control costs and improve efficiencies wherever and whenever possible," Coulter says.
One way is through instrumentation. To achieve their "more-with-less" objectives, laboratories need chemistry analyzers that are easy to use, can handle high volumes, provide fast turnarounds, and offer broad menus. "Customers want integrated systems that reduce technician hands-on time and are capable of performing a wide range of assays. Other advances and improved features in demand by customers include more comprehensive, user-friendly software, smaller-size workstations to help reduce space requirements, and less downtime and maintenance," Coulter says.
Easier and Easier to Use
Manufacturers are doing their best to deliver. Today's chemistry analyzers are generally easy to use, set up, operate, and maintain. On the software side, vendors are standardizing user interfaces and processes.
"We have large, medium, and small hospitals that share people. The more you can standardize the software interface so when you walk up and touch a series of buttons on any of the systems, it's exactly the same, the more it makes the learning curve and the implementation within the different sizes of facilities very simple," says Edward Gilligan, group marketing manager for systems at Roche Diagnostics Corp, Indianapolis.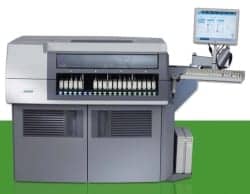 Architect c4000
Reagents have also been standardized where possible, in addition to being more user friendly. "[We offer reagents] that are basically taken out of the refrigerator or off the shelf, are unwrapped, and put on to the system. There are no separate bottles of R1 and R2," Gilligan says.
Operation is also simplified with automation that provides walkaway capabilities and remote monitoring options, which can facilitate maintenance and uptime. "The fewer things the operator has to do with regard to the makeup of reagents or the actual running of the instrument, the more they can do other tasks in the lab that require hands-on [intervention]," Gilligan says.
This is true across all categories of laboratories. Gilligan notes the fastest-growing market segment for automation is the midvolume laboratory. "They're picking up more outpatient testing. So their volumes are going up, and they don't have the [staff]," Gilligan says.
Faster and Faster Speed
The analyzers are generally installed in the laboratory to facilitate workflow, yet as a laboratory grows, the acquisition of instruments over time can create inefficiencies tied to footprint, design flow, and processing. Laboratories can have multiple instruments on which they run only one test. As a result, when these are ordered, the laboratory has a choice.
"You can draw multiple specimens—which is never good for the patient and involves all the issues about more tubes and blood—or you have to move something around to two different instruments," Gilligan says. With turnaround times for emergency department tests declining to, in some cases, 30 minutes, laboratories need their instruments to perform faster and more effectively.
Features that speed processing, such as repeat reflex testing, are in demand, as are software and middleware options that permit rules writing, consistent reporting, and data management—anything that can speed turnaround without impacting quality, and perhaps even improving it. Turnaround is a major focus today. "When I see laboratories with metrics hanging on the wall, very often it's quality and turnaround measures. They are really trying to drive down the ability to get 90 to 95 percent of testing done in a certain time," Gilligan says.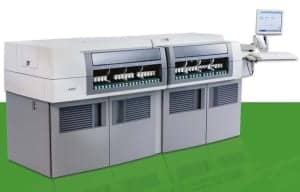 Architect ci41000
Vendors are achieving this not necessarily with new testing technologies, but with advanced mechanics, software, and additional features. Roche plans to launch an analyzer later this year that uses the same technologies as the previous generation of instrument but can run up to 9,800 tests an hour. "Very high-volume laboratories need firepower. One laboratory in Chicago does 4,000 to 5,000 samples a day, so they need systems that can handle a high volume of laboratory work," Gilligan says.
Broader and Broader Menus
Speed can also be improved by broadening an analyzer's menu. This, again, reduces technologist involvement as well as workflow steps. "I was in a lab yesterday that had three platforms [on which] they were only running one test. The more vendors can expand their analyzer menus, the more laboratories can reduce the number of platforms that they have to have just to run one test on. It's not very efficient," Gilligan says.
The ability to run one sample on one machine to generate multiple results means fewer consumables, less hands-on time, and shorter turnaround. It may also enable laboratories to bring more tests in-house.
Greater capacity in-house, whether through volume or test menu, allows the laboratory to better serve its inpatients as well as its outpatients, both of which can impact the bottom line. Increased outreach capacity helps to balance the laboratory's workload throughout the day, improve the return on investment in the instrument, and generate additional revenue. If a laboratory can perform a test in-house rather than sending it out, the results can be delivered more quickly, along with treatment and release.
"There's a big move to reduce length of stay in the hospital. If there's a test that must be sent out to the reference lab and results aren't provided until tomorrow, the hospital has to keep the patient another day. And that might cost two to three to four thousand dollars to keep somebody overnight, simply because you have to send a test out to a reference lab," Gilligan says.
Menus have expanded to include normal chemistry enzymes and substrates, therapeutic drugs, drugs of abuse, and specific proteins. And they can be expected to continue to expand in a strategy that Gilligan terms "gap filling." Current areas identified for growth include infectious disease menus ("We have several hepatitis tests available, but we are looking to fill out the entire hepatitis marker menu," Gilligan says), sepsis, immunosuppressive drugs, and oral fluid applications for drugs of abuse.
More and More Consolidation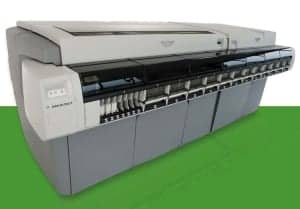 Architect ci8200
Of course, one of the biggest menu expansions is occurring with the development of hybrid chemistry-immunoassay analyzers. "On the systems side, the greatest growth is occurring in automated and consolidated systems that combine clinical chemistry and immunoassay platforms," Coulter says.
Being able to combine systems addresses many of the needs laboratories are expressing, such as smaller footprints, broader menus, and less hands-on time. "If the emergency room needs a basic metabolic and cardiac test, the technologist doesn't need to take two different samples to two instruments or wait for one sample and move it to two different instruments. They can put it on an integrated platform and get both a basic metabolic and cardiac in 10 minutes or less," Gilligan says.
As a result, vendors are focused on expanding not only their chemistry menus but also their immunoassays with an eye toward what will be needed in the future. As these menus grow, the laboratory derives even more value from a consolidated system.
"More new biomarkers will be discovered that will detect serious conditions earlier when they are treatable with current therapies. As new biomarkers are introduced, they will be studied and tested for their potential to improve disease detection and therapy monitoring," Coulter says.
However, Coulter also warns that the potential cost benefits of new diagnostic technologies will be closely scrutinized, so value will need to be evident. "The cost benefits of laboratory services should gain more acceptance by payors in assessing the value of various diagnostics technologies," Coulter says.

To research more about chemistry analyzers, search our Buyer's Guide.
Value is likely to be seen in greater speed, broader menus, and more comprehensive automation and software, enabling laboratories to conserve resources while delivering high-quality results quickly. The result, according to Coulter, is that, "Laboratories will be valued within their institutions for the quality and speed of information they generate, interpret, and communicate, especially if universal automated medical records become reality nationwide." But no pressure.
---
Renee Diiulio is a contributing writer for CLP.