Automation or integration? "I think that is the big question many laboratorians are asking themselves today," says Jay Snyder, vice president of global marketing for Siemens Medical Solutions USA Inc, Malvern, Pa. Both technologies are top of mind because they can help laboratories achieve the challenging objective of "doing more with less."
Ed Gilligan, group marketing manager of systems at Roche Diagnostics Corp, Indianapolis, describes life in a lab without either: "Let's say you are going to run some chemistries—a basic metabolic—and you're going to run a TSH and free T4, and let's say on that same sample, you are going to run a theophylline. In a lot of laboratories, you might have to go to three separate systems," Gilligan says. In between is centrifugation and movement of the tube from instrument to instrument. "On an integrated system, you spin it down, and if it's not connected to preanalytics, you put it on, and you get everything done without moving the tube around," Gilligan says.
The increased efficiency means more laboratories are choosing integrated systems. "Laboratories of all sizes and test volumes can benefit from adopting integrated immunochemistry systems," says Keith Chaitoff, divisional vice president of US marketing with the Abbott Diagnostics Division in Abbott Park, Ill. Each laboratory, however, should consider its unique characteristics before deciding which system will work for it. Some very high-volume laboratories may be best served by automation.
For those that see advantages in integration, there can be many. In addition to the realized efficiencies, a laboratory may also be able to increase capacity, decrease the number of samples, and shorten turnaround time. Integrated instruments may also be able to reduce costs, but economics are not necessarily the driving factor. "These decisions are less about costs and more about value—the value to the laboratory, to the physicians, and, ultimately, to the patients," Chaitoff says.
Advances Lead to Adoption
So why hasn't integration been adopted earlier? The first hybrids came out in the late 1990s, but Chaitoff believes a few factors impacted the slow adoption. "First, the simple matter of resistance to change. Aside from early adopters, many customers needed to see proof that integration improves productivity," Chaitoff says. The research took time, but the evidence collected shows significant benefits.
Contracts also played a role in delaying adoption. "Most labs had contracts on individual instruments that did not expire at the same time, so choosing an integrated system did not follow the normal contracting process," Chaitoff says.
But perhaps the greatest factor impacting adoption has been the technology itself. "Early tries were simply individual clinical chemistry and immunoassay systems linked together via a track, aliquotter, or other automation component," Chaitoff says.
Today's systems permit integration to occur seamlessly and effectively. In addition, the technologies, menu, and automation have expanded as a result of testing advances and customer demand. "Automation has gotten small enough, easy enough, and affordable enough that it is not just for high-volume labs," Gilligan says.
Automated clinical chemistry and immunoassay analyzers boast testing menus that range anywhere from 50 to more than 200 tests. All the routine requests tend to be covered with manufacturers offering tests for basic electrolytes and enzymes, therapeutic and abused drugs, proteins, thyroid, fertility, cardiac markers, tumor markers, bone markers, and infectious diseases all on one system.
"Our menu covers about 90 percent of the top 100 assays that are typically utilized and will cover 99 percent of a typical laboratory's test volume," says Bob Roda, vice president of worldwide marketing for clinical laboratory for Ortho-Clinical Diagnostics in Raritan, NJ.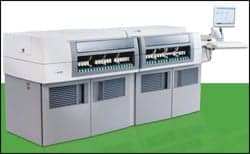 Abbott Architect ci4100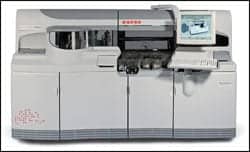 Ortho Clinical Diagnostics VITROS® 5600 Integrated System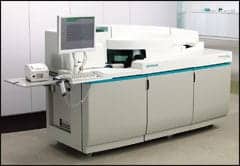 Siemens Dimension Vista 500 Intelligent Lab System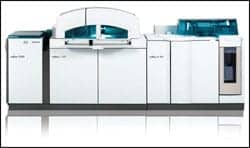 Roche Cobas 6000 Analyzer
Advantages Outweigh Disadvantages
With so many tests on one instrument, efficiencies in workflow, laboratorian time, and cost are realized, benefiting patients as well as the laboratory and health care system as a whole. Working with one instrument rather than two, three, or four means laboratorians spend less time on simple and monotonous tasks, such as sample preparation and movement around the lab. Rather, they can devote their time to more complex responsibilities, allowing the lab to do more with the same, or even fewer, technologists.
"Seldom do I walk into a lab where people are just sitting around doing nothing," Gilligan says. Increased efficiency, therefore, helps laboratories deal with the ongoing problem of too few personnel. It also helps with sample draws and storage.
"One solution [for testing on multiple instruments] is to draw two or three tubes of blood. That's more blood out of the patient, more to store, and more to dispose of," Gilligan says, adding that running everything off one tube brings many advantages.
Disadvantages, however, are few. Some have expressed concern about using just one instrument in terms of backup or "putting all their eggs in one basket." However, Gilligan notes that most customers buy two systems. "Because most everyone has the ability to run backup, there are really no disadvantages," he claims.
For some laboratories, though, integration may not be the best answer. "I think, for what we would describe as high-volume labs using automation, stand-alone systems may at times provide some advantages over an integrated system," Roda says. The laboratory test mix becomes an important factor in determining whether the answer is automation or integration.
Actually Quite Affordable
Economics can also play a role in the selection of new instrumentation. "Given the state of the global economy and the fact that governments worldwide are engaged in an effort to reduce health care costs, economic considerations play a significant role in a laboratory's purchasing decisions. Today's laboratories need to have done their homework regarding the total cost of ownership before engaging in a dialogue with their administration regarding acquisition of new instruments," Snyder suggests.
Immediate factors include the cost of the instrument as well as that for consumables and service, but long-term impact also matters. Will an integrated analyzer allow more capacity and testing, permitting fewer sendouts and larger outreach? How will the consolidation impact workflow, and what savings can be quantified? Will the integration reduce turnaround, and, if so, what is the effect on patient care and customer satisfaction? How much less training is required for one instrument over two?
In general, most believe that an integrated instrument does save dollars. "An integrated system really takes the place of two individual systems, and on a kind of for-par basis, if you look at two versus one, the integrated systems are not more expensive," Roda says. With fewer workstations, there is also a need for fewer LIS connections and input-output buffers.
Yet, even if two instruments are installed (as Gilligan earlier stated is the case for many laboratories), savings can still be realized. "There is a significant challenge in the marketplace with skilled labor shortages, budget reductions, and the continual increase in testing volumes. Any opportunity that we can provide the facility and the laboratory, specifically, with an opportunity to manage their total cost while still delivering excellent results, more than justifies whatever incremental acquisition cost may exist," Roda says.
Future Looks Bright
"The workflow, productivity, and space-saving advantages provided by combining clinical chemistry and immunoassay testing in one analyzer have increased demand for these systems," Chaitoff says. Subsequently, adoption of integrated systems has significantly increased.
"I think most every competitor is offering integrated solutions up and down the line, for high-volume to low-volume laboratories. As I look at data from people that we get data from, a huge percentage of the systems that are going out there are either integrated or integrated capable," Gilligan says.
As the clinical chemistry-immunoassay analyzers improve, they become even more valuable. Primary areas for future development include expanding testing menus, reducing turnaround times, simplifying operation, automating maintenance, and improving informatics.
"Laboratories are always looking for a broadening menu, and your platform is only as good as the number of assays you can run," Gilligan says. Today's integrated instruments offer a significant number of tests already, but there is room for growth. Every vendor reports continued research and development in this area.
"The reality is many illnesses still lack tests that can help people know about diseases earlier and potentially change how one would act toward resolving them before they become an acute issue," Roda says.
Similarly, faster turnaround times can also positively impact patient care. "If you think about some of the cardiac certifications today, they really want results in 30 minutes or less," Gilligan says. The options are then a point-of-care device or faster turnaround in the lab. "In a lot of cases, they really don't want to go to a POC device," Gilligan notes. Shorter turnaround on an analyzer means they don't have to, and advances in the technology have made this possible. Gilligan notes Roche launched 9-minute assays this year.
Abbott intends to put some focus on informatics. "At the end of the day, we're in the information business—doctors and labs want and need better information, faster," Chaitoff says. The company has subsequently made strategic investments in this area.

To track developments in analyzer technolgy, bookmark our website.
Some of the advances will be attributed to new technologies. Siemens has implemented LOCI technology, a chemiluminescent technique incorporating oxygen challenging, in some of its newest integrated instruments. "So new technologies becoming available on integrated systems is something laboratorians can look forward to," Snyder says.
OCD's Roda also mentions operational advances as a focus for improvement, citing features such as remote monitoring. "We think that that is a huge horizon ahead of us where we can deliver value well beyond the products we deliver," Roda says. Other vendors mentioned onboard reagent capacity and processing capabilities as areas for improvement.
Laboratorians will continue to watch these developments as they debate whether to automate or integrate. For many labs, hybrid analyzers, with their numerous benefits, may be the answer.
---
Renee Diiulio is a contributing writer for CLP.
Standing Out
Most vendors of integrated clinical chemistry and immunoassay analyzers report a focus on expanding menus and improving operations, as well as a focus on customer needs. So what sets them apart? CLP checked in with some of the biggest players in the field to find out what differentiates their integrated clinical chemistry and immunoassay analyzers from the competition. The result:
Abbott Diagnostics Division, Abbott Park, Ill, offers high-, medium-, and low-volume integrated diagnostic testing solutions that leverage the same software, reagents, and sample carriers. "Standardizing to a single family of instruments like Abbott's ARCHITECT products gives labs the ability to optimize processes, minimize errors, and reduce result variability, which is becoming increasingly important as clinicians rely more and more on laboratory diagnostics to guide their treatment decisions," says Keith Chaitoff, divisional vice president of US marketing for Abbott.
Lower-volume systems incorporate (or will incorporate) some of the same advanced technologies as featured on high-volume instruments, such as automated reagent loading and unloading and reagent pressure monitoring.
Beckman Coulter Inc, Brea, Calif, introduced three new instruments in its integrated family last year. Each in the series is configured to meet a different level of throughput, but all include similar features. The company considers its ClozCap technology to be unique: It enables automated closed-tube aliquotting and sampling, freeing technologists from the labor-intensive tasks of decapping, recapping, and sorting samples manually.
Ortho-Clinical Diagnostics, Raritan, NJ, feels its ground-up design strategy and resulting technologies make its systems stand out. Ortho-Clinical works with customers to "really design instruments that not only meet the needs of today but also have flexibility to meet the needs of tomorrow," according to Bob Roda, OCD's vice president of worldwide marketing for clinical laboratory. Therefore, the company's analyzers are intended to meet the challenges in the lab.
The result is a sample-centered processing approach. "From a technology perspective, the sample-centered processing approach allows for us to essentially sample from one centralized location, which minimizes turnaround and allows us to prioritize samples ahead of the request," Roda says.
Dry-slide technology is another benefit, providing laboratories with the ability to set up and function in limiting environments. "Our dry-slide technology really allows us a significant amount of flexibility for not only the technology but also for the facility given that it's not dependent upon water supply or drainage, which allows labs their own flexibility to really design around what their needs are," Roda says, noting the analyzers were able to function throughout the Hurricane Katrina disaster despite no clean or running water.
Roche Diagnostics Corp, Indianapolis, sets itself apart with flexibility and modularity, according to Ed Gilligan, group marketing manager of systems at Roche. "With our system, you can add multiple chemistry or multiple immunoassay systems on one line," Gilligan explains. So if a laboratory wants two chemistry analyzers and one immunoassay integrated, it's easily done, even if it's after the initial acquisition. The ease of expanded capacity means laboratories are better able to deal with unexpected workload increases, such as might be expected with a new outreach client.
Roche also considers reliability to be a hallmark of its offerings. "It does you no good to have a system sitting in the lab if you've got an engineer every week working on it," Gilligan notes, adding Roche designs its systems to work "day in and day out."
Siemens Medical Solutions USA Inc, Malvern, Pa, differentiates itself with innovation and customer-driven design. "Innovation is developing the right technologies and harnessing those for an integrated analytical engine. Customer-driven design focuses on simplicity and onboard automation," says Jay Snyder, vice president of global marketing for Siemens. The company has incorporated the newer LOCI technology into its integrated line.
Instrument features are key to utility and value. "Key instrument capabilities, such as the number of onboard reagent positions and the number of methods that can be processed simultaneously, are equally important factors that impact workflow and efficiency in a laboratory. So while a broad menu is a must-have, systems with limited onboard reagent capacity or limited processing capabilities will fail to meet the needs of laboratories," Snyder says.
—RD