Single-Sample Micro-Osmometer
For clinical laboratories directly sampling small volumes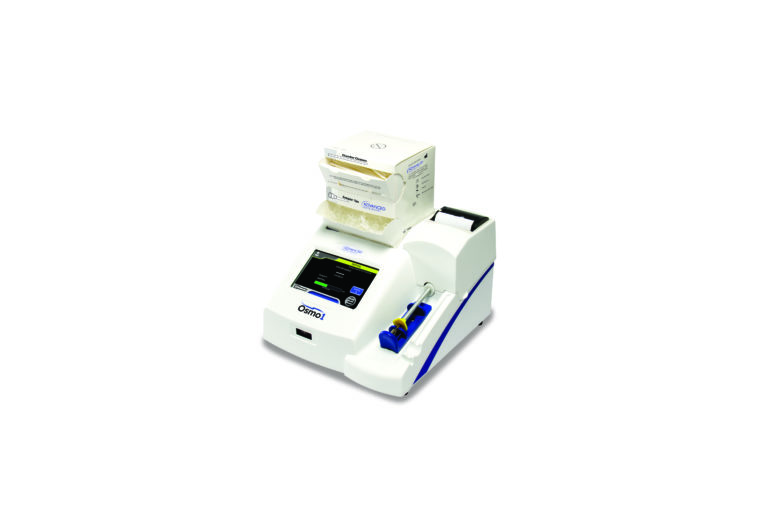 Designed for sample-limited applications, Advanced Instruments' new freezing-point osmometer, Osmo1, uses a 20 ?L sample size and measures the osmolality of body fluids, including feces, plasma, serum, sweat, tissue homogenate, urine, and whole blood. It analyzes samples one at a time using the instrument's operating cradle, which enables tests to be run directly from the Ease-Eject sampler, eliminating any loss of sample. The instrument features an interactive touchscreen, an onboard printer, and a 2-D barcode scanner to provide positive sample identification and reduce transcription errors. Data management and transfer can be handled via the onboard printer or by exporting data. The Osmo1 uses the industry-preferred freezing-point depression method to deliver results in 90 seconds and can be used for a variety of clinical diagnostic applications.
Advanced Instruments
(781) 320-9000; www.aicompanies.com
POL Chemistry Analyzer
Self-contained performance
The Ace Axcel clinical chemistry system by Alfa Wassermann Diagnostic Technologies is a self-contained system in a small footprint with no dedicated waste disposal, water line, or cooling unit required. Disposable cuvettes provide the highest level of accuracy and eliminate the need for a water system. Onboard reagent refrigeration maintains specimen and reagent integrity. Liquid, ready-to-use reagents eliminate prep time and closed-tube sampling with the Step module minimizes operator interaction with the sample, making for a safer workplace. Patient samples remain sealed in blood collection tubes. The unit's touchscreen functionality, intuitive user interface, and Internet connectivity offer the latest advances to make in-office laboratory testing fast, convenient, and cost-effective.
Alfa Wassermann
(973) 852-0265; www.alfawassermannus.com
Benchtop Analyzer
Full chemistry and drugs of abuse menu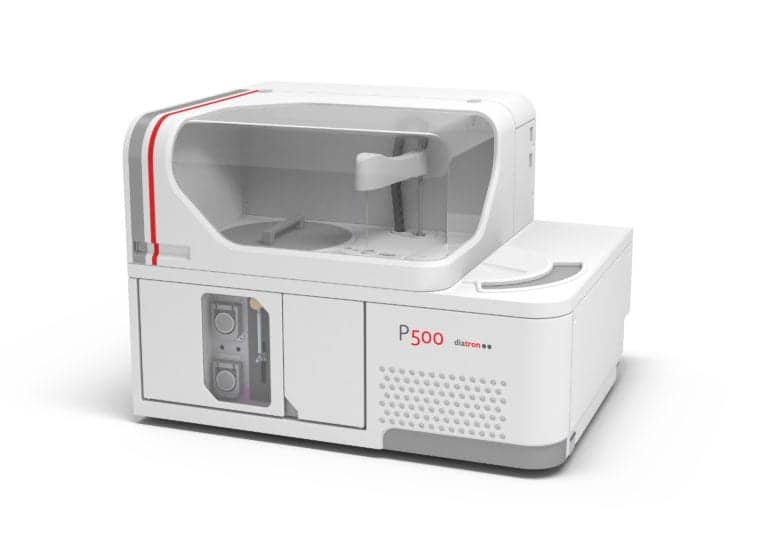 The Diatron P500 is an ergonomically designed, fully automated, random-access benchtop clinical chemistry and drugs of abuse system. Manufactured with advanced Windows-based software, the P500 can achieve a total throughput of up to 420 tests per hour utilizing 95 sample positions, 72 single reagent positions, and cost-efficient reusable reaction cuvettes. The P500 offers features usually only offered by higher cost systems, such as uninterrupted workflow, continuous loading of samples, enhanced walkaway operation, and remote access diagnostics. The P500's flexibility, quality, and low-cost of operation will provide a long-life platform for analytical excellence.
Diatron
(833) 228-7931; www.diatron.com
Randox RX Imola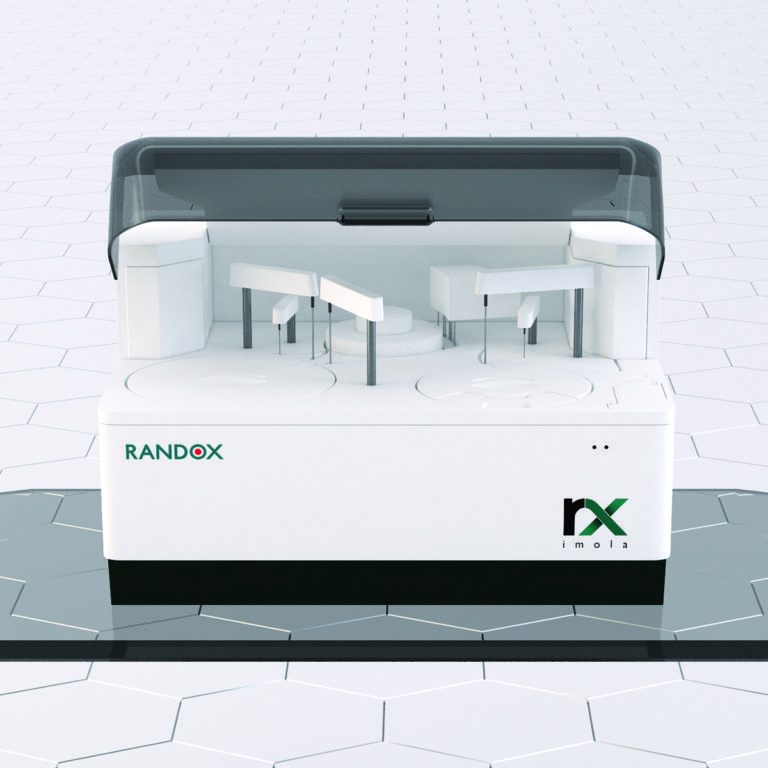 High-quality testing for results you can trust
The RX Imola is a cost-effective clinical chemistry analyzer that delivers consistent high-quality results. With a throughput of 400 photometric tests and up to 560 tests per hour including ISE, the RX Imola provides rapid, comprehensive testing on a small footprint benchtop analyzer. Random access, stat sampling, and intuitive software functionality boosts productivity, saving laboratory time when it matters most. The RX Imola test menu comprises an extensive range of high-quality diagnostic reagents including routine chemistry, specific proteins, lipids, therapeutic drugs, drugs of abuse, antioxidants, and diabetes testing with over 113 tests available. Saving time and costs in the laboratory, the RX Imola requires minimal maintenance ensuring increased analyzer reliability and uptime with long lasting permanent cuvettes to minimize long-term operating costs.
Randox Laboratories
(866) 472-6369; www.randox.com
Atellica Solution
Magnetic sample transport technology
The Atellica Solution is a highly flexible immunoassay and clinical chemistry solution featuring patented bi-directional magnetic sample-transport technology that is 10 times faster than conventional conveyors. The transport technology, together with a multi-camera vision system, intelligent sample routing, and automatic quality control (QC) and calibration capabilities, gives laboratories independent control over every sample to speed patient results to clinicians. Atellica Solution can handle more than 30 sample container types including pediatric and tube top sample cups that can be aspirated from the primary tube. Using the same reagents and consumables across different analyzer configurations, laboratories can streamline inventory control and deliver consistent patient results no matter where they are tested.
Siemens Healthineers
(888) 826-9702; www.usa.healthcare.siemens.com
Mid- to High-Volume Chemistry Analyzer
Streamlines laboratory workflow
The DxC 700 AU chemistry analyzer brings together the system design of Beckman Coulter's DxC chemistry analyzer and the throughput capabilities of its AU chemistry analyzer into a single standardized platform designed to meet the needs of mid-to high-volume clinical laboratories. The DxC 700 AU streamlines laboratory workflow by reducing the number of manual steps, allowing operators to spend less time on daily tasks and to focus more on producing quality results for more patient-centered decisionmaking. The DxC 700 AU also uses fewer consumables compared to other same-class systems, leveraging concentrated reagents, long-lasting ion-selective electrodes (ISEs), and nondisposable cuvettes to help laboratory specialists manage resources and reduce costs.
Beckman Coulter
(714) 961-4391; www.beckmancoulter.com
EasyRA Clinical Chemistry System
Moderately complex benchtop analyzer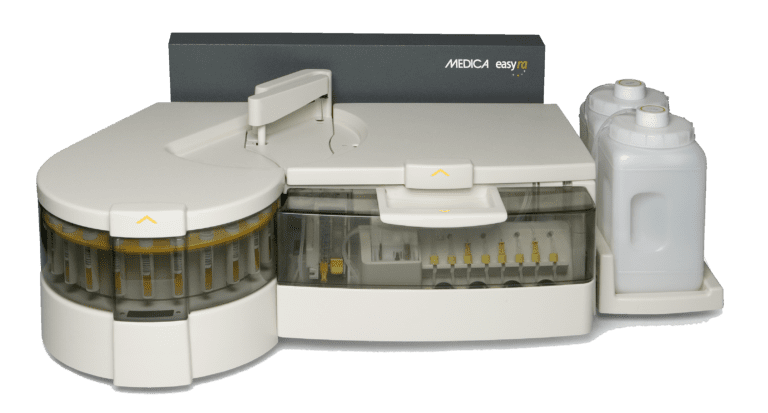 The EasyRA is a fully automated benchtop clinical chemistry analyzer that accommodates the diverse needs of small- to mid-sized laboratories and is well suited for urine drug screening and general chemistry. Its slide-out drawer makes maintenance easy, and radio-frequency identification (RFID) technology eliminates the need to manually program reagents. When the smart reagent wedge is placed anywhere in the reagent area, EasyRA identifies location, number of samples remaining, sample volumes, and expiration dates. The EasyRA is categorized as moderately complex under the terms of the Clinical Laboratory Improvement Amendments of 1988 (CLIA), with 14 urine drugs of abuse tests, 35 general chemistries, 24 sample positions, and 24 reagents on board. The analyzer performs 240 tests per hour—480 with its integrated ion-selective electrodes (ISEs)—and processes stat samples in 8 minutes.
Carolina Liquid Chemistries Corp
(877) 722-8910; www.carolinachemistries.com
Benchtop Chemistry System
Floor-model performance
The Envoy 500+ is a fully automated clinical chemistry system and one of the fastest benchtop analyzers on the market, running up to 490 tests per hour and serving 20–80 patients per day. The Envoy 500+ delivers floor-model performance in a benchtop size, making it especially suitable for small- to medium-sized physician office laboratories, satellite laboratories, and small hospitals. The Envoy 500+ delivers the time- and money-saving features labs require, with the latest software, reusable glass cuvettes, clot detection, and remote system diagnostics. Reagents for the Envoy 500+ are manufactured, validated, and optimized by ELITechGroup to ensure quality results, optimal performance, and the best overall value.
ELITechGroup
(800) 345-2822; www.elitechgroup.com
Selectra ProM Clinical Chemistry System
Trouble-free results
The Selectra ProM clinical chemistry system is a compact benchtop analyzer typically performing 180 general chemistry tests per hour. Labs running general chemistries can augment routine testing with ELITech's access to moderately complex therapeutic drug monitoring and drugs of abuse tests. Cost-effective use of consumables, onboard reagent cooling, remote system diagnostics, and minimal maintenance requirements help to keep operational costs low. New generation TouchPro software maximizes productivity and efficiency with error-reducing features, including audit trail, autovalidation, positive sample identification, and automated programming of reagents, test parameters, calibration, and control values. A new-sample pause feature enables continuous sample loading. The Selectra ProM system delivers simplified, powerful, and efficient operation, producing trouble-free results that laboratories can trust.
ELITechGroup
(800) 345-2822;www.elitechgroup.com
High-Throughput Analyzer
Automation increases walkaway time
The BA-800M automated clinical analyzer from MedTestDx is a versatile, high-volume platform that iscapable of performing up to 1200 tests per hour with ion-selective electrode (ISE) tests.It is equipped with a built-in sample delivery modulethat automatically delivers samples tothe analytical unit by means of color-coded sample racks.The system can run drugs of abuse screening reagents, general chemistries, and ISE tests. The analyzer can hold up to 440 sample positionsand is equipped with intuitive software, making it especially suited for decentralized laboratories, reference laboratories, toxicologylaboratories, and hospitals.
MedTest Dx
(800) 445-9853; www.medtestdx.com