Multiplex Lyme, Syphilis, and ToRCH IgG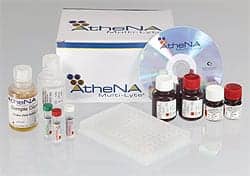 The AtheNA Multi-Lyte® menu offered by Alere Inc, Waltham, Mass, includes three new infectious disease assays. Borrelia VlsE-1/ pepC10 is used as a first-tier test to detect qualitative levels of B. burgdorferi antibodies. Combining the VlsE-1 IgG and pepC10 IgM antigens provides an increased sensitivity for detecting early Lyme disease, while the specificity is increased compared to assays using whole-cell lysate antigens, reducing the number of false positive results and associated costs. ToRCH IgG detects IgG antibodies to five antigens—Toxoplasma gondii, Rubella, Cytomegalovirus (CMV) and HSV-1 and HSV-2—as an aid in the assessment of serological status and for sexually active adults and expectant mothers. Treponema pallidum IgG detects IgG antibodies to the T. pallidum bacteria as an aid in the diagnosis of Syphilis infection.
Alere Inc
(877) 441-7440;
www.alere.com
---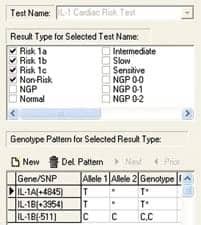 Starfruit
Starfruit, by Data Unlimited International Inc, Rockville, Md, is software, database, computer network, bar code printers and labels for DNA diagnostic labs, genome centers, cancer research, immunogenetic labs, and more that can enable your labs to comply with 21CFR11, CAP, CLIA, EHR, HIPAA, and PHI. It can report disease susceptibility by SNP pattern, Starfruit, and provides SNP data bank to enable you to generate the disease Susceptibility Reports by comparing SNP profiles with SNP patterns. You can analyze DNA samples using Starfruit SNP Comparison Service for specific SNP patterns susceptible to a disease or disorder. Visit Starfruit Storefront at www.duii.com/memberlogin.html.
Data Unlimited International Inc
(240) 631-7933
www.duii.com
---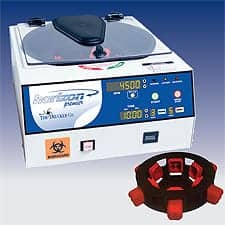 Horizontal Centrifuges
The Drucker Co, Port Matilda, Pa, manufactures high-performance, horizontal centrifuges with features including full Horizontal and rapid separations; 6-, 12-, or 24-place rotors; the ability to process 1-mL to 50-mL tube sizes; made-in-the-USA craftsmanship; and a lifetime warranty on all rotors. They provide decreased processing time, increased process flexibility, less downtime, smaller footprints, and superior sample integrity, as well as durability and reliability.
The Drucker Co
(814) 692-7661
www.druckercompany.com
---
Cystatin C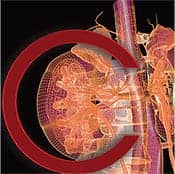 The Cystatin C assay from Genzyme Diagnostics, Framingham, Mass, uses a colloidal gold methodology unique to the cystatin C marketplace and is intended for the measurement of cystatin C concentration in human serum, heparinized plasma, or EDTA plasma.
Liquid ready to use reagent and calibrator;
Analytical sensitivity and excellent precision;
Applicable to multiple chemistry platforms;
Easy to use, no additional preparation required;
Laboratory flexibility; and
High reliability of testing.
For more information, please call us at (800) 999-6578 or visit our Web site at www.genzymediagnostics.com.
Genzyme Diagnostics
(800) 999-6578
www.genzymediagnostics.com
---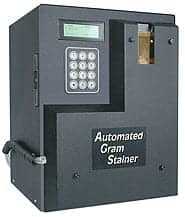 Full Automation Gram Staining
GG&B Co, Wichita Falls, Tex, has developed a US patent for the process that will allow the automated staining and decolorization of biological samples, allowing the lab to fully automate the gram stain process. Labs using the GG&B AGS-1000 Automated Gram Stainer can process slide samples quickly and efficiently in full automation. The electro-optical process automatically adjusts for sample thickness and has individual preference controls for color intensity. This patented decolorization process optically monitors runoff fluid at a rate of 20 times per second.
GG&B Co
(800) 295-9588
www.quickslide.com
---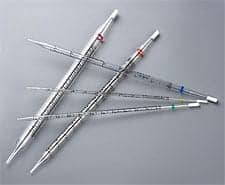 One-Piece Serological Pipettes
Globe Scientific, Paramus, NJ, introduces a line of one-piece plastic serological pipettes that are designed to deliver rapid fill and release rates and are shorter than most others, making them ideal for use in tight spaces and under laboratory hoods.
Their one-piece seamless design eliminates sample retention and provides optimal precision. It also prevents accidental mouthpiece and tip breakage associated with standard three-piece serological pipettes.
They are available in 1-, 2-, 5-, 10-, and 25-mL sizes; offered in sterile (individually wrapped) or nonsterile bulk (wrapped in bags of 25) packaging; and are RNase-free, DNase-free, nonpyrogenic, nonhemolytic, and noncytotoxic.
Globe Scientific Inc
(800) 394-4562
www.globescientific.com
---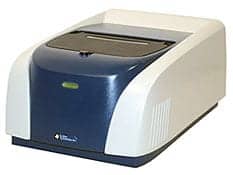 User-Friendly Multiplex PCR
The FilmArray® by Idaho Technology Inc, Salt Lake City, is a user-friendly multiplex PCR that integrates sample preparation, amplification, detection, and analysis into one instrument that processes sample to results in less than 1 hour. Its Respiratory Panel is designed to simultaneously test one sample for 19 viral and three bacterial pathogens.
Idaho Technology Inc
(800) 735-6544
www.idahotech.com
---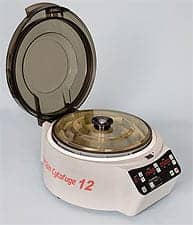 StatSpin® CytoFuge 12
The StatSpin® CytoFuge 12 from Iris Sample Processing, Westwood, Mass, concentrates up to 12 samples and gently deposits cells in a monolayer onto microscope slides for a variety of cell preparations. For safety, the unit operates only when the outer lid is locked. Inside is a removable sealed rotor that can be loaded in a hood to eliminate exposure to biohazards and can be autoclaved. The program key pad is easy to use, and up to 24 programs can be stored. The unit operates from 200 to 2,000 rpm. Samples from 50 μL up to 800 μL are processed with snap-seal filter concentrators in disposable and reusable formats.
Iris Sample Processing
(800) 782-8774
www.statspin.com
---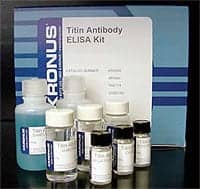 Titin Antibody ELISA Test Kit
KRONUS® Inc, Star, Idaho, offers a new ELISA test kit for the measurement of antibodies to titin (TitinAb), a protein of the striated muscles with an extremely high molecular weight. Its immunogenic region is located on a 30kD protein fragment. Antibodies against this fragment presumably cross-react with the epitopes of the acetylcholine receptors, making their measurement potentially useful in select indications.
This new ELISA utilizes recombinant MGT30 peptide, providing for the accurate and specific determination of titin antibodies. For Research Use Only. Not for use in diagnostic procedures.
KRONUS Inc
(800) 457-6687
www.kronus.com
---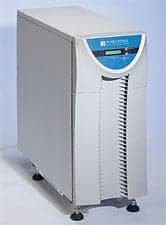 Security Plus Series
The Security Plus Series by POWERVAR Inc, Waukegan, Ill, offers benefits such as isolation, unity power factor input, and a low distortion design, meaning it will shield your critical equipment from the voltage, noise, and current disturbances created within your facility. Security Plus products have a wide input voltage window to improve battery life for lower cost of ownership. Every model is 100% generator compatible.
POWERVAR Inc
(847) 596-7023
www.powervar.com
---
Dropper Urine Chemistry Control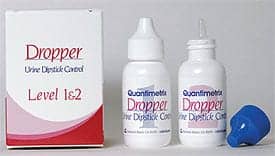 Easy-to-use, dropper bottles;
Liquid, made with real human urine; and
2-year unopened and open vial stability when stored at 2-8°C
Take convenience to a whole new level. Quantimetrix Corp, Redondo Beach, Calif, crafts Dropper Urine Chemistry Control to monitor the performance of routine and STAT urine chemistry assay methods by dropping the control directly into the instrument sample cup with an easy-to-use dropper bottle for simple dispensing and maximum use. It is designed for use with most major chemistry analyzers including Advia®, AU® Series, Cobas®, Dimension®, Hitachi®, Synchron®, and Vitros® , as well as for the Pyrogallol Red microprotein method and osmolality (freezing point method). No hassle, no waste, no problem.
Quantrimetrix Corp
(310) 536-0006
www.4qc.com
---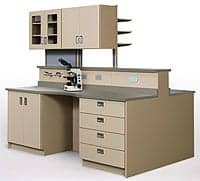 Modular Laboratory Casework
R.C. Smith Co, Burnsville, Minn, offers a versatile system of modular laboratory casework that includes easily accessible chase modules, a diverse selection of base and upper cabinets, numerous countertop material options, stationary and mobile tall storage modules, and many more offerings. R.C. Smith also offers computer-aided design assistance to help determine the best casework layout for your specific requirements. Contact R.C. Smith at or (800) 747-7648 to receive our latest brochure and more information.
R.C. Smith Co
(800) 747-7648
www.rcsmith.com
---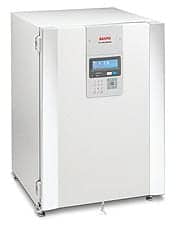 Sterisonic™ GxP Incubators
Sterisonic GcP incubators from SANYO Biomedical Solutions, Wood Dale, Ill, are a complete cell culture solution for highly regulated applications or conventional incubation. Its safe, effective documented 2-hour in situ H2O2 sterilization provides fast decontamination turnaround. The new MCO-19M Series adds a zirconia oxygen sensor, which maintains subambient O2 levels from 1% to 18%. Enriched O2 levels from 22% to 80% are enabled with proper safety precautions. The MCO-19M includes an automatic gas switch-over system that changes from the primary to a secondary gas cylinder for either oxygen or nitrogen; with an optional second system for CO2.
SANYO Biomedical Solutions
(800) 858-8442
www.stereosonic.com
---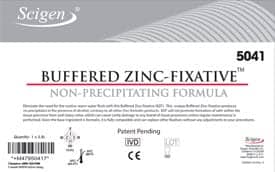 Buffered Zinc Fixative
Eliminate the need for the routine warm water flush with Buffered Zinc Fixative (BZF) from Scigen Scientific Inc, Gardena, Calif, which produces no precipitates in the presence of alcohol. BZF will not promote formation of salts within the tissue-processor lines and rotary valve, which can cause costly damage to any brand of tissue processor unless regular maintenance is performed. Since its base ingredient is formalin, it is fully compatible and can replace other fixatives without any adjustments to your procedures. On sale and available through January 31 for $22 per case (1×4 gal).
Scigen Scientific Inc
(310) 324-6576
www.scigendirect.com
---
XE-5000™ Automated Hematology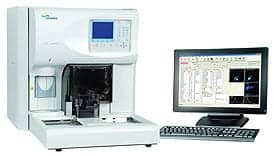 The XE-5000™ Automated Hematology System from Sysmex America Inc, Mundelein, Ill, provides 31 whole blood reportable parameters, including advanced clinical parameters and a body fluid analysis mode. Its traditional five-part differential, plus NRBCs and Immature Granulocytes, assist physicians with the medical management of diseases such as anemias, leukemias, platelet anomalies, infections, and bone marrow transplantations. The body fluid-specific mode includes reportable body fluid differential parameters for all common body fluids (CSF, Serous, and Synovial). Higher-volume hospital or university laboratories and clinics with renal, oncology, and acute care patient populations will benefit from the XE-5000. Like its XE-Series counterparts, the XE-5000 uses Sysmex's patented fluorescent flow cytometry technology.
Sysmex America Inc
(800) 379-7639
www.sysmex.com/usa
---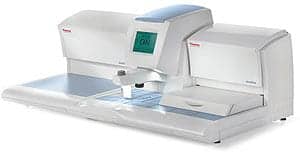 HistoStar Embedding Workstation
The HistoStar Embedding Workstation from Thermo Scientific – Anatomical Pathology, Kalamazoo, Mich, addresses the tissue-preparation needs of the busy histology laboratory. It features bright illumination using LED light sources uniformly distributed throughout the workspace; cool and contoured user contact surfaces that are thermally insulated; a high-capacity paraffin tank and base mold storage area; an adjustable paraffin-dispensing paddle to accommodate any sample size; and an integrated ParaTrimmer® heated wax trimmer built directly into the workspace.
Thermo Scientific – Anatomical Pathology
(800) 522-7270
www.thermoscientific.com/pathology
---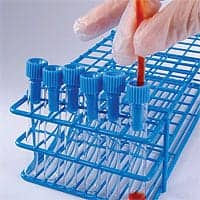 TypeSafe™ Segment Sampling
The TypeSafe Segment Sampling Device from Typenex Medical, Chicago, provides blood bank staff with a safe and easy way to puncture blood segments for cross-matching procedures. TypeSafe has a ribbed exterior and can be quickly inserted into test tubes because its top and bottom are easily identifiable.
If your staff currently uses scissors to open segments, TypeSafe will reduce blood-spraying risks, thus increasing staff safety. TypeSafe will also eliminate the risk of sample cross-contamination due to unclean scissors.
Typenex Medical LLC
(866) 897-3639
www.typenex.com
---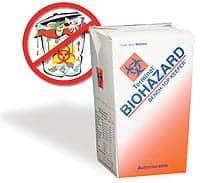 Biohazard Waste Container
Whitney Products Inc, Niles, Ill, offers free samples of one of its Terminal Brand biohazard waste containers. Toss contaminated nonsharps, such as pipet tips, swabs, petri dishes, test tubes, and applicator sticks, right at your workstation. And when the container is filled, close its self-locking top and get rid of it—autoclaving and/or disposing according to local, state, or federal regulations. The containers ship flat for convenient storage. When you need a fresh, clean container, simply fold the container together for use.
Whitney Products Inc
(800) 338-4237
www.whitneyproducts.com/lab2