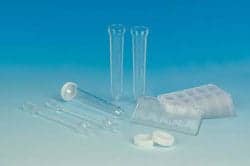 Kova-Style Urine Sedimentation System
Features a graduated urine tube
Biomedical Polymers, Chiang Mai, Thailand, a manufacturer of plastic consumables for research and medical diagnostic laboratories, has announced the availability of its Kova-Style Urine Sedimentation System. The BMP system features a 15mL graduated urine tube designed to yield 1mL of urine-containing sediment for further evaluation. After centrifugation, the decant- ing pipette is inserted into the bottom of the tube, allowing the supernatant to be decanted off, leaving 1mL of urine-containing sediment in the bottom of the tube. The system also provides optically clear acrylic slides that can be used to analyze up to 10 samples simultaneously. These slides feature an integral cover- slip and 10 individual chambers that are sealed on three sides to prevent cross-contamination. The flatness of the slide as well as the uniform depth of field between the coverslip and the viewing platform provide a uniform monolayer and single focal plane across all 10 chambers.
Biomedical Polymers
(800) 253-3684
www.biomedicalpolymers.com
---
DC-Lineate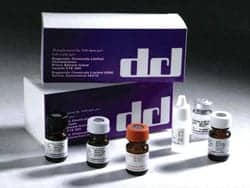 Trilevel linearity material
Diagnostic Chemicals Ltd, Oxford, Conn, offers DC-Lineate, a trilevel linearity material used in conjunction with assays for the quantitative determination of unsaturated iron-binding capacity levels in clinical samples. Suitable for use on a number of clinical chemistry instrument platforms, the materials can be used by medical professionals working in hospitals, physicians' offices, veterinary testing, life science research facilities, and reference laboratories. These combined human and bovine serum-based lyophilized materials are available in kit form, packaged in a 2 x 5 mL configuration for each of the three levels. DC-Lineate also features a 36-month shelf life claim from date of manufacture and offers 14-day stability after reconstitution.
Diagnostic Chemicals Ltd
(800) 325-2436
www.dclchem.com
---
StatusFirst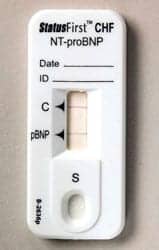 Congestive heart failure test
Nanogen Inc, San Diego, developer of advanced diagnostic products, has begun shipment of its congestive heart failure (CHF) product, the StatusFirst CHF NT-proBNP rapid test. The product is CE-marked and has been cleared by the FDA for diagnostic use with EDTA plasma samples. The StatusFirst CHF test measures circulating levels of NT-proBNP, a biomarker for heart disease, and provides a quantitative assessment of the biomarker's concentration in as little as 15 minutes via a small, low-cost reader. The test and reader are designed for use in emergency rooms and hospital laboratories. NT-proBNP is a derivative of the hormone brain natriuretic peptide that is released in response to cardiac stress, and has been demonstrated in numerous clinical studies to be an accurate and reliable indicator of cardiac disease risk. Product results correlate with central lab methods that use NT-proBNP immunodiagnostic methods.
Nanogen Inc
(877) 626-6436
www.nanogen.com
---
OptiChallenge Inhibition Panel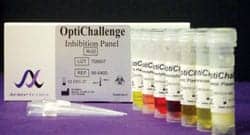 Lets labs monitor testing system performance
Quantified standards of commonly known and accepted interfering substances are now available in a plasma matrix from AcroMetrix, Benicia, Calif. The OptiChallenge Inhibition Panel is a convenient and cost-effective tool for characterizing the effect of common interfering clinical samples on a laboratory's testing system. The product consists of four commonly known interfering substances, including heparin, triglycerides, lipids, and bilirubin, at quantified levels in a plasma matrix. OptiChallenge IP allows a laboratory to monitor the performance of the testing system in the presence of interfering substances. The panel may be used to evaluate systems among manufacturers, characterize home-brew assays, meet CLIA requirements, or troubleshoot sources of inhibition.
AcroMetrix
(707) 746-8888
www.acrometrix.com
---
CE-Marked Noninvasive Fibrosis Test
Available now in Europe
Siemens Medical Solutions Diagnostics, Tarrytown, NY, announced the availability of its Enhanced Liver Fibrosis (ELF) test, the first CE-marked, standardized, noninvasive blood test for assessing the status of liver fibrosis. Liver biopsies are routinely performed to assess liver damage (fibrosis) and to try to monitor the effectiveness of pharmaceutical drugs in tackling the disease. Performing a liver biopsy is hazardous, expensive and painful, and does not always provide accurate results because of difficulties in sampling and interpretation. Because ELF uses a blood sample rather than a biopsy, it can be used routinely for the same patient and helps monitor progression of fibrosis in the patient's liver. The ELF test combines three serum biomarkers that have been shown to correlate to the level of liver fibrosis assessed by liver biopsy.
Siemens Medical Solutions Diagnostics
(800) 431-1970
www.siemens.com/diagnostics
---
Hydragel A1AT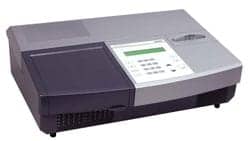 Alpha-1 antitrypsin phenotyping
Alpha-1 antitrypsin (A1AT) deficiency is one of the most common serious hereditary disorders in the world and can result in life-threatening lung or liver disease. Sebia Electrophoresis, Norcross, Ga, has received FDA clearance to market the Hydragel A1AT Isofocusing kit, designed for the qualitative detection and identification of different phenotypes of A1AT. It is the first FDA-cleared kit for A1AT phenotyping. Phenotyping results, in conjunction with clinical findings and other laboratory assays, aid in the diagnosis of A1AT deficiency. A human serum is used as the assay is carried out in two stages. The first is IEF on agarose gel with the semiautomated Hydrasys system to fractionate the proteins, and the second is immunofixation with enzyme-labeled anti-A1AT antiserum to detect various phenotypes.
Sebia Electrophoresis
(800) 835-6497
www.sebia-usa.com
---
OptiQual Enterovirus Controls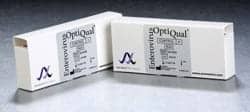 For assessing performance of nucleic acid tests
The OptiQual Enterovirus Low Positive Control from AcroMetrix, Benicia, Calif, contains inactivated human coxsackievirus particles from strain CVA9. The low positive control was produced by diluting quantitated enterovirus stock into OptiMatrix Clear, a proprietary synthetic matrix designed to mimic naturally occurring human cerebrospinal fluid specimens. Consistency is achieved by calibrating each lot against a highly stable enterovirus standard assigned at 100 EVU/mL (enterovirus units per mL). The negative control contains only OptiMatrix Clear. OptiQual Enterovirus Controls are intended for use in assessing the performance of nucleic acid test procedures for the determination of the presence of enterovirus RNA. Routine use of external run controls enables laboratories to monitor day-to-day test variation, lot-to-lot performance of test kits, and operator variation, and can assist in identifying increases in random or systematic error. These products are for research use only, not for use in diagnostic procedures.
AcroMetrix
(707) 746-8888
www.acrometrix.com
---
C-Reactive Protein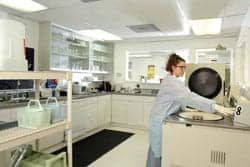 Inflammation marker CRP
Lee Biosolutions, St Louis, offers Human C-Reactive Protein (CRP), found in the blood that operates as a marker for inflammation—meaning its presence indicates an increased state of inflammation, which is believed to play a role in the initiation and progression of cardiovascular disease. CRP studies have shown that baseline human C-reactive protein concentrations are not subject to time-of-day variation and therefore, help explain why CRP concentrations are a better predictor of vascular risk than interleukin-6. Determination of CRP for cardiovascular risk prediction may be performed without concern for diumal variation.
Lee Biosolutions
(314) 968-1091
www.leebio.com
---
Direct Enzymatic HbA1c assay
Eliminates interference from hemoglobin variants
Diazyme Laboratories, San Diego, has announced the availability of its new liquid stable two-part Direct Enzymatic HbA1c assay, which can be used with a wide variety of clinical chemistry analyzers. Direct Enzymatic HbA1c requires only a single analyzer channel, compared to immunoassays that can require multiple channels. In addition, it eliminates the cuvette contamination that can occur with latex beads used in immunoassay methods. This method provides more reliable results than immunoassay or HPLC assays by eliminating interference from chemical and genetic hemoglobin variants. The product is certified traceable to the Diabetes Control and Complications Trial reference method.
Diazyme Laboratories
(888) 342-0963
www.diazyme.com