We may have expected broader, more quickly realized applications following early successes in personalized medicine, but widespread benefits are materializing. Personalized medicine has grown more rapidly in the area of oncology than in any other large disease category, mostly due to greater scientific study of the role of specific genetic traits in cancer. Companion diagnostics are generating increasing development in personalized cancer care, offering the promise of matching a cancer therapy to a person's disease at the molecular level.
Payors, including Medicare, are scrutinizing all new tests to ensure they demonstrate clinical validity and usefulness, especially the more complex In Vitro Diagnostic Multivariate Index Assays (IVDMIA), which often employ polymerase chain reaction (PCR) tests or gene expression microarrays, aiming to provide answers beyond the reach of most diagnostic tests alone, says Shawn Becker, MD, vice president, marketing and reimbursement, Pathwork Diagnostics, Redwood City, Calif.
This article overviews where oncology diagnostics are headed and commercialization strategies companies are now pursuing.
DIRECTION OF ONCOLOGY DIAGNOSTICS IN PERSONALIZED MEDICINE
Diagnostics companies are focused on harnessing the potential of companion diagnostics, which offer the promise of matching a therapy to a patient's cancer at the molecular level, to help treat the disease more effectively. In this way, lab professionals can help physicians prescribe the right therapy for the right patient, and monitor how a patient is responding to the therapy in real time. As scientific discovery advances, and more biomarkers can be tied to diagnosis and effective treatment of cancer, this area becomes even more exciting, says Eric Dahlhauser, CEO, Insight Genetics Inc, Nashville, Tenn. Development of companion diagnostics is not without challenges, though. Discovering a new biomarker with good evidence of clinical usefulness takes years. However, the rate of biomarker and new target discovery may increase with the declining costs of sequencing, he says.
COMPANION SURVEY
CLP recently conducted an in-depth survey in partnership with Mizuho Securities USA Inc, asking where respondents think personalized medicine is heading and why. Responses suggest the outlook for molecular testing is solid. Technologies such as real-time and digital PCR ranked well, and responses show DNA sequencing could significantly influence the diagnostic market in 5 to 10 years. Mass spectrometry implementation could be even sooner. Some 12% of respondents said they now use personalized medicine tests, indicating the market has a long way to grow. To read the survey, see "Clinical Lab Products Personalized Medicine Survey (online web exclusive).
Focusing solely on biomarkers is far too narrow a frame of reference, says Jon R. Cohen, MD, senior vice president and chief medical officer, Quest Diagnostics, Madison, NJ. "Personalized medicine is about finding the solution that fulfills the unique requirements of the individual patient," he says. "Sometimes the criteria for selecting a solution extend beyond science and into attitudes and behaviors."
Colorectal cancer, among the top causes of cancer death in the United States and worldwide, provides a good example: The majority of deaths are preventable if the disease is caught in early, treatable stages, Cohen says. "But numerous studies, including one Quest Diagnostics conducted with the Colon Cancer Alliance earlier this year, show that about one in three people over the age of 50 have never been screened, in many cases because they fear or otherwise dislike the preparation, anesthesia, and cost associated with colonoscopy and other screens," he says.
To address the large number of people who are not being screened, Quest Diagnostics introduced ColoVantage in 2009, the first blood-based colorectal cancer detection test in the United States, which can be combined with annual blood work, Cohen says, adding that while colonoscopy remains the preferred test, this new technology can help evaluate cancer risk in patients who may eschew screening.
As long as health care spending consumes a growing percentage of gross domestic product, the clinical lab industry will be under great pressure to demonstrate value on the balance sheet. "We in the lab industry can't focus primarily on pricing per test as if this is a reasonable measure of the value of our services," Cohen says. "Doing so merely reinforces the perception of testing as a commodity service. Rather, the lab industry must focus its discussions with health plans, physicians, and patients on the value of testing in terms of overall disease detection, management, and treatment. The challenge for the laboratory industry over the next decade will be about shifting the dialogue with clients, patients, and other constituents to focus on overall value."
Critical areas for labs, from a business perspective, are platform integration and menu expansion. "We're working on expanding our menus so labs can consolidate testing and reduce their footprint and labor requirements," says Andy Plank, group marketing manager, Women's Health, Roche Diagnostics Corp, Indianapolis. "But we're also exploring ways to integrate our portfolio even further in the future, similar to the trends right now in chemistry and immunoassay testing."
The cost of developing a new companion diagnostic through FDA PMA regulatory approval is roughly $5 million to $10 million, not counting the investment neeeded to acquire intellectual property rights through in-licensing or years of discovery work, says Chris Callaghan, president and COO, Insight Genetics. And oncology is a small market for a diagnostic compared to other clinical areas. Even lung cancer, with the highest incidence, is a relatively small market at 200,000 new diagnoses in the United States each year. Also, the current CPT-based reimbursement for diagnostics is typically only a few hundred dollars per sample, making it difficult to create a business case for investment in companion diagnostics for oncology. Since diagnostic testing for cancer will be dominated more and more by advanced molecular technologies, developing cost-effective methods is critical to driving adoption.
AUREON BIOSCIENCES
Prostate Px from Aureon Biosciences, Yonkers, NY, is a biopsy-based test performed at diagnosis, yielding information early in the evaluation process to facilitate decision-making for patients and physicians. "It's a personalized look at the patient's tumor," says Jason Alter, PhD, vice president of marketing. "Risk assessment is based on analysis of the patient's tumor. The test provides an unprecedented look at a patient's risk. It helps a currently classified low- or intermediate-risk patient by telling those patients what their risk is more precisely, and providing an objective and comprehensive perspective." The test uses patented technology and advanced algorithms for disease prediction and analysis, and protein-based biomarkers to provide patients with specific information about their cancer. The company's Post-Op Px® analyzes prostatectomy tissue by combining cellular, molecular, and clinical information. The test assesses patients as either low- or high-risk after surgery, and helps determine risk of recurrence and disease progression.
PATHWORK DIAGNOSTICS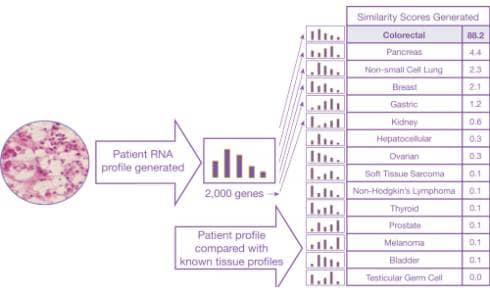 This is an example of how the Pathwork Diagnostics Tissue of Origin Test works.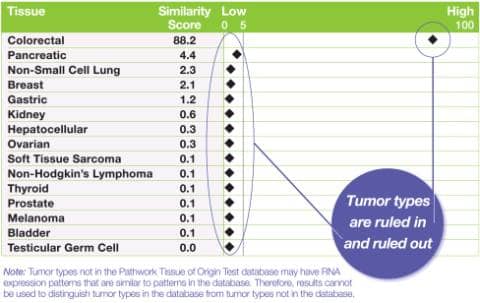 Sample Pathwork Diagnostics Tissue of Origin Test report.
Pathwork Diagnostics is focused on developing and commercializing high-value molecular diagnostics for oncology. The company's Pathwork® Tissue of Origin Test is a gene expression-based test that uses a tumor's own genomic information to assist in identifying its origin, to aid in the diagnosis of challenging cancer cases, including those that are metastatic or with a complex clinical history. The Pathwork test is the only FDA-cleared molecular diagnostic test for tissue of origin and has been extensively evaluated in multiple independent studies involving more than 1,100 patient specimens, including large validation studies published in the Journal of Clinical Oncology and the Journal of Molecular Diagnostics, says William David Henner, MD, PhD, chief medical officer.
The test can analyze a large number of genes simultaneously to yield highly accurate answers while working with formalin-fixed, paraffin-embedded (FFPE) specimens—the standard pathology specimen, which is well known to contain highly degraded genomic material. "Developing the test required proprietary informatics approaches and large numbers of well-characterized specimens to solve both of these technical challenges," he says. "On a large-scale validation study of 462 metastatic, poorly differentiated, or undifferentiated tumor specimens, the Tissue of Origin Test correctly identified the reference diagnosis 89% of the time.1 In the University of California, San Francisco (UCSF) study, the test results were in agreement with the reference diagnosis in 95% of the cases."2 In both the 462-sample study and the UCSF study, the Tissue of Origin Test correctly ruled out tumor types with >99% accuracy.
ROCHE
The FDA has just approved Zelboraf™ (vemurafenib) for treating BRAF V600E mutation-positive, inoperable, or metastatic melanoma. The agency also just approved Roche's cobas® 4800 BRAF V600 Mutation Test, a PCR-based companion diagnostic test to identify patients who are eligible for treatment. Zelboraf is the first and sole FDA-approved personalized medicine shown to improve survival in people with BRAF V600E mutation-positive metastatic melanoma, furthering Roche's approach to using personalized treatments to improve patient outcomes.
"Zelboraf is nothing short of a breakthrough in the treatment of skin cancer," says Jack Phillips, president and CEO of Roche Diagnostics Corp (and head of Roche Diagnostics North America). "And this first-ever, joint FDA approval of a drug and companion diagnostic represents significant progress in Roche's strategy of personalized health care, as this is the first time we are launching one of our medicines coupled with a Roche diagnostic test."
QUEST DIAGNOSTICS
Quest Diagnostics has introduced many new tests in recent years for personalizing cancer detection, treatment, and disease management. Examples include personalized testing for colorectal cancer (such as EGFR Pathway analysis for predicting response to therapies such as Erbitux, and MLHI mutation detection to help identify patients with hereditary nonpolyposis colorectal cancer, also known as Lynch Syndrome), ovarian cancer, and non-small cell lung cancer (NSCLC), the most common form of lung cancer (testing to detect mutations in EGFR, KRAS, and ALK to help oncologists predict response to certain targeted therapies).
"Many of our tests are state-of-the-art because they identify biomarkers with demonstrated clinical value," Cohen says. "We're the only laboratory in the US that offers ovarian cancer testing services for both the pre- and postsurgical setting (HE4 Monitoring and CA125, to identify if epithelial ovarian cancer has recurred, and OVA1 to assess the likelihood a woman has cancer prior to surgery.)" Quest Diagnostics develops and validates its technology and services, and educates physicians in the strengths and limitations of tests.
LUMINEX
A wide variety of clinically significant drugs—including anticancer drugs—are substrates for the CYP2D6 pathway, says Jeremy Bridge-Cook, PhD, senior vice president, Assay Group, Luminex Corp, Austin, Tex. "Owing to the fact that this gene is highly polymorphic across the human population, an individual's specific allele combination can result in distinct drug-metabolizing phenotypes for the various drugs and, consequently, the potential for different drug responses," he says. "Coadministration of drugs that act as inducers or inhibitors of CYP2D6 can also affect drug-metabolizing phenotypes." These, along with lifestyle and physiological factors, can result in varying CYP2D6 metabolism phenotypes.
In patients where the CYP2D6 gene is inactive, and in patients who are poor metabolizers, drugs may be ineffective or may result in higher circulating levels in the blood, potentially leading to adverse events. Predicting patient response to clopidogrel through pretherapeutic genotyping of CYP2C19 may guide selection of antiplatelet therapy. "All of these have important implications for therapy as well as patient outcome," Bridge-Cook says. "Luminex's xTAG® CYP2D6 assay is a comprehensive, accurate, and easy-to-use test that can detect polymorphisms associated with drug metabolism across diverse populations, which can be an aid to physicians in determining therapeutic strategy for therapeutics that are metabolized by the CYP2D6 gene product."
Luminex also has an xTAG CYP2C19 assay in development. CYP2C19 variants have been demonstrated to play an important role in determining response to clopidogrel and outcomes while on clopidogrel therapy.
INSIGHT GENETICS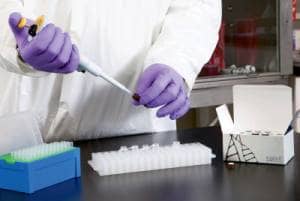 The Insight ALK Screen Assay detects ALK fusions and overexpression, and provides comprehensive, quick, quantitative results using a real-time PCR platform.
Insight Genetics is developing a suite of assays to detect oncogenic mutations of the anaplastic lymphoma kinase (ALK) gene. The company's Insight ALK Screen is a RT-qPCR assay that detects any form of ALK mRNA expression. Its Insight ALK Resistance assays detect ALK mutations that confer resistance to some types of ALK inhibitors. As second-generation ALK inhibitors enter the clinic, some patients will respond differently to various therapies based on the presence or absence of these mutations. The assays are not yet available for clinical use.
By detecting ALK expression broadly, the company's ALK Screen assay casts a wide net to catch the expression that could be activated by any form of ALK mutation. "The design of the assay addresses several of the technical and logistical challenges that typically frustrate clinicians and patients as they wait for molecular profiling results of solid tumors," says Dave Hout, PhD, director of Research and Development. "Fast turnaround time for molecular profiling means patients can be prescribed targeted therapies sooner. This is critical, especially in lung cancer, since the disease is often not found until it is in its later, more life-threatening stages."
Several ALK-inhibitor therapies are in development by pharmaceutical firms. Crizotinib, which is being developed by Pfizer, was found to inhibit ALK fusion activity in lung cancer patients. It was submitted for fast-track approval at FDA.
CALIPER LIFE SCIENCES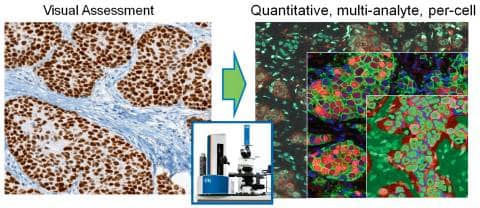 Caliper's tissue analysis tools reveal multiplexed molecular and structural information from biopsy sections, through spectral imaging and trainable pattern-recognition image-analysis software.
Caliper Life Sciences Inc, Hopkinton, Mass, has two categories of research product being applied to oncology personalized medicine. First is the line of instruments for analyzing biopsy tissue sections. The Vectra, Nuance, Trio, and inForm, which came with its CRi acquisition in 2010, are very helpful for discovering and validating biomarkers in FFPE tissue sections, says Clifford C. Hoyt, divisional vice president, Tissue Applications and Collaborations.
"Multispectral imaging and pattern-recognition-based image analysis collect quantitative, multiparameter data from individual tumor cells as a basis for stratifying patients, identifying disease subtypes, and monitoring response," he says. "This multiplexed capability enables the use of new molecular signatures, based on combinations of protein, RNA, and DNA." Algorithms used to automatically identify tumor cells in complicated tissue architectures are key to getting data that is accurate and specific to the disease mechanism.
The second category is a line of microfluidic and liquid-handling instruments used for preparing samples for genetic testing and sequencing. "Microfluidic lab-on-a-chip technology represents a revolution in laboratory experimentation, bringing the benefits of miniaturization, integration, and automation to many research-based industries," Hoyt says. Microfluidic chips are key components of its LabChip® systems, which also include a LabChip instrument and experiment-specific reagents and software.
With the microscopy products, the company reports seeing an increased demand for high levels of multiplexing, for evaluating DNA, RNA, and proteins, from smaller and smaller samples. Caliper is forging ahead with versions of its platform that support quantitative immunohistochemistry, and developing reagent solutions that make it easier for scientists and clinicians to get reliable data from precious clinical samples.
FDA POLICY
Recent draft guidance from the FDA considering a Drug/Companion IVD Review Policy could become a turning point for the industry, Bridge-Cook says. The agency has proposed that companies developing drugs or in vitro companion diagnostic tests that depend on one another will file applications for the drug and the test concurrently. The proposed rules will cover diagnostic tests that identify patients who are most likely to benefit from a certain treatment, those who are at increased risk for serious adverse reactions as a result of a particular treatment, and tests used to monitor response to treatments. Large validation studies, backed by government agencies, and safety and efficacy data for reimbursement from public and private payors, may spur physicians to adopt biomarkers into routine clinical practice.
---
Judy O'Rourke is editor of CLP. Elizabeth Kamp contributed information about Aureon to this article.
References

Pillai R, Deeter R, Rigl CT, et al. Validation and reproducibility of a microarray-based gene expression test for tumor identification in FFPE specimens. J Mol Diagn. 2011;13:48-56.
Grenert JP, Smith A, Ruan W, Pillai R, Wu AH. Gene expression profiling from formalin-fixed, paraffin-embedded tissue for tumor diagnosis. Clin Chim Acta. 2011;412(15-16):1462-1464.

Products and Pipeline

As research into vitamin D uncovers more benefits associated with its use and more problems with its deficiency, the volume of testing continues to rise. With increased volume comes increased justification for bringing the test in-house. Our sources shared information on their current and pipeline products for this area of diagnostics.

Products Today

The LIAISON 25 OH Vitamin D TOTAL Assay by DiaSorin Inc, Stillwater, Minn, is a fully automated assay with a time to first result of 35 minutes and a throughput greater than 90 tests per hour. The analyzer employs flash chemiluminescence detection, and in 2011, DiaSorin will introduce the LIAISON XL, which will offer a higher-throughput solution for vitamin D and other specialty assays at 170 tests per hour. The results indicate total D2 and D3, and as an FDA-cleared test, offer lot-to-lot consistency through quality control.
Diazyme Laboratories, a division of General Atomics, Poway, Calif, received clearance earlier this year from the FDA for its 25-Hydroxy Vitamin D test. The homogenous assay measures the true total 25-hydroxy-vitamin D—the sum of both D3 and D2, offering a wide dynamic range and eliminating washing steps and error caused by "matrix effects." The test can be run manually, used on automated microtiter plate readers, or adapted to automated chemistry analyzers.

Products Tomorrow?

Abbott Diagnostics, Santa Clara, Calif, has filed a submission with the FDA to approve a fully automated vitamin D assay for use on the company's ARCHITECT system. The test, which has been approved outside of the United States, is a two-step chemiluminescent immunoassay for the detection of the 25-hydroxy-vitamin D in blood. Its intended use includes the quantitative determination of 25-hydroxy vitamin D in human serum and plasma to aid in the assessment of vitamin D sufficiency.
The Siemens Healthcare Diagnostics (Deerfield, Ill) ADVIA Centaur Vitamin D Total assay has been CE-marked for use on the ADVIA Centaur and ADVIA Centaur XP Immunoassay Systems since January 2011 and is currently under FDA review. If approved, results are available in as few as 18 minutes.