To help physicians rapidly diagnose and treat respiratory infections, Abbott, Abbott Park, Ill, has introduced the IMDx Flu A/B and RSV assay in the European Union and other areas outside the United States.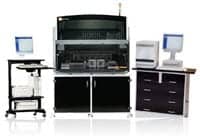 The assay, a new molecular diagnostic test for the detection of influenza A, influenza B, and RSV (respiratory syncytial virus), is performed on nasal and nasopharyngeal swabs from patients with signs and symptoms of respiratory infection.
It was developed by Intelligent Medical Devices Inc (IMDx), Cambridge, Mass, for the Abbott m2000 molecular diagnostics analyzer (pictured).
The assay is a qualitative, reverse transcription polymerase chain reaction (RT-PCR) test for rapid detection of influenza A and B and RSV.
IMDx intends to seek FDA approval for the assay later this year.
Analytical data demonstrates that the assay is reactive with 46 different strains of flu A, flu B, and RSV, including H3N2 variant strains. The assay showed no cross reactivity when tested against 44 viruses and microorganisms commonly found in respiratory specimens.
Rapid and accurate detection of influenza A and B and RSV with molecular diagnostic tests can allow physicians to expedite treatment with antiviral medications and help prevent inappropriate antibiotic prescribing.
Abbott's m2000 System enables clinical labs to automate all of the complex and heavily manual steps associated with molecular diagnostics.
[Source: Abbott]