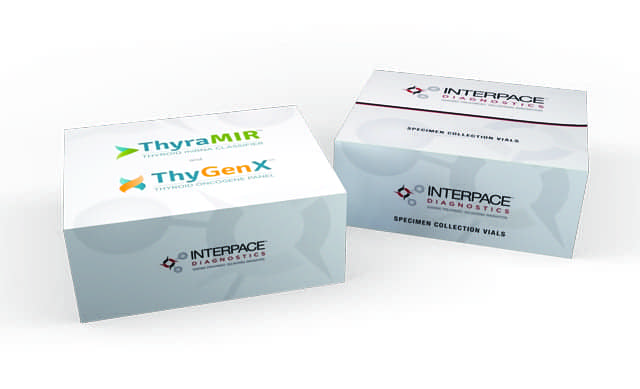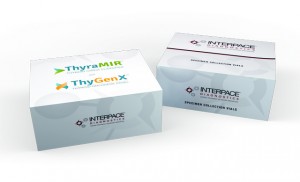 PDI Inc subsidiary Interpace Diagnostics, Parsippany, NJ, has launched ThyraMir, the first microRNA gene expression classifier that identifies indeterminate thyroid nodules as benign or malignant, using specimens collected via fine needle aspiration (FNA). The test uses the expression levels of 10 miRNAs, small, non-coding RNAs that are deregulated in all human cancers, including thyroid cancer.
In combination with the company's ThyGenX genetic mutation panel, which identifies more than 100 genetic alterations associated with papillary and follicular thyroid carcinomas, the test achieves a negative predictive value (NPV) of 94% and positive predictive value (PPV) of 74% at a cancer prevalence of 32%. Together, ThyraMir and ThyGenX achieve a specificity of 85% and a sensitivity of 89%, giving physicians the ability to identify and rule out thyroid cancer more accurately with a single testing regimen.
"A testing regimen that provides both high NPV and PPV would be highly predictive and significantly improve the physician's ability to correctly identify indeterminate thyroid nodules as being either benign or malignant," says Alexander Shifrin, MD, an endocrine surgeon at Jersey Shore University Medical Center. "This can potentially result in fewer unnecessary surgeries and improve patient management."
FNA biopsies may present clinical challenges when diagnosing thyroid cancer. After considering all clinical factors, physicians leaning against surgery typically use a highly sensitive test to help confirm whether a thyroid nodule is benign. Meanwhile, physicians leaning in favor of surgery often choose a highly specific test to help confirm malignancy. According to Interpace Diagnostics, the combination of ThyraMIR and ThyGenX results in improved patient risk stratification, due to the high likelihood that a negative result is truly benign and that a positive result is actually malignant.
Approximately 525,000 thyroid nodule FNA procedures are performed each year in the United States. Indeterminate cytology diagnoses are common, representing approximately 15% to 30% of cases. For such indeterminate cases, guidelines from the National Comprehensive Cancer Network and the American Thyroid Association currently recommend consideration of molecular testing to help avoid unnecessary surgery on benign nodules, which may occur in 70% to 80% of the cases.
"We are excited about the launch of ThyraMIR and its combined use with our thyroid oncogene mutational panel, ThyGenX, as they further advance physicians' ability to correctly diagnosis thyroid nodules," says Nancy Lurker, CEO of PDI Inc.
For more information, visit Interpace Diagnostics.