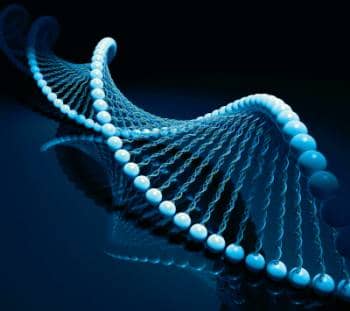 The Centers for Disease Control and Prevention (CDC) report that more than 75% of the recently emerging infectious diseases affecting humans are of animal origin. Food-related illnesses affecting millions cost more than $9 billion per year, and hospital/health care-acquired infections (HAIs) affect more than 2 million patients in US hospitals (leading to almost 100,000 deaths annually), while vector-borne diseases affect more than 100 endemic countries (1.5 million West Nile Virus infections since 1999, with 50 million dengue fever cases internationally per year). Therefore, the detection, control, and prevention of infectious diseases are critical in public health and policy for the United States. While conventional bacterial and viral laboratory tools have been used traditionally, they are limited by time, cost, additional testing requirements, and sensitivity and specificity testing, as well as wait times for pathogen identification.
Molecular diagnostic testing using nucleic-acid-based assays provides a means for quick and accurate diagnosis and identification of infectious diseases. Not only do these tests reduce the time from sample to answer significantly, the accuracy of these tests eliminates the need for additional confirmatory testing. These tests are useful in detection of difficult-to-culture pathogens such as norovirus (causative agent for gastroenteritis), and mycobacterium tuberculosis (TB) in standard conventional diagnostics testing. Molecular testing focuses on PCR amplification, with end-point, PCR-based multiplex testing as well as real-time PCR, where detection and amplification takes place in a single tube, reducing detection to hours (in some cases, to minutes).
Sample preparation or the quality of the sample has been found to be one of the key factors affecting the final sensitivity and accuracy of these diagnostics assays. In fact, PCR inhibitors that carry over from sample preparation often yield false negative results. French diagnostics company bioMérieux, US-based in Durham, NC, focuses on four types of disease diagnosis: sepsis (the leading cause for noncoronary deaths in ICUs), HAIs (affecting more than 1 million patients daily worldwide), HIV (affecting more than 5,000 people per day worldwide), and TB (leading to 2 million deaths worldwide annually).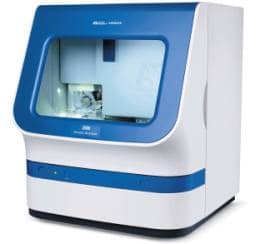 Sequence-based analysis enabled by Life Technologies' 3500 Dx system coupled with SeCore kits is the only available technique that identifies more than 5,500 gene variants at the nucleotide level.
"bioMérieux's easyMAG system delivers automated nucleic acid extraction," Steve Shumoski, marketing manager at bioMérieux, says about the company's IVD-labeled solution to automated sample preparation for the diagnosis of the above diseases. "[It is] … used by laboratories for sample processing in front of both laboratory-developed and select FDA-cleared molecular assays, including several respiratory viral assays." In 5 years, the instrument has set new standards in workflow, reduced waste, and intrarun flexibility.
Other companies with automated sample-preparation options include Roche's MagNApure 96 System. Using magnetic glass particles, the industry-first solution for high-throughput automated nucleic acid preparation purifies nucleic acids using preprogrammed software protocols, tailored to specific sample requirements in less than 1 hour. Bar coded, prefilled trays with ready-to-use reagents; data management via file sharing and LIMS; and the ability to process samples up to 1 mL make this sample-preparation system one of the industry standards.
DISEASE TESTING PANELS
Once the sample is extracted, the next steps are in amplification and detection. This is done with a focus on disease panels. Luminex has led the field of end-point multiplex amplification and detection technologies with its many FDA-cleared products.
RESPIRATORY PANELS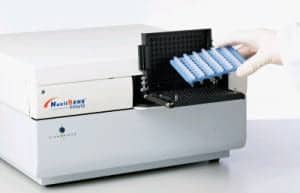 bioMérieux's EasyQ MRSA test, a new molecular diagnostic assay for rapid, automated MRSA screening, targets two different nucleic acid sequences, adding confidence to positive screening results.
Known for its xMAP technology (see "Flu Redux," CLP, August 2011, page 17), in July 2011 Luminex received FDA clearance for its Respiratory Viral Panel FAST test (xTAG RVP FAST) to detect influenza A/B, hMPV, RSV, adenovirus, and rhinovirus. Patrick Balthrop, president and CEO of Luminex, says clearance of xTAG RVP Fast allows the company to provide clinical laboratories with a new diagnostic tool to help manage their patients with influenza-like illness. In addition to xTAG RVP FAST, Luminex provides xTAG RVP (FDA-cleared in January 2008), the first RVP for 12-virus detection; xTAG Gastrointestinal Pathogen Panel (GPP) (CE-marked), used as a first-line screen in 2011 European E. coli outbreak management; and MultiCode-RTx Herpes Simplex Virus (HSV) 1&2, (FDA-cleared PCR qualitative test typing HSV from vaginal lesion swabs).
CANCER MARKERS/PANELS
A recent development from Roche is in the area of cervical cancer screening and HPV genotyping, says Andy Plank, group marketing manager, Women's Health, Roche Diagnostics Corp, Indianapolis. "Roche Diagnostics undertook the ATHENA trial with over 47,000 women, the largest cervical cancer screening study in the US, providing clinical validation of the critical role of HPV 16 and 18 genotyping in identifying women with highest risk for cervical cancer," Plank says. "As part of Roche's new cobas® HPV Test clinical trial, this enabled clinicians the unique benefit of identifying genotypes 16 and 18 and simultaneously detecting 12 other [high-risk] genotypes [three-in-one testing]." The ATHENA test provides important predictive information that Pap tests alone do not, he adds.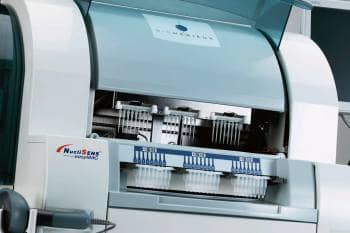 bioMérieux's easyMAG system delivers automated nucleic acid extraction.
Roche's cobas 4800 system, an automated platform for the cobas HPV test (and other tests in development), is used for the cobas CT/NG (under FDA review for 510(k) approval). "The cobas 4800 system automates nucleic acid purification, PCR setup, and real-time PCR amplification and detection, which translates into less hands-on time, true walk-away performance, and, as a result, maximum efficiency for the lab," Plank says. "For example, it takes less than 30 minutes of hands-on time to begin a run of 96 samples."
HAIS
Similar to Roche Diagnostics, bioMérieux focuses on worldwide disease detection. Shumoski says bioMérieux's EasyQ MRSA test, a new molecular diagnostic assay for rapid, automated MRSA screening, is novel in that "the assay design targets two different nucleic acid sequences, adding confidence to positive screening results." Run on the EasyQ system, with batch processing of up to 46 tests in a rapid turnaround time (~3 hours), the test uses bioMérieux's NASBA technology combined with fluororphore-labeled probes to individually detect the mecA gene and the SCCmec cassette/orfX junction with an amplification inhibition control. bioMérieux's test showed a clinical sensitivity of ~95% (nasal swab testing from adult samples) and a 100% sensitivity (clinical) with 97.3% specificity (clinical) when testing pediatric samples.
In 2010 Roche introduced its LightCycler® MRSA Advanced test, which offers hospitals a simple, flexible way to incorporate molecular MRSA surveillance into their infection control programs.
PATHOGEN OUTBREAKS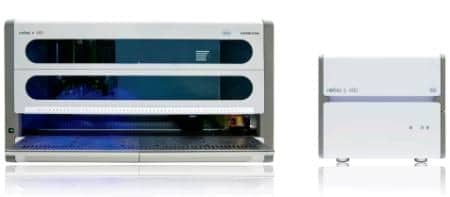 Roche's cobas® 4800 system, an automated platform for the cobas HPV test and other tests in development, automates nucleic acid purification, PCR setup, and real-time PCR amplification and detection.
GPPs became important with this year's (Germany) E. coli outbreak. In June, Life Technologies Corp, Carlsbad, Calif, announced that, in collaboration with the University Hospital Muenster, Germany, on the Ion Personal Genome Machine (PGM™), sequencing data suggested the presence of a new hybrid of pathogenic E. coli strains in the deadly outbreak (killing 17 and affecting more than 1,000 individuals in Europe). Life Technologies' custom E. coli testing kits were shipped to Europe to detect pathogenic E. coli.
"The company can design custom assays in less than 1 week," says Fritz Eibel, marketing leader for Diagnostics, Life Technologies. "We're fortunate in that our team is quick to move. We were able to use our 3500 sequencing system utilizing our platforms to determine the strain with sequencing and detect the exact pathogen."
In August, Life Technologies announced it had submitted its 3500 Dx Genetic Analyzer and SeCore® HLA Sequencing system for FDA-510(k) clearance. Clearance of this system would make the 3500 Dx/3500xL Dx Genetic Analyzer CS2 the only 510(k)-approved Sanger Sequencer on the market, Eibel says. Used for HLA typing to determine patient-donor compatibility selection for individuals diagnosed with leukemia and other blood cancers, especially when marrow transplantation is a viable treatment option, this would be a landmark product.
"Sequence-based analysis enabled by the 3500 Dx system, coupled with SeCore kits, is the only available technique that identifies more than 5,500 gene variants at the nucleotide level, resulting in the most accurate and unambiguous assay," says Todd Laird, vice president and general manager, Life Technologies Fragment and Sequence Genomics Division.
Eibel says this clearance will enable an accurate result, first-cleared sequencing assay in the marketplace, and make sequencing an ongoing need as a confirmatory test in clinical labs for validation. The 3500 Dx instrument was designed with novel consumables design, radio frequency identification tags on tracking information, redesigned sample collection, and analysis software with a cost-effective method for sample analyses, running up to 1,100 sequencing or 1,200 genotyping samples daily.
KITS, INSTRUMENTS AND REAGENTS: VIROLOGY
Besides respiratory panels, HIV, HBV, and HCV detection are key disease panels. Roche has had multiple exciting developments in viral load testing in HIV-1, Hepatitis B, and C antiviral therapy, says Shane McCann, group marketing manager, Virology, Roche Diagnostics Corp. "For example, we recently introduced version 2.0 of our cobas AmpliPrep/cobas TaqMan® HIV-1 Test, addressing the high genetic variability of the virus by simultaneously targeting two regions of the HIV genome for amplification and detection." The assay is the only HIV-1 viral load test available that targets two regions that are not drug targets (LTR and gag) to cover genetic diversity, natural polymorphisms, and drug-induced mutations.
In HBV testing, Roche has introduced the next version of the cobas AmpliPrep/cobas TaqMan HBV Test (v2). "Labs can now perform simultaneous processing of our three FDA-approved viral load assays—HIV-1, HCV, and HBV—as well as the preparation of highly purified DNA or RNA from serum or plasma using the cobas AmpliPrep Total Nucleic Acid Isolation Kit," McCann says. The cobas AmpliPrep/cobas TaqMan system is the first fully automated, real-time PCR, continuous-load IVD platform with parallel processing increasing laboratory throughput efficiency.
CONTROLS IN MOLECULAR DIAGNOSTICS
In July, Life Technologies introduced its Applied Biosystems™ AcroMetrix® KRAS FFPE Process Controls. This control is the only one currently available in the market enabling laboratories to monitor the entire workflow from FFPE sample-to-result without use of archived samples. The kit consists of controls for seven of the most commonly assayed KRAS gene mutations and a wild type control. The American Society for Clinical Oncology emphasizes patients with metastatic colorectal cancer, candidates for anti-EGFR therapy, be tested for KRAS mutations to predict drug efficacy (30% to 40% of colorectal cancers have a KRAS mutation). While not intended for diagnostic use, KRAS FFPE Process Controls are a promising start to providing a control for cancer detection.
ALLERGY PANELS
A twist on molecular testing overview, Phadia, Portage, Mich, an allergy and autoimmune disease-related diagnostics company, demonstrated at AACC this summer its uKnow Peanut Molecular Allergy Test. "We are the first company to receive FDA clearance of our recombinant allergen component test," says Robert Reinhardt, MD, Phadia's chief medical officer. The uKnow Peanut test will be commercially available in the United States through the Phadia Immunology Reference Laboratory, testing for allergic sensitization to specific allergen components within the whole peanut.
"Through a simple blood draw, in less than 48 hours, a clinician will be informed of a child's sensitivity or allergy to a particular component in peanuts," Reinhardt adds. Not only does the test enable the measurement of IgE in patients, specific binding of proteins and their immunological reactions are easily deciphered through this test. While not strictly a molecular test, instead using peptide sequences, Phadia's testing panels extend to other foods, including milk, eggs, and more.
NEW PRODUCTS IN DEVELOPMENT
bioMérieux has focused on HAIs, especially those caused by multidrug-resistant organisms (MDROs). New test development is focused on infectious disease/antibiotic resistance areas. Phadia AB is focused on educating clinicians on guidelines from NIH for diagnosis and management of food allergy in the United States, such that its testing panels can be embraced in this country as they have been in Europe. McCann says Roche is introducing the MagNA Pure 96 IVD, a nucleic acid concentrator using preprogrammed protocols tailored to laboratory sample prep requirements, processing in less than 1 hour. In the area of companion diagnostics, Plank says the company is very excited about the promising Roche BRAF v600 mutation test, to be run on the cobas 4800.
COST PER TEST
Most CLIA laboratories are reluctant to move to molecular testing due to the unattractive cost-per-test reimbursement. However, McCann says that "compared to culture-based methods, molecular screening for MRSA offers a much faster turnaround time—typically, 2 hours versus 24 or more for culture. Even though molecular tests cost more, some studies suggest that the benefits of higher sensitivity and faster turnaround time may more than offset that cost." Switching from culture- to PCR-based screening in University College Hospital, London, resulted in a net savings of $850,000 versus the previous year.
"Another example of how molecular testing can address the cost issue by reducing the need for reflex testing is Roche's new cobas HPV test," Plank says. "Unlike current tests, Roche's cobas HPV test detects multiple genotypes, providing physicians with certainty of their patient's risk status, reducing clinical intervention time." Accuracy of the tests leads to fewer return visits, less retesting, and earlier disease identification, reducing overall health care costs. "Improving efficiency with batch processing and automation of molecular process will reduce costs significantly," Shumoski says.
MOLECULAR DIAGNOSTICS IN DEVELOPING/UNDERDEVELOPED COUNTRIES
The Roche AmpliCare program, founded in 2002, increased access to diagnostics and monitoring tests (HIV/AIDS) in developing countries. The company supplies HIV diagnostic and viral load tests at the lowest possible price in sub-Saharan Africa, South America, and the Least Developed Countries, as defined by the United Nations. More than one million infants have been tested for HIV, and about 560,000 patients on HIV/AIDS therapy have had their viral levels monitored.
Roche also delivers diagnostics supporting the largest infant-testing initiative worldwide, identifying HIV-positive children during infancy. The patients are tested using the dried blood sampling (DBS) technique—that is, blood spot on filter paper sent to a testing center—eliminating refrigeration needs, lowered sample volume, and easier testing. Similarly, bioMérieux allows better access to HIV viral load monitoring of infected individuals due to testing validated using DBS.
"bioMérieux's molecular portfolio is present in many regions around the world, for both developed and developing nations. We drive new innovation, and the recent agreement with Biocartis will allow us to present a fully integrated molecular system enabling broader access to molecular diagnostic testing for enhanced patient management," says Dominique Bataille, global marketing director, Molecular Solutions, bioMérieux. Life Technologies' Eibel says, "We are proud to say that we make our instruments and kits available in times of worldwide crisis, such as the E. coli outbreak. We are able to sequence in hours for accurate results and diagnosis."
MOLECULAR TESTING HAS A LONG WAY TO GO
In March, at the 16th Annual National Comprehensive Cancer Network conference, molecular testing in cancer was considered an "immature industry." The challenges, according to the clinicians, were regulatory hurdles—the need to leave the decisions about clinical validity to the clinical community. Predictions were that within a year, there will be a "new regulatory scheme" for molecular testing, changed medical coding, reimbursements, and the change in (large CLIA) laboratories.
Regardless, molecular diagnostics has moved far in precision, accuracy, speed, and detection. There is much to commend, and much is to be done promising exciting health care solutions.
---
Madhushree Ghosh is a San Diego-based science writer.