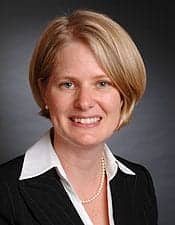 Alexi Wright ,MD, MPHA new study has revealed marked differences in the genomic terrain of the two most common types of cervical cancer, suggesting that patients might benefit from therapies geared to each type's molecular idiosyncrasies.
The study, published August 23 in the online version of the journal Cancer by researchers at Dana-Farber Cancer Institute and Brigham and Women's Hospital, Boston, is the first to compare the spectrum of cancer-related gene mutations in the two main subtypes of cervical cancer – adenocarcinoma and squamous cell carcinoma.
"We have historically treated cervical cancers as one disease," says the study's lead author, Alexi Wright, MD, MPH, of the Susan F. Smith Center for Women's Cancers at Dana-Farber. "However, our findings suggest that some patients may be at higher risk of dying from their disease and might benefit from a more tailored treatment approach."
In tests on 80 cervical tumor samples, the investigators found high rates of mutations in two genes: PIK3CA and KRAS. While PIK3CA mutations appeared in both subtypes, KRAS mutations were found only in adenocarcinomas.
The discovery of high rates of PIK3CA mutations in the cervical tumor samples suggests that many patients could benefit from drugs known as PI3-kinase inhibitors, which target the family of proteins associated with the gene, the authors say. Patients with the adenocarcinoma subtype of cervical cancer may benefit from targeted agents known as MEK inhibitors, which have shown some success in clinical trials.
Click here to read the entire story.
[Source: Dana Farber Cancer Institute]