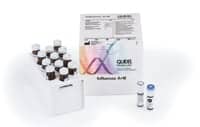 Molecular Influenza A+B Assay
Detection of influenza A and B
Quidel Corp, San Diego, has received 510(k) clearance from the FDA for the sale of the Quidel molecular influenza A+B assay for the detection of influenza A and B. The Quidel molecular product line offers PCR reagent kits for use by molecular diagnostic laboratories with their existing Applied Biosystems 7500 Fast DX thermocycler. These reagents include features that provide for simple transport and storage, convenient workflow, a short time to result, and other benefits that favorably affect diagnostic test outcome. The 510(k) clearance grants Quidel authorization to market its Quidel molecular influenza A+B assay in the United States ahead of the upcoming influenza and respiratory disease season.
Quidel Corp
(800) 874-1517
www.quidel.com
---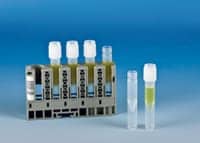 False-Bottom Tube
Screw-cap aliquot tubes
Sarstedt Inc, Newton, NC, introduces a new 13- x 75-mm configuration to its existing line of false-bottom, screw cap aliquot tubes. False-bottom tubes feature an elevated conical base that lifts serum/plasma yields to a more optimum height for automated analysis. The new 13- x 75-mm option has a 2.5-mL filling volume, a rounded skirt for accommodation in analyzer racks, and is made from highly transparent polypropylene with molded-in graduations. The tube may be centrifuged to 4,500 x g for up to 10 minutes. Sarstedt offers the tube in economical bulk packaging or oriented in a compact, convenient StackPack. A corresponding leak-resistant screw cap is available separately for secure transport and storage.
Sarstedt Inc
(800) 257-5101
www.sarstedt.com
---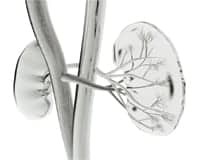 Liquid, Ready-to-Use Cystatin C Assay
More sensitive marker of GFR compared to Creatinine
The liquid, ready-to-use Cystatin C assay from Randox Laboratories Ltd, Kearneysville, WVa, provides a good indicator of glomerular filtration rate (GFR). As a more sensitive marker of renal dysfunction, Cystatin C offers several advantages over traditional creatinine assays, according to the company. Early detection of kidney disease is crucial in helping to reduce health care costs, and avoiding disease progression and the need for dialysis or transplantation. The Randox Cystatin C assay is based on an immunoturbidimetric method and is suitable for use on a wide range of chemistry analyzers. All reagents are supplied liquid, ready-to-use for added convenience, and reagents are stable for 28 days at +10°C onboard the analyzer, minimizing the possibility of reagent waste. The assay has a wide measuring range of 0.4 to 10 mg/L, allowing both normal and abnormal values to be measured accurately and reliably without the need for additional dilutions. Further benefits include excellent precision (CVs under 5%) and limited interference from bilirubin, hemoglobin, triglycerides, and intralipids. A full range of supporting quality controls and calibrators are also available.
Randox Laboratories Ltd
(304) 728-2890
www.randox.com
---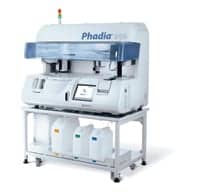 Automated Rheumatoid Factor Assay
FDA-cleared for use on company's laboratory systems
Thermo Fisher Scientific Inc ImmunoDiagnostics business (formerly Phadia US), Portage, Mich, introduces new autoimmune assays: EliA® Rheumatoid Factor (RF) IgA and EliA® Rheumatoid Factor (RF) IgM. The fully automated standardized EliA RF tests are blood tests that quantitatively measure IgM and IgA class rheumatoid factor. RF alone or combined with the well-known EliA CCP (cyclic citrullinated peptide) provide clinicians with a reliable and simple tool to aid in early diagnosis. Both tests are available on the Phadia® 100 and Phadia 250 Laboratory Systems and feature quick turnaround time, performed under master curves with monthly calibration, have on-board instrument dilution capability, and are performed using a discrete, single-well, random access, nonmicrotiter plate format.
Thermo Fisher Scientific Inc (800) 346-4364;www.thermoscientific.com/phadia
---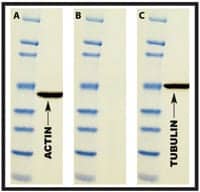 Single Component System
Strip high-affinity antibodies from Western blots
G-Biosciences, St Louis, offers the Western ReProbe PLUS, a modified single component system specifically formulated to dissociate and remove stubborn, high-affinity antibodies from membrane-bound proteins without destroying the antigenic-binding affinity. Western ReProbe PLUS eliminates the need to rerun gels and transfer processes by offering you the ability to reuse Western blots. It also eliminates the need for boiling, denaturants, or SDS. The membrane-bound protein is retained on the membrane, and the matching antibodies are washed away. Once the antigen-antibody bonds are broken, the membrane-bound protein is free to accept new antibodies. The Western ReProbe PLUS allows screening of the same blot with different antibodies, repeated analysis and correction of unsatisfactory blots with multiple probes, and comparison of phosphorylated and total protein on the same blot. Each 100-milliliter supply is sufficient for up to 30 standard-size Western blots.
G-Biosciences
(314) 991-6034
www.GBiosciences.com
---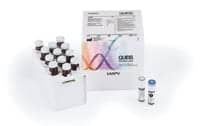 Molecular hMPV Assay
Detection of human metapneumovirus
Quidel Corp, San Diego, has received 510(k) clearance from the FDA for the sale of the Quidel molecular hMPV assay for the detection of human metapneumovirus. Human metapneumovirus, discovered in 2001, infects most children by the time they reach 5 years of age. It can cause serious respiratory infections, especially in infants, young children, the elderly, and in patients of all ages who are immunocompromised. This disease accounts for about 7% of children admitted to the hospital with respiratory infection. Symptoms of hMPV are very similar to and sometimes indistinguishable from those caused by human respiratory syncytial virus. The 510(k) clearance grants Quidel authorization to market its Quidel molecular hMPV assay in the United States just in time for the upcoming respiratory disease season.
Quidel Corp
(800) 874-1517
www.quidel.com
---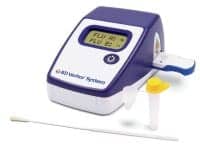 Influenza Test System
Rapid detection of flu A+B
BD (Becton, Dickinson and Co), Franklin Lakes, NJ, has received 510(k) clearance and Clinical Laboratory Improvement Amendments (CLIA) waiver from the FDA for the BD Veritor System for rapid detection of Flu A+B. This is the first rapid influenza test system that incorporates a digital readout of results to receive CLIA waiver, according to the company. The system provides objective results on an easy-to-read digital display, unlike some other CLIA-waived rapid influenza tests, which require a subjective visual test interpretation to determine a positive or a negative test result. The BD Veritor System rapid flu immunoassay reports performance measured against polymerase chain reaction (PCR) results. This newly designed system incorporates BD's Nano Detection Particle and Adaptive Read Technology.
BD
(201) 847-6800
www.bd.com
---

HCV Rapid Antibody Test
Received CLIA waiver
The FDA has granted a waiver under the Clinical Laboratory Improvement Amendments of 1988 (CLIA) for the OraQuick® HCV Rapid Antibody Test from OraSure Technologies Inc, Bethlehem, Pa. The test is used with fingerstick whole blood and venous whole blood specimens. It is a rapid test for the detection of antibodies to the hepatitis C virus (HCV). The test, which uses the OraQuick technology platform, provides results in 20 minutes. With the CLIA waiver, the test now can be used by more than 180,000 sites in the United States to test people who are at risk for hepatitis C or have signs or symptoms of hepatitis. These sites now extend to facilities that can perform CLIA-waived tests, such as outreach clinics, community-based organizations, and physician's offices.
OraSure Technologies Inc
(800) 869-3538
www.orasure.com