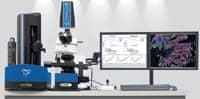 Tissue Imaging Platform
Improves assessment of drug response
PerkinElmer Inc, Waltham, Mass, offers the Vectra 2 automated slide imaging system, adding AQUA technology to Vectra's multispectral and image analysis capabilities. The new platform provides labs with a scalable and efficient system for analyzing tissue sections using HistoRX's AQUA technology. A turnkey platform, the Vectra 2 system allows walk-away batch processing of up to 200 tissue sections at a time. The Vectra 2 platform's multispectral capabilities, coupled with the powerful image analysis tool inForm, can be used to explore even the most demanding of today's tissue analysis problems, from multianalyte in situ cytometric analysis and cell phenotyping to stereology-like analyses of tissue disease states.
PerkinElmer Inc
(800) 762-4000
www.perkinelmer.com
---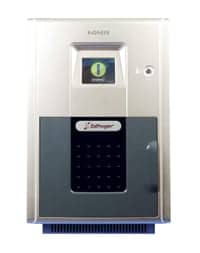 Recombinant Protein Synthesis System
Rapid, small-scale in vitro synthesis
Bioneer, Alameda, Calif, offers the ExiProgen™, an automated recombinant protein synthesis/purification system. The system allows for rapid, small-scale in vitro synthesis and purification of one to 16 different proteins per run. System automation allows for a simple template-DNA-input, purified-protein-output workflow in approximately 6 hours. The E coli-based transcription/translation system is designed to maximize efficiency and yield. Purification of the expressed protein is carried out by His-tag purification using Bioneer's spherical nickel-magnetic nanoparticles. The net result is one to 16 samples of up to 100 ug of > 90% pure protein(s). ExiProgen can also perform RNA and DNA extractions from a variety of samples.
Bioneer Inc
(877) 264-4300
www.bioneer.com
---

Automated Chemistry System
Available in four scalable models
Beckman Coulter Inc, Brea, Calif, has received FDA 510(k) clearance for its AU5800 automated chemistry systems, available in four scalable models. The AU5800 series, including the AU5840 configuration, meets the demands of high- and ultra-high-volume hospital and specialty clinical laboratories. Beckman Coulter's AU5800 series offers a clear and customizable upgrade path for laboratories, enabling them to add components as their workflow demands increase. AU5800 systems can be used as stand-alone instruments and are designed for connectivity with Beckman Coulter automation solutions, allowing for potential integration with the company's clinical information systems and immunoassay testing platforms to meet a lab's specific workflow performance needs. Specific models in the AU5800 series will be available in one- to four-module configurations with the additional option of single or dual ISE flow cells. AU5800 throughput performance ranges from 2,000 photometric chemistry tests per hour for the single module configuration (AU5810) to up to 9,800 photometric/electrolyte tests per hour with a dual ISE flow cell, four-unit configuration (AU5840).
Beckman Coulter Inc
(800) 526-3821
www.beckmancoulter.com