Infectious Disease Panels
Parvovirus B19, HIV, HBV, HAV, and CMV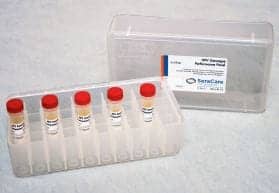 SeraCare Life Sciences Inc, Milford, Mass, introduces five new infectious disease panels. The company's latest offerings include a performance panel for parvovirus B19, most commonly associated with fifth disease, as well as new panels for HIV, HBV, HAV, and CMV markers. Parvovirus B19 Mixed Titer Performance Panel is the world's first commercially available performance panel for Parvovirus B19 markers with naturally occurring plasma samples, according to SeraCare. The Worldwide HBV DNA Performance Panel marks the addition of a worldwide Hepatitis B panel to SeraCare's panel offerings. The Anti-Hepatitis A Virus Mixed Titer Performance Panel offers a 21-member panel that includes members positive for IgG and IgM, contains specimens collected from 2000 to 2010, and represents a diverse range of HAV reactivities. The Anti-CMV Mixed Titer Performance Panel provides 21 naturally occurring panel members with data from 12 commercially available anti-CMV assays.
SeraCare Life Sciences Inc
(800) 676-1881
www.seracarepanels.com
---
Key Diagnostic Kit to ID Folate Receptor Alpha Expression
Uses proprietary technology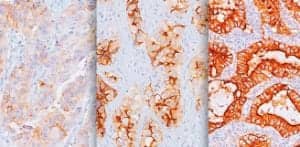 Biocare Medical, Concord, Calif, in partnership with Morphotek® Inc, a subsidiary of Eisai Inc, Exton, Pa, has released its in vitro diagnostic immunohistochemical (IHC) kit to detect folate receptor alpha (FRalpha) expression in formalin-fixed paraffin-embedded (FFPE) tissues. The kit will be available in the United States as a Class I IHC IVD assay and is CE marked for use in Europe. The introduction of this new assay is intended to determine which patient tumors express FRalpha, which may support the development of new cancer treatments. Biocare has worldwide rights to manufacture and distribute the kit, which will detect folate receptor alpha on a variety of tumor tissues. Mouse antihuman folate receptor alpha monoclonal antibody 26B3 specifically recognizes the alpha isoform of folate receptor. FRalpha is a cell-surface protein that is primarily expressed on the apical surface of some polarized epithelial cells of normal tissues (such as kidney, lung, breast, and salivary glands) and on several cancers of epithelial origin, including ovarian cancer, thyroid cancer, non-small-cell lung adenocarcinoma (NSCL), and endometrial cancers.
Biocare Medical
(800) 799-9499
biocare.net
---
RNA Amplification Technology
Deliver high-quality nucleic acids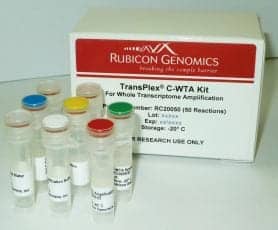 Rubicon Genomics Inc, Ann Arbor, Mich, has reached a clinical supply agreement with molecular diagnostics firm Agendia for its TransPLEX® whole genome RNA amplification technology. Agendia will incorporate Rubicon's TransPLEX kits into the analysis of FFPE (formalin-fixed, paraffin-embedded) patient samples for use with its Symphony™ suite of breast cancer diagnostics. FFPE tumor samples are widely used in cancer diagnostics, but they present many challenges for molecular analysis. RNA or DNA extracted from FFPE samples is highly fragmented and often contains only small amounts of usable DNA or RNA, which may be insufficient for analysis. Rubicon's TransPLEX genomic RNA amplification kits and GenomePLEX® genomic DNA amplification kits are members of Rubicon's OmniPLEX® family of technologies that are designed and validated to overcome these problems and deliver sufficient quantities of high-quality nucleic acids to enable accurate and consistent analyses. Rubicon's OmniPLEX amplification kits use proprietary methods for advanced library synthesis and high-yield amplification to prepare samples for sensitive and accurate PCR, microarray, and next-generation sequencing analysis for use in clinical medicine.
Rubicon Genomics Inc
(734) 677-4845
www.rubicongenomics.com
---
ELISA Kits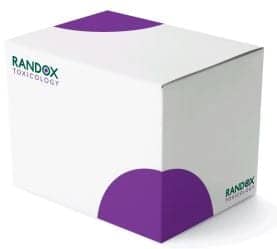 Forensic detection of "bath salts"
Randox Toxicology, Crumlin, Co. Antrim, UK, has developed two new ELISA kits for the forensic detection of "bath salts," drugs that are flooding the global market. The new kits will play a crucial role in the detection and eradication of these drugs, which are currently marketed as "legal highs," producing serious mental, emotional, and physical effects. Until now, the only method of detection for bath salts was by expensive and complicated chromatographic screens. The ELISA kits offer a fast and effective way of routinely screening for bath salts, eliminating negative samples prior to timely and costly confirmatory procedures. The Randox Toxicology Mephedrone ELISA offers a highly sensitive screen targeting Mephedrone HCl, R(+)-Methcathinone HCl, Flephedrone HCl, Methcathinone, 3-Fluoromethcathinone (3-FMC), and a large number of additional metabolites. The Randox Toxicology MDPV ELISA targets MDPV, MDPBP, and Naphyrone HCL. Both urine and blood can be screened accurately with Randox Toxicology ELISA kits.
Randox Toxicology Ltd
+44 (0) 28 9442 2413
www.randoxtoxicology.com
---
Molecular Blood Test
Identifies renal organ-transplant rejection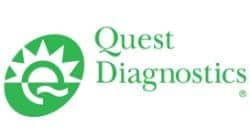 Quest Diagnostics, Madison, NJ, introduces the industry's first molecular blood test for identifying renal (kidney) organ-transplant rejection. The Renal Transplant Monitoring laboratory-developed test is designed to help physicians detect kidney failure weeks before conventional tests or clinical symptoms signify damage. The new test is based on the RNA genetic markers forkhead box P3 (FoxP3), granzyme B (GZMB), and perforin (PRF1), licensed exclusively from Beth Israel Deaconess Medical Center, Boston, and Weill Cornell Medical College, New York, among other markers. Terry Strom, MD, professor of medicine, Harvard Medical School, and codirector, The Transplant Institute at Beth Israel Deaconess, and Manikkam Suthanthiran, MD, professor of medicine, surgery and biochemistry, chairman of the Department of Transplantation Medicine, and chief of Nephrology and Hypertension, Weill Cornell Medical College, have published research demonstrating that certain biomarkers, including FoxP3, included in the Quest Diagnostics test, are useful in detecting acute cellular rejection of renal transplants.
Quest Diagnostics
(800) 222-0446
www.questdiagnostics.com
---
INFORM HER2 Dual ISH Assay
Approved for BenchMark ULTRA automated slide staining platform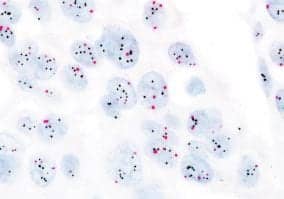 The FDA has approved the application of the INFORM HER2 Dual ISH DNA Probe cocktail assay (HER2 Dual ISH) from Ventana Medical Systems Inc, Tucson, Ariz, on the VENTANA BenchMark ULTRA automated slide staining platform. Originally approved by the FDA in June 2011 for use with the BenchMark XT instrument, the HER2 Dual ISH assay is now approved for use on both platforms available in the United States. The HER2 Dual ISH assay is intended for use in the determination of HER2 gene status in breast cancer tissue as an aid in the assessment of patients who may be considered for treatment with Herceptin (trastuzumab). Herceptin is clinically proven to improve outcomes for patients with HER2-positive breast cancer. The HER2 Dual ISH assay detects both HER2 and chromosome 17 on a single slide using a standard light microscope. Unlike FISH assays, the HER2 Dual ISH assay uses robust brightfield detection technology to deliver a result, which may be easily interpreted by a pathologist as it allows the pathologist to screen the entire tissue sample for regions of HER2 gene amplification. The signals do not fade over time, so results can be stored and shared between pathologists for a more collaborative diagnosis.
Ventana Medical Systems Inc
(800) 227-2155
www.ventana.com
---
Image Analysis Application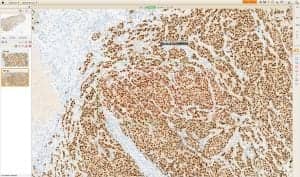 Used with the VENTANA iScan Coreo Au scanner
Ventana Medical Systems Inc, Tucson, Ariz, received 510(k) clearance from the FDA for the VENTANA Companion Algorithm Progesterone Receptor (PR) (1E2) image analysis application used with the VENTANA iScan Coreo Au scanner running VIRTUOSO software. The PR (1E2) image analysis algorithm assists pathologists in the detection and semiquantitative measurement of PR expression in formalin-fixed, paraffin-embedded normal and neoplastic breast tissue. When the PR (1E2) algorithm is used in conjunction with the VENTANA CONFIRM anti-PR (1E2) Rabbit Monoclonal Primary Antibody, it may be used as an aid in the assessment of breast cancer patients for whom endocrine treatment is being considered but is not the sole basis for treatment.
Ventana Medical Systems Inc
(800) 227-2155
www.ventana.com
---
Rapid Pathogen Tests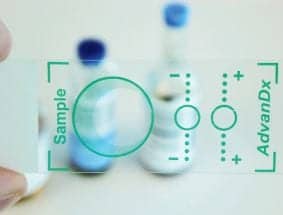 Enables fast identification of bacteria
AdvanDx, Woburn, Mass, introduces its new QuickFISH™ rapid pathogen tests, which mark an advance in speed to results and ease of use that will help clinical microbiologists and infectious diseases clinicians optimize antibiotic therapy and care much earlier for patients who have bloodstream infections. QuickFISH is a new, rapid, molecular diagnostic platform developed by AdvanDx based on proprietary PNA probe technology. The new platform enables fast (20 minutes) identification of bacteria directly from such complex samples as positive blood cultures. The speed and ease of use will enable clinical microbiologists to obtain pathogen results, such as S. aureus, E. faecium, P. aeruginosa, and Candida species, in time to report with the Gram stain critical values call for positive blood cultures. QuickFISH features 20-minute turnaround time; 5-minute hands-on time; built-in, universal controls; and requires limited instrumentation.
AdvanDx
(866) 376-0009
www.advandx.com