In April 2009, a new H1N1 virus was reported in Mexico. Within a few weeks, this virus traveled continents, infecting millions worldwide. The Centers for Disease Control and Prevention (CDC) reported 22 million Americans infected with the H1N1 virus, with 4,000 dead. The urgency to tend to this epidemic was enormous, leading the public and the CDC to turn to molecular diagnostics for fast answers.
Early diagnosis (primarily via real-time PCR) has allowed for appropriate and timely clinical intervention. The H1N1 virus has a specific hemaglutinin gene (HA) used for identification, with a neuraminidase gene (NA), similar to H5N1. A suspected patient sample will first be tested for influenza A, then for the matrix protein 2 gene (M2), followed by subtyping with detection of the HA1 gene. With accurate results, rapid clinical intervention is possible.
In November 2009, after H1N1 virus infection was considered pandemic, the FDA granted an emergency use authorization (EUA) for Roche's molecular assay for the H1N1 virus. According to Mark Rutledge, director of marketing at Roche Diagnostics, Indianapolis, "Molecular diagnostic testing provides better sensitivity and specificity than culture-based tests. In many cases, a test that takes 72 hours or even days or weeks to do with a culture-based assay can be done in a few hours with a molecular test."
While the test has not been submitted for a traditional FDA approval, the EUA allows Roche Diagnostics to distribute it to all CLIA laboratories to perform high-complexity tests. "During the last months, our test proved to be reliable in many labs around the world. We are glad that, in granting the EUA, the FDA now makes the test available also in the US," says Manfred Baier, head of Roche Applied Science.
But Roche is not the only player in the H1N1 virus detection field. Orange County-based Quest Diagnostics' Focus Diagnostics, a key player in diagnostics and reference labs in the United States, was issued the first EUA in May 2009 to use its Focus Diagnostics Simplexa™ influenza A H1N1 test on Roche and Applied Biosystems instruments. Focus has since been issued another EUA for use and marketing of its test with 3M™ Integrated Cycler, to CLIA-high complexity laboratories.
Recently, QIAGEN, Germantown, Md, launched a new influenza A/H1N1 test and several updates to its activities in providing solutions for the global surveillance of the swine flu pandemic. The artus Influenza/H1 RG/LC RT-PCR Kit—a research use only (RUO) assay in the United States—has been shown to work with the Rotor Gene Q thermocycler, yielding accurate results in 40 minutes.
While most diagnostics companies race to bring the more sensitive, more accurate, and fastest test to market that the CDC recommends or the FDA approves, molecular diagnostics is much more than a rapid point-of-care test.
Looking Beyond Fast and Quick
The essential question remains: Is fast and quick (and reliable) results all that's expected of molecular diagnostics?
Molecular diagnostics was always known for its comprehensive microarray assays. Not only are the assays in multiplex format, they also yield results that are highly accurate and show high sensitivity on various panels. They also can be expanded across various disease areas, including respiratory pathogens, gastrointestinal panels, cancer markers, and biomarkers for diseases such as cystic fibrosis.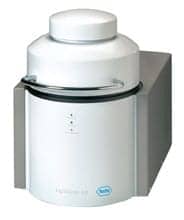 LightCycler® 2.0 from Roche
Luminex Molecular Diagnostics, Austin, Tex, has long been recognized for its comprehensive microarray assays. Nancy Krunic, PhD, its vice president, notes, "We are experiencing one of the most unpredictable flu seasons we have seen in years, and there are questions and uncertainty in the medical community and the general public alike." Questions like, "How do I know what I have?"
Luminex Corp, with its unique proprietary technology platform in multiplex microarrays—xMAP® Technology—has launched a Web site (www.xTAGRVP.com) to answer such questions. The site is a resource for physicians and patients seeking information on influenza and other respiratory viruses, as well as the diagnostic testing options available to detect respiratory viruses. It also offers the latest information on Luminex's xTAG® RVP Respiratory Viral Panel, a comprehensive multiplexed test for the detection of multiple viruses and subtypes.
Krunic adds, "xTAG RVP was the first test of its kind cleared by the FDA." The Luminex test is currently the only commercially available kit that simultaneously detects 12 respiratory viruses and subtypes, including influenza A subtypes. In terms of Influenza A detection, results generated in patient samples infected with 2009 H1N1 are distinct from those generated with samples infected with seasonal strains of H1N1 or H3N2.
UK-based Enigma Diagnostics joined the American ranks in diagnostics via real-time PCR. In 2009, the company launched its low-cost, effective, and fully automated point of care miniaturized instrument Enigma ML, which integrates qPCR with sample prep and is ideal for use in centralized laboratories and clinics.
Dr. William G. Weisburg from Granite BioResearch Consulting has a different view regarding the increasing number of molecular diagnostics tests for H1N1. He states, "There is little value in testing every patient (in case of an epidemic area). Most patients should be discouraged from even going to the doctor, instead managing their symptoms at home (with important exception of key risk groups)." Instead, he suggests, new antiviral replacements for Tamiflu should be the center of investigation for clinical and diagnostics research, as more strains become Tamiflu-resistant.
While that may hold ground, Rutledge notes that the tests, especially rapid or "almost point-of-care" molecular tests, take about a few hours versus days for a culture-based test. For more than a decade, Roche has streamlined tests, including the first FDA-approved HIV-1 RNA test via PCR viral load in blood. Since then, Roche has introduced molecular tests for hepatitis B and C, CTNG, and HIV and HCV used on Roche's fully automated, real-time PCR platform, which improves lab workflow efficiency.
The Case for HIV Molecular Diagnostics
A growing need beyond HIV-1 viral load tests is subtyping. A recent CDC survey indicated ~5% representation of non-B subtypes, primarily due to immigration and shift via international travel, but most tests are engineered for B subtyping. Should clinicians be misdirected by current tests, treatment of these patients may be put in jeopardy.
Abbott Diagnostics, Abbott Park, Ill, recently released its Abbott RealTime HIV-1 viral load FDA-approved assay for use with its m2000 molecular diagnostics system. The test, which is not intended as a donor screen test or an HIV-1 diagnostic test, is considered very sensitive, with a broad dynamic range (40-10E6 RNA molecules/mL). It also is to be used in conjunction with other laboratory markers as a disease prognosis indicator, for use as an aid in assessing viral response to antiretroviral treatment as measured by changes in plasma HIV-1 RNA levels. Scott Safar, senior director, systems development and support, Abbott Molecular, states, "Ease of use and sample tracking features of the instrument have taken automation to another level for molecular laboratories."
The m2000 system with a varied test menu of HIV-1, HCV, Chlamydia trachomatis (CT), as well as a combination test for CT/Neisseria gonorrhoeae, is available in the European Union as CE-marked products.
Molecular Diagnostics for Cancer
Other molecular diagnostics tools have focused on genetic markers for diseases such as cancer. According to Abbott Molecular's November 2009 news release, fluorescence in-situ hybridization (FISH) may be the best method to determine which patients will respond best to costly drug (Herceptin, Lapatinib) treatments for stage II (and beyond) breast cancer. While it is not considered as a singular diagnostic tool for cancer detection, Abbott Molecular's PathVysion HER-2 DNA Probe Kit is designed to detect amplification of the HER-2/neu gene via FISH in formalin-fixed, paraffin-embedded human breast cancer tissue specimens.
QIAGEN's flagship molecular diagnostics product line is the digene HPV test for human papillomavirus, which causes cervical cancer. It is now recognized as the gold standard in HPV testing as more than 40 million such tests for carcinogenic HPV have been performed. The digene HPV Test, approved for use with a pap smear for women over age 30 in the United States, is approved for an initial general population screen as a stand-alone test or along with a pap smear.
Priding itself in interweaving diagnostic and pharmaceutical expertise in best and personalized health care, Roche Healthcare is trying to move the mind-set away from a "one size fits all" mentality. According to Rutledge, "Our goal is to provide health care professionals with more powerful diagnostic tools and targeted treatments based on the new insights into how disease arises at the molecular level." Arizona-based Roche Tissue Diagnostics (Ventana) uses specific tests for measuring growth factor HER-2 in breast cancer patients who may respond to Herceptin).
Other Disease Detection: Use of Multiplex Diagnostics
Cystic fibrosis, a chronic inherited genetic (orphan) disease that clogs lungs and affects the digestive system, is caused by mutations in the CF transmembrane conductance regulator gene (CFTR) and can lead to debilitating and life-threatening consequences. The Cystic Fibrosis Foundation states that more than 10 million Americans are symptomless carriers of such mutations. Early diagnosis and detection is paramount to better health care for the newborn.
In September 2009, Luminex received 510(k) clearance for its xTAG Cystic Fibrosis 39 Kit v2 CFTR test, which checks for 39 CF-causing gene mutations. Physicians can choose to test a patient for the 23 American College of Medical Genetics/American Congress of Obstetricians and Gynecologists-recommended gene mutations or the entire panel of 39 CFTR gene mutations.
Abbott Molecular announced in November 2009 its Ibis T-5000's candida and antimicrobial resistance assay (BCA). These assays were compared to traditional culture tests for patient samples infected with gram-positive, gram-negative, aerobes, anaerobes, and yeast. Abbott's Ibis BCA assay (an RUO assay) identified 10 out of 22 (more) isolates as pathogenic, correctly identified 217 results, and reported results in 7 hours versus 48 to 72 hours for bacterial culture results. The Ibis T-5000 assay (based on PCR and mass spec analysis) is the only high-throughput technology that simultaneously enables broad identification, detailed genotyping and characterization, and recognition of emerging organisms.
The Art of Collaboration in Molecular Diagnostics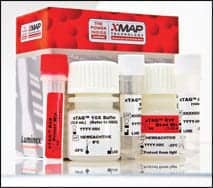 xTAG® RVP from Luminex Corp
Nothing works in isolation, and molecular diagnostics is no exception. Abbott Molecular's collaboration with Celera, Alameda, Calif, yielded the HIV-1 viral load assay with m2000, which effectively identifies HIV subtypes. In the first collaborative effort between vaccine-manufacturing and diagnostics companies to address cervical cancer, QIAGEN partnered with Merck, Whitehouse Station, NJ, in 2009 to enable HPV vaccination and DNA testing in resource-poor nations. Using breakthrough and complementary advances in health care, Merck's cervical cancer vaccine GARDASIL® (5 million free doses), and QIAGEN's HPV test (both the digene HPV Test and care HPV, when available), half a million women were screened.
Roche, with its acquisitions, has enhanced its product portfolio. With Genentech Inc, South San Francisco, drug discovery and development take high priority at Roche. With Innovatis USA, Malvern, Pa, Roche gains an edge in cell-analysis research. Ventana Medical Systems Inc, Tucson, Ariz, brings Roche tissue-based diagnostics, while 454 Life Sciences, Branford, Conn, gives Roche access to ultrafast gene sequencing. Additionally, NimbleGen, Madison, Wis, with its high-density DNA microarrays, and the ECL technology for high-sensitivity immunoassay detection from BioVeris, Gaithersburg, Md, gives Roche an upper hand in diagnostics and health care.
Molecular Diagnostics in Developing and Underdeveloped Countries
While a lot of progress has been made in making molecular diagnostics tests readily accessible in developed countries, a majority of disease markers, detection, and diagnosis assays are required in underdeveloped countries. Most of the companies listed above have worked to enable use of their products there. For example, cervical cancer affects more than half a million women worldwide—85% of them in developing countries, of which only 5% in underdeveloped countries get tested for HPV, compared to 50% in developed countries, according to the World Health Organization.
Currently, QIAGEN is developing a modified HPV test, careHPV Test, for use in remote areas of low-resource countries. The company has announced the donation of 1 million HPV tests to underdeveloped countries over 5 years. In addition, QIAGEN collaborated with Chittaranjan National Cancer Institute to establish the first large-scale cervical cancer screening program in Kolkata, India.
Roche believes in social responsibility, especially in areas of limited HIV testing. In 2002, Roche started AmpliCare Initiative in the world's poorest countries, supplying HIV viral load tests at reduced prices to sub-Saharan Africa and South Africa. This includes flexible pricing, optimized efforts on a region-by-region basis, and an education program to inform local medical teams on the latest advances in HIV/AIDS care.

To keep up with developments in molecular testing, bookmark our website.
Weisburg approves these actions. "It sounds obvious," he says, "but companies should focus on solving the problems that lab directors and health care professionals have now, not on creating new ones for them. For example, predisposition testing does not really solve medical problems today. Some experts have termed this type of testing recreational genomics."
Instead, he suggests, companies should focus on diagnostics that provide more accurate and sensitive answers than by conventional means, especially for diseases such as septicemia, meningitis, or gastrointestinal disorders. "Results for these diseases are where treatment decisions will save lives and health care dollars," he says.
---
Madhushree Ghosh, PhD, is a San Diego-based science and health writer.
Additional Reading
Abbott Molecular Diagnostics Web site. Available at: www.abbottmolecular.com. Accessed December 15, 2009.
Enigma Diagnostics Web site. Available at: www.enigmadiagnostics.com. Accessed December 15, 2009.
Fact Sheet for Healthcare Providers: Interpreting Roche RealTime ready Influenza A/H1N1 Detection Set Test Results. Available at: www.fda.gov/MedicalDevices/Safety/EmergencySituations/ucm190741.htm. Accessed December 15, 2009.
Focus Diagnostics Web site. Available at: www.focusdx.com. Accessed December 15, 2009.
Lakhman K. Will New 'Personalized Medicine' Report Turn Molecular-Testing Skeptics? Available at: www.genomeweb.com/blog/pwc%E2%80%99s-%E2%80%98personalized-medicine%E2%80%99-report-could-help-turn-molecular-testing-skeptics. Accessed December 15, 2009.
Letter of Authorization: Emergency Use of Roche RealTime ready Influenza A/H1N1 Test. Available at: www.fda.gov/MedicalDevices/Safety/EmergencySituations/ucm190740.htm. Accessed December 15, 2009.
Luminex Corp Web site. Available at: www.luminexcorp.com. Accessed December 15, 2009.
Medical Devices and Flu Emergencies. Emergency Use Authorizations for Medical Devices Used in Flu Diagnosis and Protection. 2009 H1N1 Flu Virus (Swine Flu) Update: December 11, 2009. Available at: www.fda.gov/MedicalDevices/Safety/EmergencySituations/ucm161496.htm. Accessed December 15, 2009.
QIAGEN Web site. Available at: www.qiagen.com. Accessed December 15, 2009.
Roche Diagnostics Web site. Available at: www.roche.com. Accessed December 15, 2009.