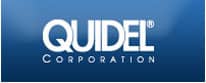 Quidel Corp, San Diego, has received FDA 510(k) clearance for the sale of its noninstrumented molecular diagnostic test—the AmpliVue C. difficile Assay—for the detection of toxigenic Clostridium difficile bacterial DNA.
Detection of the pathogen is achieved using a handheld, fully contained cassette that combines isothermal helicase-dependent amplification (HDA) with its lateral flow detection technology.
"The AmpliVue C. difficile assay will allow hospitals currently using traditional detection methods to employ a more sensitive, rapid molecular test, thereby providing laboratory technicians and the physicians they serve with accurate, timely, and reliable diagnosis of C. difficile infections," says Douglas Bryant, president and CEO of Quidel Corp.
C. difficile infection is frequently associated with antibiotic therapy and prolonged hospital stays.
Clostridium difficile bacterial infections can be life-threatening, especially for the elderly, for the immunocompromised, and for patients on a prolonged antibiotic regimen.
The Centers for Disease Control and Prevention reports C. difficile causes diarrhea linked to 14,000 deaths in the US each year,1 according to Timothy Stenzel, MD, PhD, chief scientific officer for Quidel.
Traditional methods for diagnosing C. difficile infections, such as glutamate dehydrogenase (GDH) or toxin antigen tests, can lack sensitivity and increase lab costs due to additional confirmation testing, according to the company, which adds that in addition to significant technical expertise, cytotoxicity assays and toxigenic culture require 24 to 48 hours and 3 to 5 days, respectively, before reliable results can be obtained.
This assay enables labs to offer a fast and sensitive result generated by molecular methods using actual kit components, without the need to purchase and maintain expensive capital equipment. The assay also requires no upfront nucleic acid extraction step.
The C. difficile assay is Quidel's first assay in the handheld AmpliVue format, and is now available for sale in the United States and Europe.
1 http://www.cdc.gov/HAI/organisms/cdiff/Cdiff_infect.html
[Source: Quidel Corp]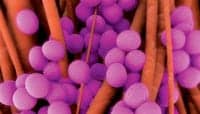 CLICK HERE TO READ "HEALTH CARE MANDATES: OPPORTUNITY FOR HAI LEADERSHIP," WRITTEN RECENTLY FOR CLP BY NICO ARNOLD, CEPHEID.