Autoimmune analyzers are automating processes and broadening menus to speed turnaround, streamline workflow, and provide clinically actionable information.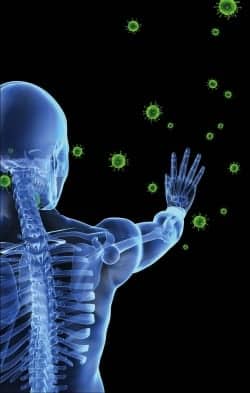 When it comes to laboratory technologies, easy-to-use automation and broad menus are in demand and, therefore, in development. This is true across all fields, including autoimmune, and across many methodologies, particularly those most used. In autoimmune diagnostics, these include immunofluorescence assays (IFAs), enzyme-linked immunoabsorbent assays (ELISAs), membrane-based methods (as in blots), and multiplexing technologies. All of them mirror existing trends.
"In the near term, you can see automation is in demand in the laboratory due to the lack of resources," says Barbara Pasciak, marketing manager for AtheNA products, multiplex products, at Inverness Medical Innovations Inc, headquartered in Waltham, Mass. Pasciak cites a shrinking medical technologist workforce and the increased volumes resulting from an aging population as influencing factors.
Laboratories may also lack economic resources, and due to these budget constraints, many still use IFA- and ELISA-based systems. However, driven by market pressures, laboratories are also gravitating toward and learning to justify newer technologies that offer greater efficiencies, whether through multiplexing, automation, or speed.
Pasciak's colleague, Dave Kolesar, ELISA marketing manager, sees two trends: laboratories transitioning from IFA to ELISA, and those moving away from single-based antigens, which many ELISAs utilize, to multiplexing, which can screen for multiple antibodies at once. This latter transition is particularly useful in autoimmune testing.
"One of the hallmarks of autoimmune diseases is that they often present with a multiple number of antibodies present simultaneously. Multiplexing technology gets the end user to those determinations more quickly and more efficiently," Kolesar says.
As a result, new automated technologies are in demand alongside automation of older technologies. Each methodology offers its own advantages and disadvantages. For instance, "IFA technology is considered to be more sensitive, in the sense that you can pick up nonclinically significant disease or antibodies," Pasciak says. On the other hand, Kolesar notes that the recombinant antigens used in ELISA and microplex technology are a "grade-level step up from the natural antigens you see in a human cell [as in IFA]," Kolesar says.
Physicians order the tests, noting the specific antigen results they would like to see; the laboratory uses the technologies on hand and reports only the requested results. If a multiplex system has been used, however, it has the potential to increase testing value for all parties—the laboratory, physician, and patient. Some systems allow the laboratorian to regenerate and reanalyze the results via software, rather than have to redraw the patient and rerun a new sample, if the physician decides the other antigens are now relevant.
Despite the advanced capabilities of multiplexing, no one is predicting the obsolescence of older technologies, such as IFA. "I think when the ELISAs came into vogue 30 years ago, we thought that would spell the end of IFA, but if you look at a proficiency survey, you'll see that fully 60 percent of laboratories are still using the technology that was developed in the late 1950s," Kolesar says.
So the future is more likely to continue with laboratories implementing multiple technologies to help clinicians diagnose autoimmune disorders. They can also be expected to continue expanding their testing menus. For some companies, a wide variety of offerings in both testing technologies and menus is a differentiating factor in the sale of their instruments.
EuroImmun's Autoimmune Offerings
EuroImmun US LLC, Boonton Township, NJ, offers its assays, in many cases, in more than one methodology, including immunofluorescence, enzyme immunoassay, and membrane-technology formats. Multiplexing is available at every level.
The company has pursued continuous improvement in its technologies, oldest and newest, sometimes combining them. Over the past few years, EuroImmun has implemented modifications to its indirect IFA process that enable greater adhesion to the cover glass, homogeneous quality in tissue samples, multiplexing, and the elimination of the conventional "humidity chamber." Improvements have also been introduced with the use of chemically activated slides for histochemistry, determination of low-avidity antibodies, and a combination of conventional immunofluorescence substrates and monospecific tests.
Core technologies include IFA, microplate-ELISA, and EuroLine (a Western blot membrane methodology). All offer automation possibilities, including analyzers based on these sciences, which serve to save time and create efficiency. For instance, the company has two automation solutions for ELISA testing: an analyzer with total automation, allowing walkaway capability after loading and through processing; and a modular system, with features such as bar code identification, automatic scanning of inserted racks, and liquid level detection (capacitive).
Menu is also a focus for growth and further savings. The company has introduced tools to enhance its Granulocyte Mosaic. Newer biochips can immediately differentiate between antibodies against granulocyte cytoplasm (ANCA) and anti-nuclear antibodies (ANA) and provide PR3/MPO antigen data to provide additional information for the reliable interpretation of results. A new human designer antigen has improved the ELISA sensitivity to autoantibodies against proteinase 3 for diagnosis of Wegener's granulomatosis.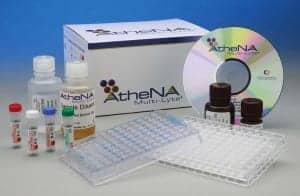 AtheNA Multi-Lyte® ANA II Plus from Inverness.
EuroImmun also recently released a test for the detection of a new marker for rheumatoid arthritis (RA). "At the moment, laboratories use the CCP [cyclic citrullinated peptides] marker for the diagnosis of rheumatoid arthritis. Unfortunately, these levels do not correlate with disease severity and treatment," writes Riccardo Russo, PhD, product manager with EuroImmun US via e-mail.
Alternatively, antibodies against CCP have a specificity of 98% for RA, higher than RF, according to the company; the two methods share similar sensitivity. In addition, antibodies against CCP are present early in the disease and have a high predictive value, states the company, providing new options for the laboratory.
Similarly, EuroImmun has a new method for diagnosis of systemic lupus erythematosus (SLE). The new Anti-dsDNA-NcX ELISA has been shown to be more sensitive than conventional anti-dsDNA tests, achieving a sensitivity of 60.8% at a specificity of 98%, according to the company.
Inverness Innovations in Autoimmune
Inverness shares similar strategies with EuroImmun in terms of maintaining an expansive and growing offering of technologies and menu. "We offer three different methodologies: IFA, ELISA, and multiplex. So customers, depending on their volume, patient population, and physician requests, can cherry pick our menu from any of the three methodologies we offer and offer those tests in their laboratories," Pasciak says. The methods can be used to complement one another, particularly if there are rules for reflex testing.
Like EuroImmun, Inverness has also added some innovations to the basic technologies, including IFA. "When you look at proficiency surveys in the industry, there is a very wide spread resulting from just a single proficiency sample. So what we've done to try to better standardize that concentration of antibody—admittedly, a very objective result—is to provide an end point, or minimally active control, so the laboratory can make a better judgment of the cutoff or last positive titer," Kolesar says.
Inverness IFA kits will also soon feature a special diluent termed SAVe, which has already been incorporated into the company's ELISA and multiplexing assays. The sample addition verification system serves as a visual place keeper during the preparation of manual assays and for rapid verification of instrument performance when run on automated platforms. "We find that color change very useful and very well accepted in the market because it helps laboratorians determine exactly where they've left off if called to the phone or distracted in the middle of preparing samples," Kolesar says.
Sharing technologies among the methodologies is one way the company has standardized instruments. Within product lines, techniques and procedures have also been standardized. "Our autoimmune ELISAs all use identical procedures, identical cutoffs, identical data interpretation, and, wherever possible, common reagents," Kolesar says. Advantages include faster operator training, better assay performance, and easier open instrument programming.
"Similarly, in the multiplexing situation, all of these beads are run simultaneously in the same well," Kolesar says. Ease of use is, therefore, a major focus for Inverness system development, a strategy that also applies to test menus. "A good provider is going to have a wide menu to ensure there is good familiarity with the technique and the specific procedure," Kolesar says.
Autoimmune tests include ANA screening, ANCA testing, rheumatoid factor identification (including an anti-CCP kit), and quantitative detection of the thyroid antigens thyroid peroxidase (TPO) and thyroglobulin (Tg). Expansion of the menu in other areas can also benefit autoimmune.

To find out more about autoimmune disease testing, search the CLP online archives.
For instance, the company is anticipating FDA clearance of a submitted Lyme assay, featuring two tests. Patients presenting with aches and pains, generalized or specific to joints—such as knees, knuckles, or ankles—could have rheumatoid arthritis, a flare-up of parvovirus, or Lyme disease, particularly if in a Lyme-infested area. "So it's important to have a wide menu to differentiate disease and help that rheumatologist determine whether they're looking at a rheumatoid arthritis patient, a Lyme's patient, or a patient with parvovirus," Kolesar says.
He stresses Inverness' focus on menu. "We're continually looking to add to our menu and stay on top of assays that come into clinical significance," Kolesar says.
Many companies share the same strategy, thinking those with the most tests will win—if they are also automated.
---
Renee Diiulio is a contributing writer for CLP.