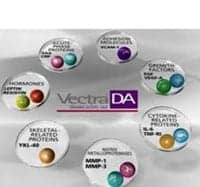 The Wadsworth Center at the New York Department of Health, through its Clinical Laboratory Evaluation Program (CLEP), has issued a laboratory permit to Crescendo Bioscience, South San Francisco, to provide services to physicians in New York.
Crescendo offers Vectra® DA, a multi-biomarker blood test that measures disease activity in rheumatoid arthritis (RA) by integrating 12 key proteins consistently associated with the biology of RA into one single, objective and quantitative score to help physicians make more informed patient management decisions.
With this clearance, Vectra DA is now available in all 50 states.
"This is welcome news for the more than 400 rheumatologists in New York," says Max Hamburger, MD, president of the New York State Rheumatology Society. "In order to effectively treat our patients, we need to have the most advanced technology available that can help bring us closer to achieving treatment success. Vectra DA is a valuable tool that can enhance the assessment of RA disease activity to aid rheumatologists in achieving better management of the disease."
Since Vectra DA's introduction in late 2010, more than 20% of rheumatologists in the United States have successfully used Vectra DA to evaluate more than 40,000 patients' disease, according to William. A. Hagstrom, president and CEO, Crescendo Bioscience.
"New York's CLEP clearance is further evidence of the quality of the testing performed by Crescendo," says Stephen Paget, MD, FACP, FACR, physician in chief emeritus, Division of Rheumatology, Hospital for Special Surgery, New York. "Vectra DA can offer insight on disease activity that may not be captured by current standards of RA measurement. Vectra DA brings a deep understanding of the underlying disease biology that can be utilized in the clinic and in clinical trials as we continue to develop potential new treatments for RA patients."
[Source: Crescendo Bioscience Inc]