ChainBuilder Labs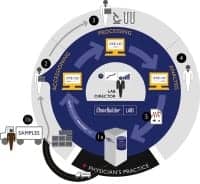 Connects LIS with EMR
Bostech Corp, Indianapolis, releases its ChainBuilder Labs on-demand workflow solution, which automates manual processes throughout the sample processing flow and delivers test results directly back to the physician's electronic medical record (EMR) system. The solution connects with virtually any LIS or EMR, and can increase the number of samples a lab is able to process. It can also organize the lab workflow into prioritized task lists throughout the accessioning, lab processing, and analysis processing phases. Physicians can deliver requisitions automatically into the solution for immediate processing, and can view the final lab report through their EMR once it is made available. ChainBuilder Labs also tracks performance metrics to provide key insights to lab managers in order to optimize performance.
Bostech Corp
(866) 276-4138
www.bostechcorp.com
---
OVA1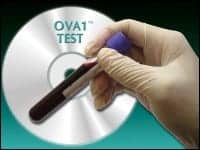 Test aids presurgical evaluation of women for ovarian cancer
Quest Diagnostics, Madison, NJ, introduces OVA1™, the first blood test cleared by the FDA for aiding in the presurgical evaluation of a woman's ovarian mass for cancer. With the availability of OVA1, physicians can assess, prior to a planned surgery, the likelihood that a woman's ovarian mass is malignant in order to direct her to the most appropriate surgeon, promoting more favorable treatment outcomes. 0VA1 is also the first FDA-cleared protein-based in vitro diagnostic multivariate index assay, a new class of software-based diagnostics. The test combines the results of five well-established protein biomarkers to produce a single numerical result to help a physician classify the likelihood that a woman's mass is cancerous or benign.
Quest Diagnostics
(800) 222-0446
www.questdiagnostics.com
---
Automatic Gram Slide-Preparation Module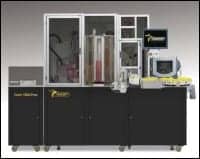 For Copan's WASP specimen processor
Copan Diagnostics, Murrieta, Calif, will add an optional automatic Gram slide-preparation module to its walk-away specimen processor, WASP®, and to its automation line. The automated Gram SlidePrep is designed to prepare a Gram slide after a sample has been inoculated onto culture plates by the specimen processor. The instrument will make a smear, with a customizable amount of sample volume, spreading the specimen within a defined area of the slide. Patient information will then immediately print onto the slide using an inkjet printer. Slides will then pass along a conveyor belt where they are gently air dried until they are ready for unloading and fixing with Methanol or processing by the operator.
Copan Diagnostics
(800) 216-4016
www.copanusa.com
---
Bi-O-Vision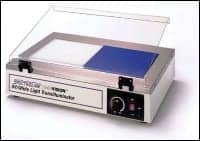 Two-in-one transilluminator for photodocumentation
The Bi-O-Vision™ series transilluminators, from Spectroline®, Westbury, NY, feature two workstations, producing both 312-nm ultraviolet and white light. The TD-1000R model offers fixed intensity while the TVD-1000R model offers variable-intensity control of either UV or white light. These units are continuously adjustable from 100% down to 50%. The UV-B (312 nm) intensity of the Bi-O-Vision can be varied without preset stops, from 6,000 to 3,000 μW/cm2, and the white light output can be adjusted from 2,000 to 1,000 foot-candles (186 to 93 lux). The Bi-O-Vision has two adjacent workstations, each with a filter area of 8 x 8 inches. The UV side is lit by five 8-watt UV-B tubes and delivers nanogram sensitivity for detecting ethidium bromide-stained DNA or RNA. The white light side features three 8-watt fluorescent tubes.
Spectroline
(800) 274-8888
www.spectroline.com
---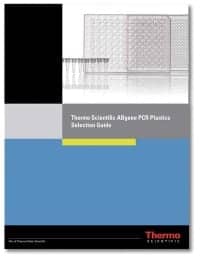 ABgene PCR Plastics Selection Guide
Select the most appropriate PCR plastics
Thermo Fisher Scientific, Epsom, UK, introduces its new reference tool: the Thermo Scientific ABgene PCR Plastics Selection Guide. The guide allows quick and easy selection of the most appropriate plastics for specific applications, from standard PCR and qPCR to high-throughput, automated processes and sample storage. It covers the comprehensive range of ABgene™ PCR Plastics, including 96-well plates, 384-well plates, partial plates, individual strips, and individual tubes. The guide's selection criteria include size, application, cycler compatibility, automation requirements, and bar coding options. The Guide clearly describes manufacturing processes to provide additional assurance for users. All products are designed, manufactured, and tested to ensure optimal PCR performance.
Thermo Fisher Scientific
(800) 874-3723
www.thermo.com