Dako, Denmark, an Agilent Technologies company, introduces the HER2 IQFISH pharmDx, a fluorescence in situ hybridization (FISH) assay, in the United States.
The technology will reduce the turnaround time for cancer evaluation from 2 days to 3 1/2 hours.
Approved by the FDA, it uses the Dako IQISH technology, which is based on Dako's fast IQISH hybridization buffer chemistry.
"Every second counts when waiting for test results that will indicate how to treat your cancer most effectively," says Lars Holmkvist, CEO, Dako, and senior vice president, Agilent.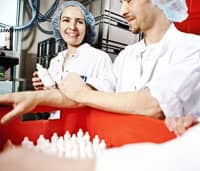 IQISH stands for "instant quality in situ hybridization," indicating the significantly reduced turnaround time of patients' samples, without compromising the quality of the result.
The HER2 gene encodes a protein called human epidermal growth factor receptor 2 (HER2), which promotes the growth of cells. In about one of every five breast cancers, the cancer cells make an excess of HER2 due to a HER2 gene mutation (amplification).
HER2-positive breast cancers tend to be more aggressive than other types of breast cancer. As they are also less responsive to hormone treatment, medical treatments that specifically target HER2, for example trastuzumab, are often considered.
"HER2 IQFISH pharmDx will provide more timely results, allowing us to incorporate FISH analysis into our routine workflow as easily as immunohistochemistry," says Kenneth J. Bloom, MD, FCAP, chief medical officer, Clarient Diagnostic Services Inc, a GE Healthcare company.
IQFISH is also nontoxic, as it replaces a hazardous formamide buffer with a safer ethylene carbonate, contributing to a healthier work environment in the pathology lab, according to the company.
HER2 IQFISH pharmDx has been sold in Europe and countries working with CE labeling since February 2012.
[Source: Dako]