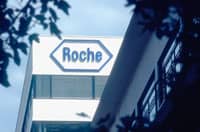 The FDA has approved the cobas EGFR Mutation Test, a companion diagnostic for the cancer drug Tarceva (erlotinib), from Roche Molecular Diagnostics, Pleasanton, Calif.
This is the first FDA-approved companion diagnostic that detects epidermal growth factor receptor (EGFR) gene mutations, which are present in approximately 10% of non-small cell lung cancers (NSCLC).
The test is being approved with an expanded use for Tarceva as a first-line treatment for patients with NSCLC that has metastasized and who have certain mutations in the EGFR gene.
Lung cancer is the leading cause of cancer-related death among men and women. According to the National Cancer Institute, there will be an estimated 228,190 new cases of lung cancer this year, and 159,480 deaths. About 85% of lung cancers are NSCLC, making it the most common type of lung cancer.
"The approval of the cobas EGFR Mutation Test will allow physicians to identify non-small cell lung cancer patients who are candidates for receiving Tarceva as first line therapy," says Alberto Gutierrez, PhD, director of the Office of In Vitro Diagnostics and Radiological Health in the FDA's Center for Devices and Radiological Health. "Companion diagnostics play an important role in determining which therapies are the safest and most effective for a particular patient."
The safety and effectiveness of the cobas EGFR Mutation Test was established with clinical data showing that, on average, NSCLC patients with specific types of EGFR mutations (exon 19 deletions or exon 21 L858R substitution mutations) lived without their disease progressing for 10.4 months when they received Tarceva treatment, compared to 5.4 months for those who received a standard two-drug chemotherapy regimen. Investigators used tumor samples from the clinical trial to validate the test's use in this patient population.
The approval is Tarceva's fourth indication and the third use for lung cancer. The FDA approved Tarceva on April 16, 2010, for maintenance treatment of patients with locally advanced or metastatic NSCLC whose disease has not progressed after four cycles of platinum-based first-line chemotherapy. Tarceva was originally approved in November 2004 for the treatment of patients with locally advanced or metastatic NSCLC after failure of at least one prior chemotherapy regimen.
Tarceva (erlotinib) is co-marketed by California-based Genentech, a member of the Roche Group and OSI Pharmaceuticals of Farmingdale, N.Y.
Click here for more information from Roche Molecular Diagnostics.

[Source: FDA]