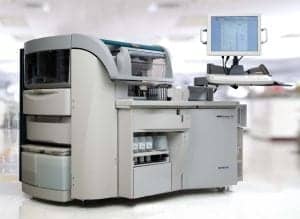 Siemens' Advia Centaur XP
Immunoassays are biochemical tests that measure the presence or concentration of a substance in solutions that frequently contain a complex mixture of substances. Analytes in biological liquids such as serum or urine are frequently assayed using immunoassay methods.
Immunoassay analyzers are utilized in a wide range of laboratory service areas, with the aim of improving service and quality while decreasing costs. According to Jean Metzar, director, global marketing, immunoassay systems, Siemens Healthcare Diagnostics, Deerfield, Ill, the ability to optimize efficiency and carefully manage resources is critical for laboratories. "From an immunoassay perspective, consolidating a broad test menu is important and also keeping pace with emerging biomarker assays. Laboratory automation and information technology solutions remain important segments of the overall strategy laboratories are implementing to succeed in today's challenging economic environment," Metzar says.
Brenda Viitasalo, director of US marketing, Abbott Diagnostics, Abbott Park, Ill, notes that a key trend in the immunoassay analyzer market is that an aging population and escalating shortages of trained personnel pose difficult management challenges for US laboratories and their suppliers. "Though demand for diagnostic tests is rising, fewer qualified technologists are available to perform them. This trend has exacerbated demand for sophisticated, workhorse, automated immunoassay systems," she says.
Viitasalo adds that on the clinical side, more and more new biomarkers are being discovered that may help physicians detect serious conditions earlier when they are more treatable with current therapies. As several new biomarkers are on immunoassay analyzers, laboratories will play a critical role in guiding treatments with new, targeted therapies for cancer and other chronic diseases, and will help ensure that expensive medications are used appropriately on the right patients.
Standardization a Problem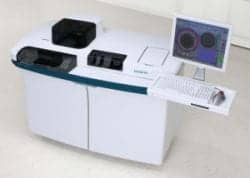 Siemens' IMMULITE 2000XPi
According to Shanti Narayanan, senior product manager at Tosoh Bioscience, South San Francisco, one of the challenges presented in the immunoassay area is the difference in assay results between different immunoassay platforms. Tosoh's unit dose test cup is common between the different AIA platforms, and hence provides consistent results, Narayanan says. The dry reagent maintains better stability of reagents, including the 90-day calibration stability on most AIA assays, and the unit dose test cups and 90-day calibration stability allows better utilization of reagents and is a cost saving for customers, Narayanan says.
The throughput of many analyzers depends on the mix of assays because the assay times are different. The AIA analyzer ensures a consistent throughput for all ST assays—for example, 36 tests per hour on the AIA-360, 60 tests per hour on the AIA-600II, 180 tests per hour on the AIA-1800, and 200 tests per hour on the AIA-2000. This is due to a common 10-minute incubation.
"There are several challenges that clinical laboratories face, including skilled labor shortages, budget reductions, and increasing test volumes," says Bob R. Roda, vice president, Clinical Laboratory Worldwide Marketing, Ortho-Clinical Diagnostics, Raritan, NJ.
Roda says the VITROS® family of instruments' predictability, high first-pass yield rates, and efficiency are designed to meet the testing needs of customers managing skilled labor shortages and budget restrictions. Because both VITROS systems do not have any water or drainage requirements, they help laboratories minimize waste and optimize flexibility within laboratory environment.
The VITROS 3600 Immunodiagnostic System is a high-quality, productive, efficient, and easy-to-use immunodiagnostic system that addresses these challenges by delivering high-quality patient sample results in the most efficient time possible, he says.
Unlike other systems, samples on the VITROS 5600 Integrated System are accessed independently and in parallel by technology modules on a single, centralized platform. "We believe our approach to integration differentiates us from the competition, as our system focuses on producing the complete patient sample results in the most efficient time possible," Roda says.
He notes that the role of in vitro diagnostics is expanding, and one of these drivers is total lab automation. Customers are interested in having the flexibility to have their systems accommodate novel clinical diagnostic tests, something that Ortho-Clinical Diagnostics' VITROS systems offers. These world-class systems have the potential to help physicians diagnose disease earlier and to help make better informed treatment decisions.
"Adding these two systems to our VITROS portfolio of products allows Ortho-Clinical Diagnostics the opportunity to address a wide variety of laboratory needs with a broad range of customer and patient solutions. These VITROS Systems provide a more efficient workflow based on the unique needs of modern clinical laboratories, including capabilities such as flexible configurations, process assessment, and automation solutions. The VITROS portfolio of products is designed to grow with you and your laboratory needs today and into the future," Roda says.
New Instrument Offerings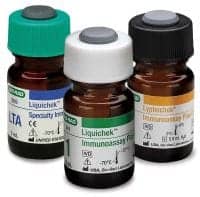 Bio-Rad IA controls
The IMMULITE® 2000 XPi, the latest addition to Siemens' IMMULITE product family, is targeted for release in the United States later this year. The IMMULITE 2000 XPi offers enhanced productivity features, including programmable auto-start, automated daily maintenance, and automated sample rack loading and unloading.
Laboratories interested in compact, affordable robotic solutions will have new options with the expanded VersaCell™ connectivity planned for this year. VersaCell connectivity to the IMMULITE 2000 XPi, and the ADVIA Centaur® XP Immunoassay System, will offer laboratories an extensive immunoassay menu in a flexible, versatile package.
Continued test menu growth and development remain a priority. The ADVIA Centaur CP menu is targeted for continued expansion in 2010 with the planned addition of new automated hepatitis and infectious disease assays. Additional software enhancements planned for release on the system this year are designed to help laboratories enhance workflow, STAT handling, remote diagnostics, and data management.
The Dimension® EXL™ Integrated Chemistry System with LOCI® Module is a new addition to the Siemens integrated chemistry portfolio. "We continue to invest in a broad and comprehensive test menu for our customers and have added IgG Subclass 1, IgG Subclass 2, IgG Subclass 3, IgG Subclass 4, Ig Light Chains type Kappa in urine, and Ig Light Chains type Lambda in urine to the Dimension Vista® Intelligent Lab System menu," says Curt Koehn, director, US marketing chemistry/immunoassay instruments, Siemens Healthcare Diagnostics.
"In addition, new menu enhancements to the ADVIA® Chemistry system include cystatin C and the use of EMIT® formulations for valproic acid, gentamicin, vancomycin, ethanol, and ecstasy."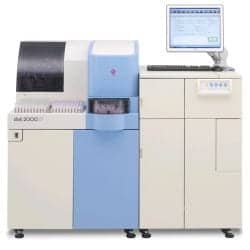 Tosoh's AiA 2000
Infectious Diseases Remain a Priority Area for IA
According to Norman Moore, director of medical affairs, Alere Scarborough Inc, Scarborough, Me, although the number of US cases of syphilis has decreased dramatically since the 1940s, an increase has occurred since 2000. From 2004 to 2007, there has been an increase of 38% in primary and secondary syphilis in the United States in females aged = 10 (0.8 per 100,000 to 1.1 per 100,000). Syphilis screening diagnostics play an important role in preventing the disease from spreading, and the CDC recently suggested an alternative to traditional rapid plasma reagin and venereal disease research laboratory testing, making enzyme-linked immunosorbent assay (ELISA) the recommended primary screening method.
One recently FDA-cleared testing option, the AtheNA Multi-Lyte® T. pallidum IgG Plus Test System, to be offered by Alere North America Inc, Princeton, NJ, utilizes multiplex technology for the detection of IgG antibodies to Treponema pallidum. ELISA is considered highly sensitive with primary infections in the low 90s for sensitivity and secondary to late infections approaching 100% and takes half the technical time of the manual methods, according to a study from the University of Texas. Because ELISA measures the immunological response in an individual, however, it can detect—but cannot differentiate between—an active and previous syphilis infection.
Even with the overall reduction in syphilis over the decades, the slight reported rise in cases—primarily in men—is cause for concern. Therefore, it is important to continue screening persons according to the CDC guidelines with ELISA automation playing a critical role as the primary screening method, Moore says.
Controlling Quality Always a Concern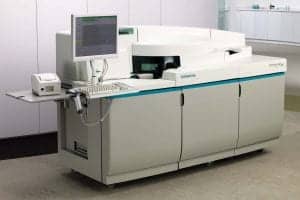 Dimension-EXL from Siemens
Max Williams, global scientific and professional affairs manager, and Lily Sunkin, product manager, Bio-Rad Laboratories, Quality Systems Division, Hercules, Calif, say quality controls are products used to determine whether the instrument or method is operating within predefined specifications, inferring that patient test results are reliable. The question of reliability for most testing can be assured by regular use of quality control materials and statistical process control.
They say Bio-Rad is the leading provider of third-party, independent immunoassay controls, which are manufactured independently of the test system calibrators and reagents. Such controls generally have a human base matrix that helps provide a patient-like sample. Third-party controls with a longer shelf life allow use of the same control lot over multiple changes in reagents and calibrators, giving the laboratory the ability to detect shifts that may occur with new reagents or calibrators.
Bio-Rad offers a comprehensive range of quality controls covering a wide variety of laboratory tests. Key products include Liquichek and Lyphochek Immunoassay Plus Control, Liquichek Specialty Immunoassay Control, Lyphochek and Liquichek Tumor Marker Control, and Liquichek Cardiac Markers Plus Control LT.
A quality control product is ideally made from a human source base matrix. A control product can be a liquid or freeze-dried (lyophilized) material, and is composed of one or more constituents (analytes) of known concentration. Control products should be tested in the same manner as patient samples. A quality control product usually contains many different analytes. For example, an immunoassay control can contain many different analytes, such as TSH, ferritin, hCG, phenytoin, and more.
To save labor and material costs, third-party controls with long open-vial stability and shelf life, and which contain multiple analytes, are ideal for clinical laboratories. Longer open-vial stability allows laboratories to utilize the entire vial of products without having to refreeze the material. Multianalytes provide the convenience of managing one inventory item versus multiple items. Lastly, long shelf life allows the same control material to be utilized across multiple reagent lots and helps laboratories save time and money in crossover studies. All of Bio-Rad's immunoassay quality control products offer these highly desirable benefits, Williams and Sunkin say.
Additionally, the biggest growth area in the immunoassay IVD market is the introduction of new assays. For example, iPTH and 25-OH Vitamin D are two immunoassay tests that have experienced rapid growth in recent years. Data from the US Center for Medical Services suggests that the annual growth rate of 25-OH Vitamin D testing has been between 80% and 100% in the last 3 years.
With the introduction of these assays, corresponding quality control products are needed to ensure assay performance. Bio-Rad Liquichek Specialty Immunoassay control provides unique solutions to laboratories that are testing these two analytes. According to Williams and Sunkin, it is the only multianalyte control on the market that contains multiple analytes, including iPTH and 25-OH Vitamin D, with unmatched open-vial stability (30 days for most analytes) and shelf life.
---
Gary Tufel is a contributing writer for CLP.