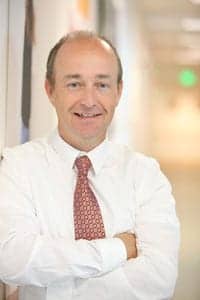 Trevor Hawkins, PhD
BY: JUDY O'ROURKE
       In an effort to expand CLP's coverage beyond the printed page, we bring you the latest installment in our series of online topics. Here we discuss companion diagnostics with Trevor Hawkins, PhD, senior vice president, Strategy, Innovation, and Business Development, Siemens Healthcare Diagnostics, Tarrytown, NY.
       The company is expanding into the fastest-growing territory of the in vitro diagnostics market—companion diagnostics—through partnerships with pharmaceutical companies, most recently ViiV Healthcare, UK, and Tocagen Inc, San Diego. Siemens' companion diagnostics business will offer clinical trial expertise, as well as diagnostic test development, and commercialization.
Companion diagnostics, paired with therapeutics, helps physicians ensure a patient is receiving the most effective treatment at the right time, which may help increase the patient's chances of a positive outcome. Pharmaceutical drug developers determine patient populations who are more/less likely to respond well to a specific drug or therapy, and those who may have negative side effects from those treatments.
The company plans to leverage clinical trial and commercialization options through its Siemens Clinical Laboratory (SCL), Berkeley, Calif, a CLIA-accredited laboratory. The SCL will provide external access to lab-developed tests (LDTs), leading-edge diagnostic technologies, pharmaceutical clinical trial testing services, and a menu of established clinical tests.
CLP: Why did Siemens choose to focus its first foray into companion diagnostics on HIV and brain cancer?
Trevor Hawkins, PhD: First, it's important to note that Siemens does not have a pharmaceutical business, which helps eliminate conflict-of-interest restrictions when considering companion diagnostics partners. This provides us the flexibility to work with both established players and up-and-coming pharmaceutical companies on projects where we can contribute the most clinical value.
With regard to ViiV Healthcare, this is a global-specialist HIV company focused on delivering advances in treatment and care for people living with HIV. Tocagen, on the other hand, is an emerging biotechnology company with a unique viral gene therapy that may help treat people afflicted with advanced cancers, including primary brain cancer. Siemens' expertise in developing and commercializing diagnostic solutions for infectious diseases and oncology makes each of these partnerships an excellent fit for us.
CLP: Tell us more about Siemens' partnership with ViiV Healthcare, which concentrates on clinical trials related to Celsentri/Selzentry® (maraviroc)—ViiV's novel CCR5 co-receptor antagonist for the treatment of CCR5-tropic HIV.
Hawkins: As part of our partnership with ViiV Healthcare, Siemens is providing genotypic tropism testing for the Phase III MODERN Study [Maraviroc Once daily with Darunavir Enhanced by Ritonavir in a Novel regimen], also known as A4001095.
The 96-week trial compares Celsentri/Selzentry to emtricitabine/tenofovir (Truvada®), both in combination with darunavir/ritonavir, and will evaluate a two-drug versus three-drug once-daily regimen for the treatment of antiretroviral-naive patients infected with CCR5-tropic HIV-1.
MODERN is the first large Phase III trial that will compare the performance of a genotypic test with a phenotypic test in identifying patients appropriate for treatment with Celsentri/Selzentry. Patients will be randomized to undergo screening with either the genotypic or phenotypic test (Trofile®), the latter being provided by Monogram Biosciences, South San Francisco, a LabCorp company. Subject to FDA approval, Siemens Healthcare Diagnostics may commercialize the genotypic tropism diagnostic test to assist in patient selection prior to physician treatment decisions.
CLP: Tell us more about Siemens' relationship with Tocagen, and how it might help lead to treatment for primary brain cancer.
Hawkins: Siemens is providing diagnostic tests to support investigational clinical trials of Tocagen's unique viral gene therapy Toca 511 (vocimagene amiretrorepvec), which is used in combination with Toca FC (extended-release formulation containing flucytosine) for the treatment of primary brain cancer. This may be followed by potential commercialization of diagnostic tests for therapy monitoring, subject to FDA approval.
CLP: What type of companion diagnostics test will Siemens develop to pair with Tocagen's brain cancer treatment?
Hawkins: Initially, Siemens is offering a variety of monitoring tests to evaluate clinical samples from Tocagen's clinical trials of Toca 511 & Toca FC. These multicenter, open-label studies are in patients with recurrent high-grade glioma, such as glioblastoma multiforme (GBM, Grade 4), who have had prior surgery and chemoradiation. Toca 511 is a retroviral replicating vector (RRV) that is designed to deliver a cytosine deaminase (CD) gene selectively to cancer cells. After allowing time for the administered Toca 511 to spread through the tumor, those cancer cells expressing the CD gene can then convert the antibiotic flucytosine into the anticancer drug 5-fluorouracil (5-FU) selectively within the cancer cells. In these studies, patients receive multiple cycles of oral Toca FC to kill cancer cells as they divide.
Siemens monitoring tests are designed to detect in clinical samples: proviral DNA (via QPCR ); free viral sequences (via RT-qPCR); antibodies to virus (via ELISA) and 5-FC drug levels (via HPLC).
CLP: Does DX plan to partner with other pharmaceutical companies in the future?
Hawkins: Yes. We fully anticipate pursuing additional leading-edge, companion diagnostics co-development opportunities in the future.
CLP: What role does the SCL play in driving Siemens' efforts in companion diagnostics?
Hawkins: SCL, a wholly owned entity of Siemens Healthcare Diagnostics, along with our pharmaceutical company partners is advancing precision medicine toward the ultimate goal of delivering personalized medicine. Together with the pharmaceutical industry, the SCL is designing and developing novel companion diagnostic tests, which, along with new therapeutic agents, are taken through extensive clinical studies before submission to the FDA. Subject to FDA clearances of the therapeutic agents, the SCL can offer our partners new opportunities for test deployment through our worldwide customer base.

References:
http://clinicaltrials.gov/ct2/results?term=tocagen
Judy O'Rourke is editor of CLP. For more information, e-mail [email protected]