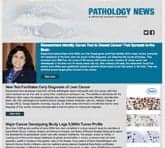 CLPrime, CLP's longstanding general-interest lab industry newsletter is now joined by PATHOLOGY NEWS, a periodic special-interest newsletter for pathologists and others with an interest in pathology.
The first issue, released September 27, includes news about research updates, events and current events, and tips for improving lab operations.
News items include:
Researchers Identify Genes Tied to Breast Cancer That Spreads to the Brain
Researchers believe these micro RNAs and their target genes could help identify which breast cancers eventually will metastasize to the brain when the cancer is first diagnosed and determine the course of therapy.
Seema Sethi, MD, a resident at Wayne State University and Detroit Medical Center, and lead author of the study, is pictured on the cover (at right, above).
New Test Facilitates Early Diagnosis of Liver Cancer
Researchers have developed a test that will help pathologists clearly distinguish early liver cancer cells from nearly identical normal liver cells by giving them a distinctive red-brown hue.
Major Cancer Genotyping Study Logs 5,000th Tumor Profile
Data can help scientists and physicians match precision drugs to a cancer's genetic traits.
Download the Versatile Pathology Visions 2013 Mobile App Now
Those who download the app will receive daily alerts for the days' events, access to all speaker and exhibitor profiles, ability to view conference and hotel maps instantly, and a full directory of San Antonio attractions, restaurants, and shopping.
'Wildly heterogeneous genes'
New approach subtypes cancers by shared genetic effects; a step toward personalized medicine.
…and more.
Click here to read PATHOLOGY NEWS.