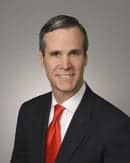 Patrick J. Balthrop
Merck, Whitehouse Station, NJ, and Luminex Corp, Austin, Tex, will jointly develop a companion diagnostic device to help screen patients for a biomarker for Alzheimer's disease.
The companion diagnostic will be evaluated to help screen patients for recruitment into Merck's clinical development program for MK-8931, a novel oral beta amyloid precursor protein site cleaving enzyme (BACE) inhibitor and Merck's lead investigational candidate for Alzheimer's.
The accumulation of beta amyloid in the brain is a key pathological characteristic related to Alzheimer's.
"This collaboration has the potential to deliver a novel companion diagnostic to identify patients at increased risk of developing Alzheimer's disease," says Patrick J. Balthrop, president and CEO, Luminex. "We are pleased to leverage our technologies and development capabilities and look forward to expanding our activity into the companion diagnostic segment of personalized medicine."
Luminex will be responsible for development, regulatory submission, and commercialization of the candidate companion diagnostic device, which will employ Luminex's xMAP® Technology to measure concentrations of two candidate biomarkers (A?42 and t-tau) in cerebrospinal fluid (CSF) samples from patients with mild cognitive impairment (MCI). The candidate device will be evaluated as a means to identify subjects with MCI who have a higher risk of developing Alzheimer's disease to support patient selection for Merck's therapeutic BACE inhibitor clinical program.
"Evaluation of biomarkers that may provide an indicator of disease onset and enable earlier diagnosis is an important goal toward facilitating early intervention and potentially improving the treatment of Alzheimer's disease," says Darryle D. Schoepp, PhD, senior vice president, head of neuroscience and ophthalmology, Merck Research Laboratories.
Recent clinical evidence supports the hypothesis that the measurement of the investigational biomarkers A?42 and t-tau in CSF may be useful in identifying patients at greater risk of developing Alzheimer's. The disease is diagnosed by clinical examination (ie, medical history; physical, neurological, psychiatric, and neuropsychological exams; and magnetic resonance imaging or computed tomography scan). An A diagnosis can only be confirmed by histopathological identification of core features, including beta amyloid deposits and plaques, in post-mortem brain samples.
Click here for more information.
Financial terms were not disclosed.
[Source: Luminex]